---
338 AMMUNITION
| | |
| --- | --- |
| TYPE: | .338 |
| DESCRIPTION: | |
| PRICE: | Upon Request |
| PACKING: | Ex Works |

.338 sniper ammunition
From New Manufacture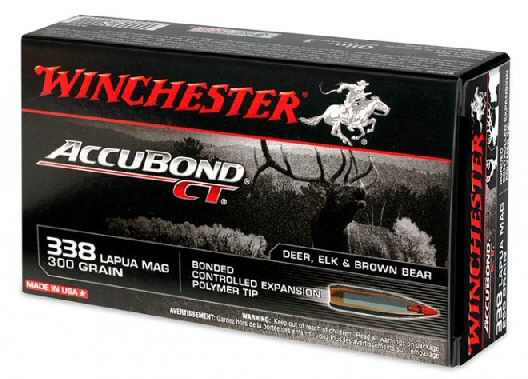 Description:
Polymer Tip
Bonded Alloyed Lead Core
Jacket Technology
Lubalox®

(Black Oxide) Coating
Controlled ExpansionFeatures a polymer tip and proprietary Lubalox coating, Accubond CT ammuntion delivers deep penetration, controlled expansion and pinpoint accuracy that results in massive knock-down power and exemplifies the Winchester tradition of legendary excellence.
Features:
Polymer Tip - Resists deformation, maximizes long-range performance and promotes expansion
Bonded Lead Alloy Core - Core and jacket welded together for maximum retained weight and deeper penetration
Jacket Technology - Designed for maximum expansion at a variety of ranges
Cartridge:

338 Lapua Mag
Bullet Weight:

300
Muzzle Velocity:

2650
Ballistic Co-efficient:

0.72
Rounds Per Box:

20
Rounds Per Case:

200
Specification and photos are not contractual and are subject to verification upon inspection
TAKE NOTICE!
PLEASE BE ADVISED THAT INFORMATION INCLUDED IS CONFIDENTIAL IN NATURE AND IS BASED ON PRE-EXISTING BUSINESS RELATIONSHIP WITH THE LEGAL OWNER OF PROPERTY DESCRIBED HEREIN (IF APPLICABLE). AS SUCH, UPON RECEIPT OF SAID INFORMATION THE RECEIVER AKNOWLEDGES THAT ANY UNAUTHORIZED CONTACT WITH SAID LEGAL SELLER WILL BE CHARACTERIZED AS A BREACH OF CONFIDENTIALITY AND SAID AGREEMENT MAY BE ENFORCED UNDER EXISTING LAW OR IN EQUITY.
This paper was prepared by General Equipment Inc.
The paper represents an offer of a partner of General Equipment Inc.
All rights are reserved by and for General Equipment Inc.
All content and ideas of this paper are the property of General Equipment Inc.
---
This transmission may include information on International Traffic in Arms Regulation (ITAR) (22 CFR-120-130) controlled items. These controlled items may not be resold, diverted, transferred or transshipped outside of the United States or to any other country without U.S. State Department approval.
US State Department Arms License: K-5943


Defense items are subject to final destination approval and granting of an
export license issued by exporting country's authorities