---
WINDICATOR
| | |
| --- | --- |
| TYPE: | Revolver |
| DESCRIPTION: | Windicator Revolver's Range |
| PRICE: | Upon Request |
| PACKING: | Upon Request |
WINDICATOR REVOLVER'S RANGE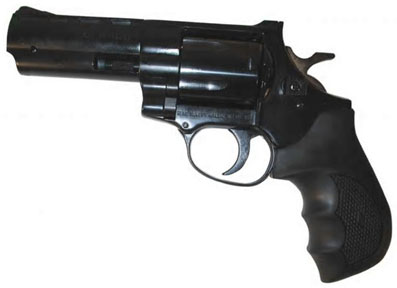 | | |
| --- | --- |
| Category: | Hand Gun |
| Type: | Revolver |
| Caliber 1: | 38 spl, .357 mAGNUM |
| Barrel Length: | 2, 4, 6" |
| Capacity: | 6 shot |
| Finish: | Blue |
Like an old friend, our trusty Windicator service revolver hasn't changed in appearance or reliability for over 25 years.
Weihrauch of Germany builds this reliably designed revolver using modern technology and Old World craftsmanship.
Features include - Internal firing pin block, Floating firing pin, Long coil mainspring, Heavy duty crane, Grooved target trigger, Knurled cylinder release, Target hammer spur, Low profile non snag sights, Steel fiiring train.
Blue finish - Rubber Grip Overall- 8.5" Weight 1..9 lbs Alloy Frame
Specification and photos are not contractual and are subject to verification upon inspection
TAKE NOTICE!
PLEASE BE ADVISED THAT INFORMATION INCLUDED IS CONFIDENTIAL IN NATURE AND IS BASED ON PRE-EXISTING BUSINESS RELATIONSHIP WITH THE LEGAL OWNER OF PROPERTY DESCRIBED HEREIN (IF APPLICABLE). AS SUCH, UPON RECEIPT OF SAID INFORMATION THE RECEIVER ACKNOWLEDGES THAT ANY UNAUTHORIZED CONTACT WITH SAID LEGAL SELLER WILL BE CHARACTERIZED AS A BREACH OF CONFIDENTIALITY AND SAID AGREEMENT MAY BE ENFORCED UNDER EXISTING LAW OR IN EQUITY.
This paper was prepared by General Equipment Inc.
The paper represents an offer of a partner of General Equipment Inc.
All rights are reserved by and for General Equipment Inc.
All content and ideas of this paper are the property of General Equipment Inc.
---
Defense items are subject to final destination approval and granting of an
export license issued by exporting country's authorities