---
WHEELLOADERLG969
| | |
| --- | --- |
| TYPE: | Loader |
| DESCRIPTION: | Wheel Loader LG 969 |
| PRICE: | Upon Request |
| PACKING: | Ex-Works |
wheel loader lg 969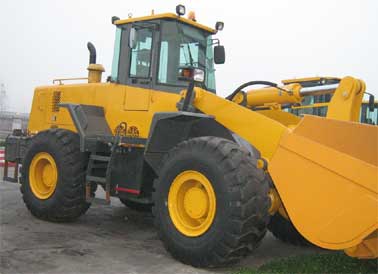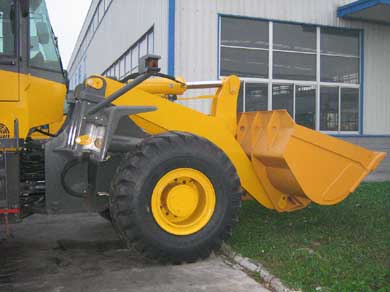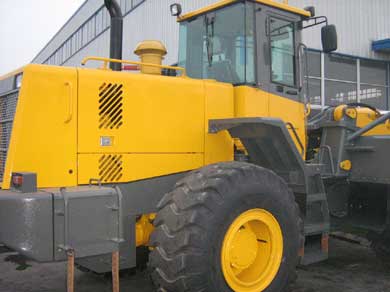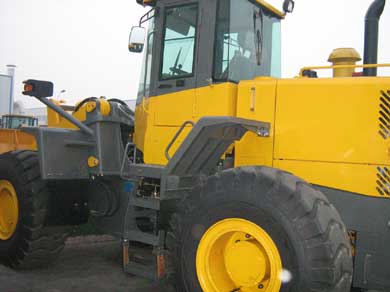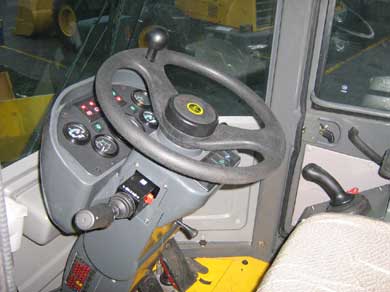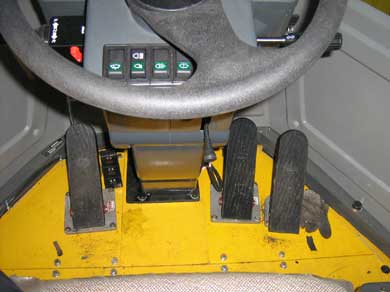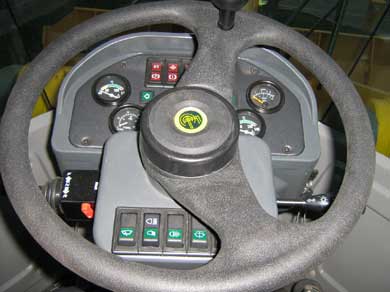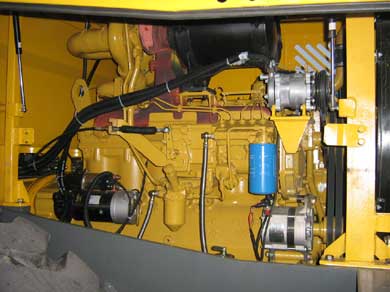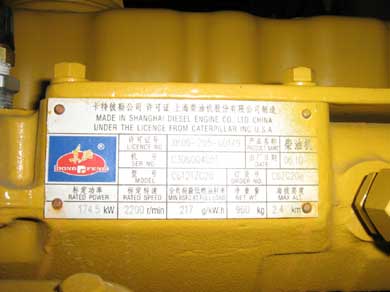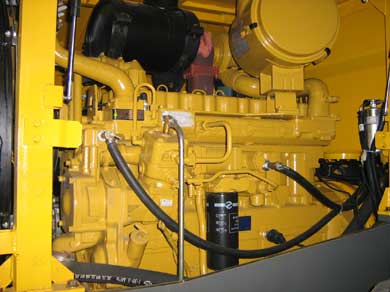 LG969 Specifications
1. Technical features
Item

Performance

Item

Performance

Standard bucket capacity (m3)

3.5

Min. turning radius outside rear wheel(mm)

6726

Rated load(kg)

6000

Min. turning radius outside bucket(mm)

7332

Max.traction force(by engine)(kN)

≥165

Max. break force(kN)

≥198

Static tipping load(kN)

≥115

Grade ability(°)

30

Travel speed

Speeds

Ⅰ

Ⅱ

Ⅲ

Ⅳ

Forward(km/h)

0~6.5

0~11.5

0~23

0~36

Reverse(km/h)

0~6.5

0~11.5

0~23
2. Dimension and weight
| | | | |
| --- | --- | --- | --- |
| Item | Performance | Item | Performance |
| Length(With bucket on ground)(mm) | 8338 | Bucket width(mm) | 3210 |
| Height(mm) | 3380 | Tread(mm) | 2144 |
| Width from outside wheel(mm) | 2740 | Wheelbase (front/back)(mm) | 3450 |
| Max Dumping height(-450dump angle)(mm) | 3250 | Operating weight(kg) | 18400 |
| Min. ground clearance(-450dump angel)(mm) | 1037 | Axles | 2 |
| Dumping distance(mm) | 457 | | |
3. Engine
| | | | |
| --- | --- | --- | --- |
| Item | Performance | item | Performance |
| Model | WD616G.220 | Cylinder No. | 6 |
| Type | Straight-lined, water cooled,6 stroke | Cylinder bore/stroke(mm) | 126/130 |
| Rated power(/kW) | 170 | Min fuel consumption ration(g/kW.h) | ≤228 |
| Rated rmp(r/min) | 2200 | Max torque (N.m) | 843 |
| Displacement(ml) | 9.726 | Emission standard | |
4. Transmission
Item

Specification

Tranmission

Type

Dead axle electrohydraulic shift

Shift

Forward4,Reverse 3

Speed

ForwardⅠ

4.278

ForwardⅡ

2.368

ForwardⅢ

1.126

ForwardⅣ

0.648

ForwardⅠ

4.278

ForwardⅡ

2.368

ForwardⅢ

1.126

Working pressure(MPa)

1.4~1.6

Main drive

type

Single stage, spur gear

Gear ratio

3.7

Final reduce

type

Single stage, planetary shift,

Gear ratio

6.35

Driving axle and tire

type

Driving axle and tire 4X4

Tire specification

23.5-25

Tire pressure(MPa)

Front wheel

0.333~0.353

Rear wheel

0.275~0.294

Break system

Service break

Wet break

Service break(MPa)

6

Parking break

Internal expansion type brake
5. Steering system
| | |
| --- | --- |
| Itme | Performance |
| type | Full-hydraulic articulated steering |
| Pilot –acinated valve | YXL-F250F |
| Steering Pump | CBGJ2080/1010-XF |
| Steering cylinder-cylinder bore×piston rod diameter×stroke (mm) | HSGL-100×50×435 |
| Redirector | BZZ-100 |
| Steering angle(°) | 35° |
| Working pressure(Mpa) | 14MPa |
6. Working system
| | |
| --- | --- |
| item | Performance |
| type | Mechanical and manual control |
| Boom cylinder- cylinder bore×piston rod diameter×stroke (mm) | |
| Bucket cylinder- cylinder bore×piston rod diameter×stroke (mm) | HSGL-210×140×546 |
| Pump | CBGj2080/1010-XF |
| Multiple directional control valve type | D32 |
| Working pressure | 18MPa |
| Lifting time(full loaded) | ≤6.7s |
| Lowering time(empty) | ≤3.5s |
| Dumping time(empty) | ≤1.6s |
| Total | ≤11.8s |
7. Service refill capacities
| | | | |
| --- | --- | --- | --- |
| Item | Performance | item | performance |
| fuel | 300L | Engine | 20L |
| Hydraulic oil | 190L | Gear box | 45L |
| Axle(main drive and final reducer | 12.5×2L | Break system | 4L |
LG969 equivalent to 966G & 966H equipped with CAT engine, ZF transmission and axles.
Made under license in China shipped worldwide and approved for import into USA.
Delivery 30 to 45 days after full payment.
Payment minimum 40% TT and 60% by L/C
Specification and photos are not contractual and are subject to verification upon inspection
TAKE NOTICE!
PLEASE BE ADVISED THAT INFORMATION INCLUDED IS CONFIDENTIAL IN NATURE AND IS BASED ON PREXISTING BUSINESS RELATIONSHIP WITH THE LEGAL OWNER OF PROPERTY DESCRIBED HEREIN (IF APPLICABLE). AS SUCH, UPON RECEIPT OF SAID INFORMATION THE RECEIVER AKNOWLEDGES THAT ANY UNAUTHORIZED CONTACT WITH SAID LEGAL SELLER WILL BE CHARACTERIZED AS A BREACH OF CONFIDENTIALITY AND SAID AGREEMENT MAY BE ENFORCED UNDER EXISTING LAW OR IN EQUITY.
This paper was prepared by General Equipment Corp.
The paper represents an offer of a partner of General Equipment Corp.
All rights are reserved by and for General Equipment Corp..
All content and ideas of this paper are the property of General Equipment Corp.