---
VIKING PISTOL
| | |
| --- | --- |
| TYPE: | Pistol |
| DESCRIPTION: | Viking 446 Pistol 9mm |
| PRICE: | Upon Request |
| PACKING: | Ex Works |

VIKING 446 pistol 9mm
From New Manufacture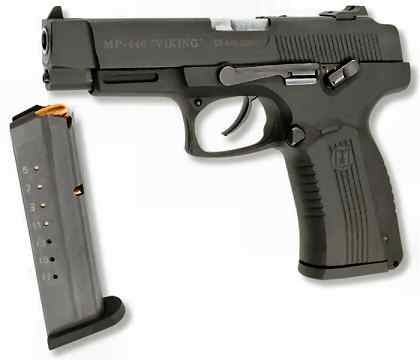 Pistol combines essentially new achievements in the field of technology and materiology: pistol frame made of high-strength glass-fiber polyamide. Steel frame base comprises the slide guides and accommodates the trigger group. Available with steel or plastic frame, adjustable or fixed sight, various barrel lenght. Recoil-operated.
Exposed hammer trigger and firing mechanism allow shooting single shots in SA or DA mode.
Safe handling supported by non-automatic ambidextrous spring safety that blocks sear, hammer and slide. The hammer can be locked either cocked or decocked.
Reversible magazine release button enables right or left-hand operation.
Chamber-loaded indicator for visual or touch control.
Calibre
Magazine capacity, rounds
Barrel length, mm
Overall dimensions, mm, max
Weight, unloaded, kg, max
Sight
Frame material
9x19
18; 10
112.8
120
198x145x38
206x145x38
0.87
fixed, 3 contrast dots; adjustable
plastic
9x19
18; 10
112.8
120
198x145x38
206x145x38
0.95
fixed, 3 contrast dots; adjustable
Steel
Specification and photos are not contractual and are subject to verification upon inspection


NB: Aircraft offered for sale subject to contract, prior sale, withdrawal from the market and information regarding any aircraft or helicopter and provided verbally or in written documentation and/or contained within this e.mail or associated paper-work should be taken as a guide only in determining the suitability, including that aircraft or helicopters specification and/or performance. We highly recommend that any buyer or lessee perform their own inspections and due diligence to verify any and all technical, performance and specification information contained therein including OEM claims.
PLEASE NOTE: AIRCRAFT SPECIFICATIONS SUBJECT TO VERIFICATION UPON INSPECTION. WE DO NOT ACCEPT ANY LIABILITY FOR AIRCRAFT DEFECTS, HISTORY OR TECHNICAL RECORD ERRORS. IT IS THE BUYERS RESPONSIBILITY TO INDEPENDENTLY VERIFY THE AIRCRAFT AND COMPONENT HISTORY.
TAKE NOTICE!
PLEASE BE ADVISED THAT INFORMATION INCLUDED IS CONFIDENTIAL IN NATURE AND IS BASED ON PRE-EXISTING BUSINESS RELATIONSHIP WITH THE LEGAL OWNER OF PROPERTY DESCRIBED HEREIN (IF APPLICABLE). AS SUCH, UPON RECEIPT OF SAID INFORMATION THE RECEIVER ACKNOWLEDGES THAT ANY UNAUTHORIZED CONTACT WITH SAID LEGAL SELLER WILL BE CHARACTERIZED AS A BREACH OF CONFIDENTIALITY AND SAID AGREEMENT MAY BE ENFORCED UNDER EXISTING LAW OR IN EQUITY.
This paper was prepared by General Equipment Inc.
The paper represents an offer of a partner of General Equipment Inc.
All rights are reserved by and for General Equipment Inc.
All content and ideas of this paper are the property of General Equipment Inc.

---
***************IMPORTANT NOTE***************
This e-mail and any attachments may include technical data subject to the U.S. Arms Export Control Act (22 U.S.C.Sections 2751 and following) or the U.S. Export Administration Act of 1979 as amended (50 U.S.C. App. 2401 and following). Technical data covered by these laws may not be exported or disclosed to non-U.S. persons without first obtaining an export license. Violations may result in criminal, civil or administrative penalties.

This transmission may include information on International Traffic in Arms Regulation (ITAR) (22 CFR-120-130) controlled items. These controlled items may not be resold, diverted, transferred or transshipped outside of the United States or to any other country without U.S. State Department approval.


Defense items are subject to final destination approval and granting of an
export license issued by exporting country's authorities