---
TRM 10.000
| | |
| --- | --- |
| TYPE: | Truck |
| DESCRIPTION: | TRM Truck 10.000 |
| PRICE: | Upon Request |
| PACKING: | Ex Depot |

TRM TRUCK 10.000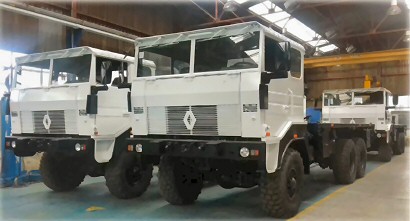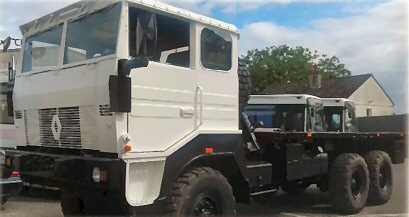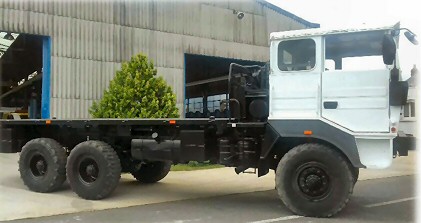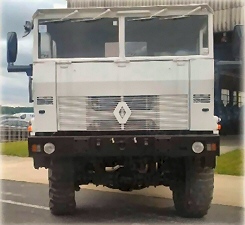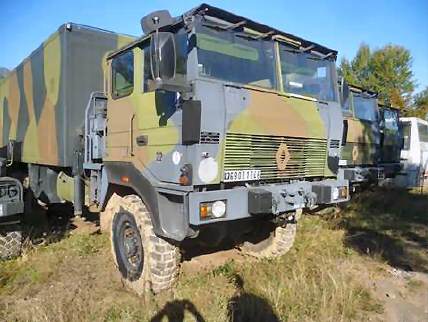 Production of the Renault TRM 10 000 (le 'dix mille) commenced at Blainville during 1985. It is a development of the earlier Renault TRM 9000 9 tone truck which was developed primarily for export.
The Renault TRM 10 000 differs by having a longer wheelbase, a revised transmission and a more powerful engine.
The initial order was for 178 vehicles and a second order for 759 was placed in 1987. It is understood that the French Army requirement is 5 000 vehicles.
The Renault TRM 10 000 is a large and powerful vehicle with a box-like forward control cab and a large load-carrying area.
It is produced in several forms for it is used by the French Army to carry out several roles.
It is used as a load carrier, with or without a hydraulic crane, and some vehicles have an enlarged four-door cab to accommodate up to four passengers or crew bunks.
Up to 24 troops can be carried on benches in the cargo area.
There is an artillery tractor version used to tow the 155 mm TR gun.
A tractor truck version issued to tow PFM floating bridge sections while one special version is used to carry a large Tropomil data link system dish aerial. There is a missile system resupply vehicle used to carry spare missiles a heavy recovery version and a dump truck.
Entered service
1985
Configuration
6x6
Cab seating
1 + 1 / 2 men
Troops
24 men
Dimensions and weight
Weight (empty)
10.29 t
Maximum load
10 t
Length
9.24 m
Width
2.48 m
Height
3.11 m
Mobility
Engine
Renault 9.8-liter diesel
Engine power
264 hp
Maximum road speed
89 km/h
Range
~ 700 km
Maneuverability
Gradient
60%
Side slope
40%
Vertical step
~ 0.6 m
Trench
~ 1 m
Fording
1.2 m
---
TRM10.000 Dump Truck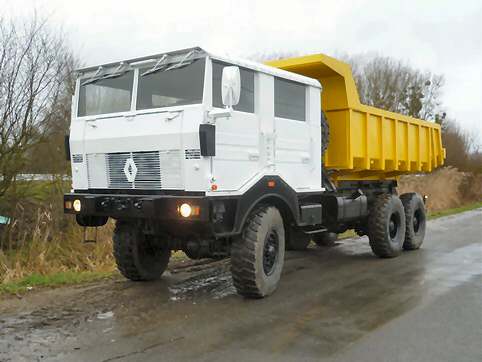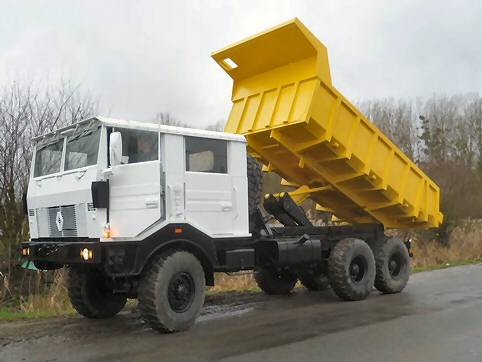 Specification and photos are not contractual and are subject to verification upon inspection
TAKE NOTICE!
PLEASE BE ADVISED THAT INFORMATION INCLUDED IS CONFIDENTIAL IN NATURE AND IS BASED ON PRE-EXISTING BUSINESS RELATIONSHIP WITH THE LEGAL OWNER OF PROPERTY DESCRIBED HEREIN (IF APPLICABLE). AS SUCH, UPON RECEIPT OF SAID INFORMATION THE RECEIVER ACKNOWLEDGES THAT ANY UNAUTHORIZED CONTACT WITH SAID LEGAL SELLER WILL BE CHARACTERIZED AS A BREACH OF CONFIDENTIALITY AND SAID AGREEMENT MAY BE ENFORCED UNDER EXISTING LAW OR IN EQUITY.
This paper was prepared by General Equipment Inc.
The paper represents an offer of a partner of General Equipment Inc.
All rights are reserved by and for General Equipment Inc.
All content and ideas of this paper are the property of General Equipment Inc.
---
***************IMPORTANT NOTE***************
This e-mail and any attachments may include technical data subject to the U.S. Arms Export Control Act (22 U.S.C.Sections 2751 and following) or the U.S. Export Administration Act of 1979 as amended (50 U.S.C. App. 2401 and following). Technical data covered by these laws may not be exported or disclosed to non-U.S. persons without first obtaining an export license. Violations may result in criminal, civil or administrative penalties.

This transmission may include information on International Traffic in Arms Regulation (ITAR) (22 CFR-120-130) controlled items. These controlled items may not be resold, diverted, transferred or transshipped outside of the United States or to any other country without U.S. State Department approval.


Defense items are subject to final destination approval and granting of an
export license issued by exporting country's authorities