---
TOYB6JAM
| | |
| --- | --- |
| TYPE: | Armored Vehicle |
| DESCRIPTION: | Toyota Land Cruisers Armored B6 Fitted with Jammer |
| PRICE: | Upon Request |
| PACKING: | Ex-Works |
armored toyota land cruisers fitted with IED jammer protection

Armoring Configuration for level B6
Armoring features include:
Firewall, footwells, fenders, doors, A, B and C pillars, cargo sides, rear bulkhead and wheel arches protected to level B6 for direct strikes


Roof protected to level B6 angle of incidence fire (direct hit AK47) or optionally B6 direct hit


Level B6 angle of incidence protection for main and auxiliary fuel tanks


Level B6 battery, engine management and brake booster protection


Pillar reinforcement and modified heavy duty door hinge replacement allowing the weight of doors to be transmitted onto the reinforced ballistic steel posts


Overlapping armour around all glass and door apertures with splash guards to prevent penetrations into the cabin from direct and angled strikes or ricochet


Modified glass anchoring for enhanced blast survivability


Overall interior ballistic steel structure provides overlap and reinforcement for impact areas such as doors and glass and reinforces the structural integrity of the vehicle structure


Suspension upgrade including replaced springs, shock absorbers and steering


damper and a reinforced sway bar for optimum handling


Run flat inserts in all wheels including spare


Floor protection from AR400 ballistic steel offering increased ductility and exceptional blast and fragmentation protection. Armoured as a skid plate significantly enhances IED protection and survivability


Armouring is from large steel sections where possible to ensure high structural integrity and stitch welded to avoid thermal variations in the ballistic steel

Armouring materials for level B6
Due to the proven multi-hit capability and cost efficiency in defeating a wide range of ballistic threats, welded ballistic steel is the primary material used in construction of the armor. 6 – 6.5mm armour steel is used for all surfaces for direct hit protection.
Each batch of ballistic steel is supplied with a ballistic test certificate from an independent laboratory verifying its compliance to the required standard.
In addition we submit random samples for ballistic testing from time to time as a quality control measure.
Glass is supplied by American Glass Products or North American Specialty Glass.
Original glass is replaced with OEM style multi-layer laminated glass-polycarbonate.
The rear bulkhead uses flat bullet resistant glass/polycarbonate. This provides for protection with excellent optical clarity, low distortion, no spalling and exceptional multi-hit protection under attack. All glass supplied is uniquely identified and supplied with a ballistic protection certificate.
B6 glass polycarbonate is approximately 40mm thick.
Armouring Specifications for Toyota Landcruiser - Protection Level - B6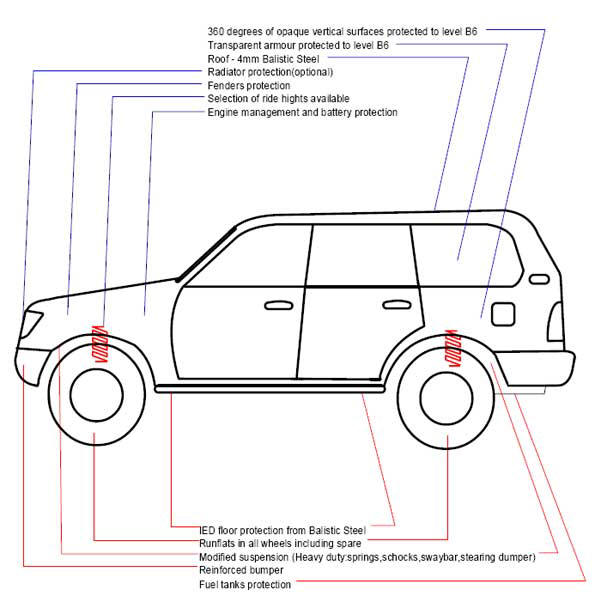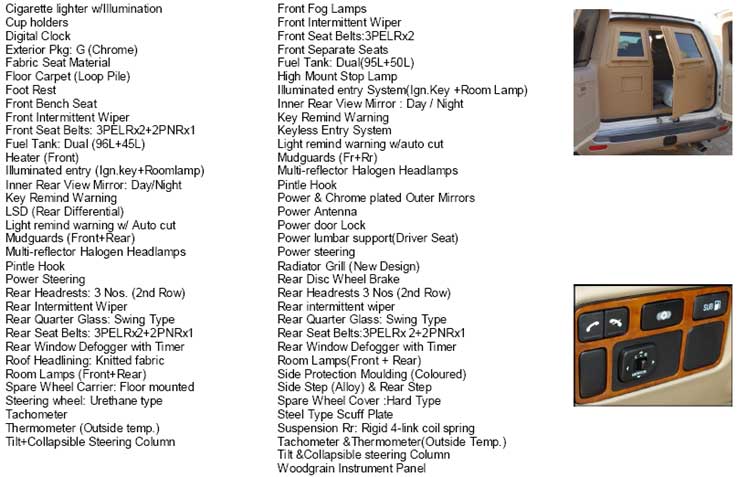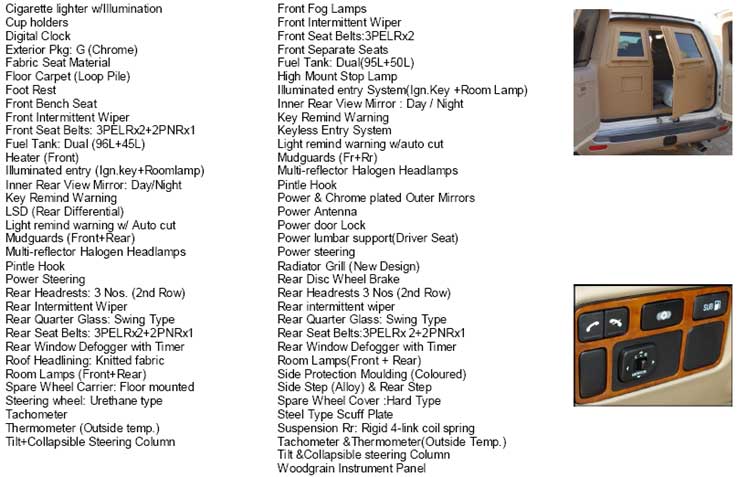 Communications Equipment Specifications
CODAN NGT SR
NGT SR 2010 RF Unit with NGT SR 2020 Handset, NGT SR 2030 Junction Box and loudspeaker, 9350 Automatic Tuning Whip Antenna, supplied with stainless steel and fibreglass whip tops, interface cables (6 m) and spring, vehicle installation hardware, including vehicle mounting cradle, DC power cable, vehicle installation kit, and fuse holder with fuse.
Motorola GM360 radio installed
Mobile VHF Radio, Select 5, VHF 136-174MHz, 1-25W, 255 Channel, STDACC
Battery Power Cable HKN4137, Enhanced Compact Microphone MDRMN4025, Low Profile Trunnion Kit GLN7324, User Guide.

¼ Wave Mobile Antenna Roof Mount Unity Gain, RG58A/U 12FT with Connector
Option CALM-Codan Automated Lin Management (CALM) compatible with FED-SRD-1045 ALE system.
OPTIONAL Invisible Antenna CODAN system USD 21 000 NGT SR 2010 / NGT SR 2020 / NGT SR 2030 equipped with ST-940B NVIS mobile autotune covert antenna system (used instead of 9350) complete with Toyota L/C vehicle installation hardware.
A complete life saving extremely high performance HF mobile station for use in war torn regions. Provides dead zone free communications and concealed operations.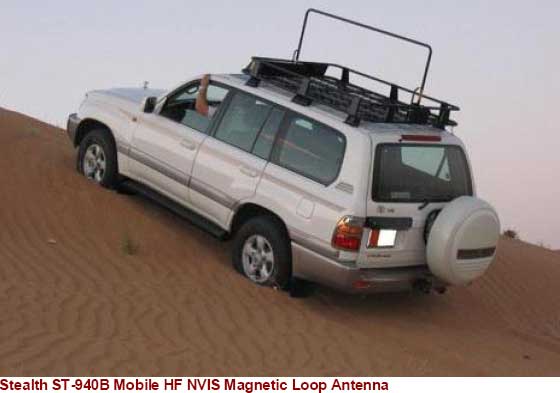 Delivery schedule
***Depending on units in production at time of order, please confirm on order. Average around 45 days after confirmation
Payment Terms
Deposit of 60% required on order. Settlement on delivery before shipment.
Warranty
Due to extensive customisation of vehicles, the general OEM warranty no longer applies. We offer a 6 months or 10,000 km Warranty - whichever occurs first.
Warranty covers repair only to non friction parts and under circumstance of normal usage.
Warranty void if vehicle is not serviced at 1000, 2500, 5000 km and 10,000 km at a recognised service centre. Other conditions apply.
We additionally warrant materials and processes conducted during armouring to be free from defect for a period of 12 months or 50,000 km, whichever occurs first.
It must be noted that bolts, fasteners and hinges should be checked, tightened or oiled as appropriate with each service.
Suspension components such as springs and shocks need to be changed more frequently than with the original version vehicles due to the additional load. Suspension warranty is for the first 2000km.
Once the vehicle has passed inspection and been signed off all replacement glass is for the customer account.
In some cases, handling characteristics of the vehicle may require special attention with regard to driver training.
It is a condition of the warranty that all necessary repairs are carried out by an authorised workshop.
Recommended Optional Extra (fitted IED Jammers)
IED Jammers Model GAV8
IED Jammers Model GPAV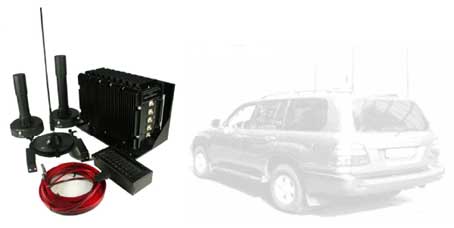 IT MUST BE NOTED , THAT ANY BALLISTIC ARMOURING TO THREAT LEVEL B6 OR EVEN B7 , DOES NOT PROTECT VEHICLES AGAINST

IED'S .

ONLY THIS TYPE OF JAMMING EQUIPMENT , WILL ENSURE THAT VEHICLES ARE PROPERLY PROTECTED AGAINST BOTH BALLISTIC AND IED THREATS .


This is a recent result of a B6 SUV , with no IED Jammmer !

Specification and photos are not contractual and are subject to verification upon inspection
TAKE NOTICE!
PLEASE BE ADVISED THAT INFORMATION INCLUDED IS CONFIDENTIAL IN NATURE AND IS BASED ON PREXISTING BUSINESS RELATIONSHIP WITH THE LEGAL OWNER OF PROPERTY DESCRIBED HEREIN (IF APPLICABLE). AS SUCH, UPON RECEIPT OF SAID INFORMATION THE RECEIVER AKNOWLEDGES THAT ANY UNAUTHORIZED CONTACT WITH SAID LEGAL SELLER WILL BE CHARACTERIZED AS A BREACH OF CONFIDENTIALITY AND SAID AGREEMENT MAY BE ENFORCED UNDER EXISTING LAW OR IN EQUITY.
This paper was prepared by General Equipment Corp.
The paper represents an offer of a partner of General Equipment Corp.
All rights are reserved by and for General Equipment Corp..
All content and ideas of this paper are the property of General Equipment Corp.
---
Defense items are subject to final destination approval and granting of an
export license issued by exporting country's authorities