---
TANK AMMO 105MM
| | |
| --- | --- |
| TYPE: | Ammunition |
| DESCRIPTION: | Tank Ammunition 105mm HE |
| PRICE: | Upon Request |
| PACKING: | See Below |
tank ammunition 105mm HE
From new manufacture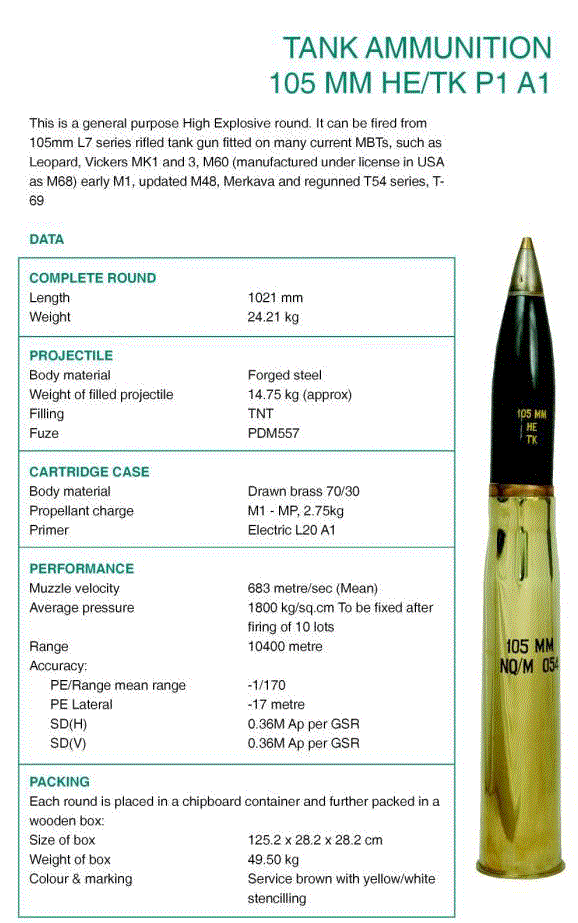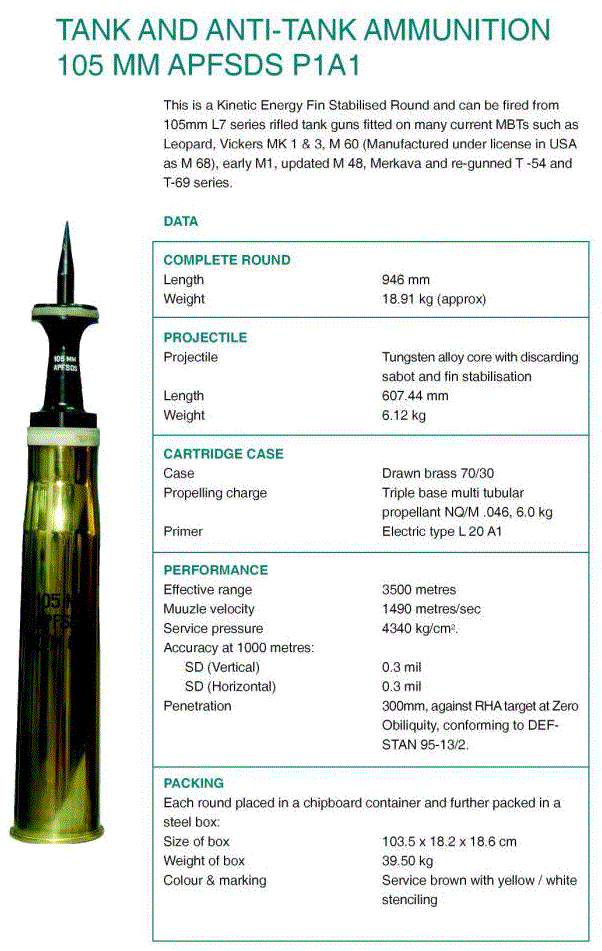 ---
105mm HEAT-MP-T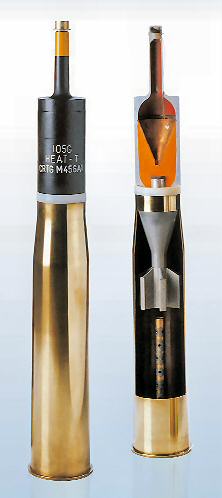 For use with 105mm US M68, UK L7, CN105F1and other Stanag 4458 compliant tank guns,to defeat armoured targets and structures by means of its shaped charge effect and personnel with blast and fragmentationeffect.
The steel bodied projectile is fitted with apolymer obturating band, a stand-off spikeassembly, a tail fin assembly, and a tracer. Itis equipped with a dual safety Point ImpactBase Detonating (PIBD) fuze, which complieswith Mil-Std-1316. It has a high explosive shaped charge with a copper liner. The projectile isassembled to a brass cartridge case which is filled with triple base propellant and fitted with anelectric primer. This round is based on the US 105mm M456 series and is similar in appearanceand ballistically.
PACKAGING
Two (2) rounds per twin container 12 containers per pallet
UN Classification: 1.1 E UN 0006
in service and production
| | |
| --- | --- |
| Type | Fixed round HEAT-MP-T |
| Calibre | 105mm |
| Round mass (nominal) | 22.2kg |
| Round length | 992mm |
| Projectile mass (nominal) | 10.5kg |
| Projectile filling (Comp B) | 1.1kg |
| Fuze | PIBD |
| Tracer | M13 |
| Cartridge case | Brass |
| Anti-wear additive | Titanium dioxide |
| Primer | Electric cap M83 |
| Propellant TB (nominal) | 5.3kg |
| | |
| --- | --- |
| Muzzle velocity (at 21°) (nominal) | 1,173m/s |
| Dispersion | 0.3 Mils |
| Maximum range | 8,200m |
| Penetration (at operational ranges) | >NATO Single Heavy |
| Operational temperature | -32°C to +52°C |
Specification and photos are not contractual and are subject to verification upon inspection
TAKE NOTICE!
PLEASE BE ADVISED THAT INFORMATION INCLUDED IS CONFIDENTIAL IN NATURE AND IS BASED ON PRE-EXISTING BUSINESS RELATIONSHIP WITH THE LEGAL OWNER OF PROPERTY DESCRIBED HEREIN (IF APPLICABLE). AS SUCH, UPON RECEIPT OF SAID INFORMATION THE RECEIVER ACKNOWLEDGES THAT ANY UNAUTHORIZED CONTACT WITH SAID LEGAL SELLER WILL BE CHARACTERIZED AS A BREACH OF CONFIDENTIALITY AND SAID AGREEMENT MAY BE ENFORCED UNDER EXISTING LAW OR IN EQUITY.
This paper was prepared by General Equipment Inc.
The paper represents an offer of a partner of General Equipment Inc.
All rights are reserved by and for General Equipment Inc.
All content and ideas of this paper are the property of General Equipment Inc.
---
This transmission may include information on International Traffic in Arms Regulation (ITAR) (22 CFR-120-130) controlled items. These controlled items may not be resold, diverted, transferred or transshipped outside of the United States or to any other country without U.S. State Department approval.


Defense items are subject to final destination approval and granting of an
export license issued by exporting country's authorities