---
TACTICAL UAV
| | |
| --- | --- |
| TYPE: | UAV |
| DESCRIPTION: | Tactical Unmanned Aircraft System |
| PRICE: | Upon Request |
| PACKING: | Ex Works |

tactical unmanned aircraft sytem
From New Manufacture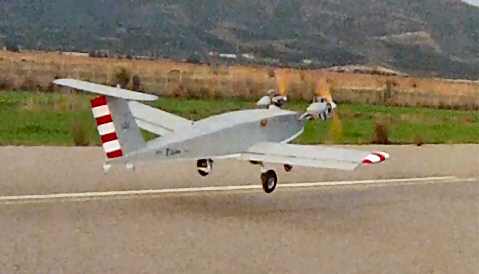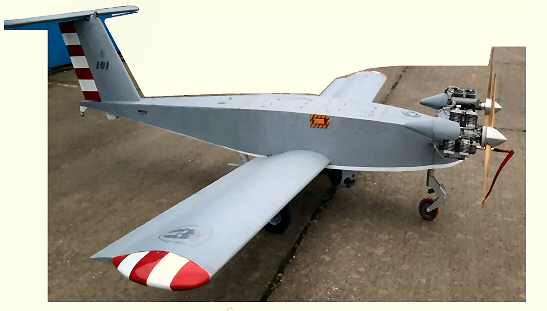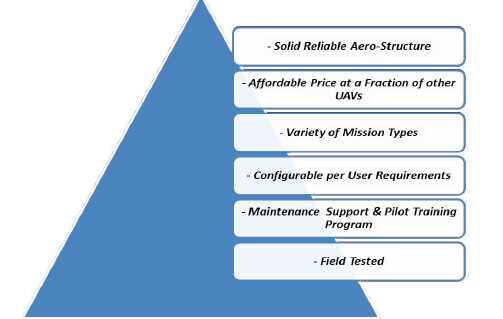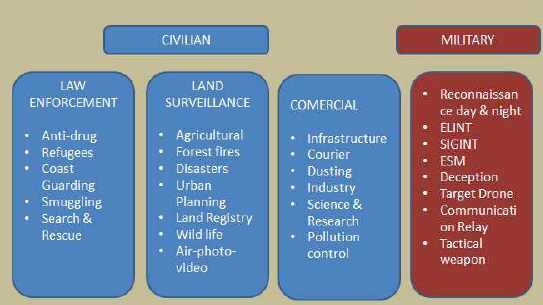 -1- MISSION TYPES & TACTICAL UTILISATION

UAV was designed and developed as a robust, affordable unmanned aerial tactical platform
optimised for a number of military and civilian missions. Development is ongoing mainly on
systems integration and ground station graphical user interface, aiming to satisfy specific
customer requirements.

-1.1- Reconnaissance
- Real time reconnaissance video camera Aerial Surveillance. Fixed or rotated according to user operational requirements and budget.
- Post analysis high definition photo camera (according to customer requirements). Inflight high definition files download capability.
- First Person View (FPV) video camera (standard commercial micro camera).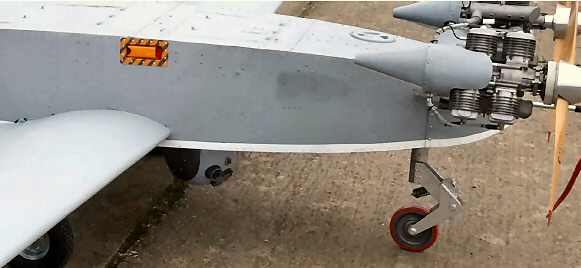 -1.2- Air Defence Operations

UAV may be offered as a low cost (expendable) full metal airframe structure with a noticeable radar cross-section (RCS) able to accomplish deception or target drone missions for Air to Air weapons. It can also be in full composite material construction with minimum RCS.

-1.3- Electronic Warfare
- ESM missions : VHF-UHF tactical communications repeater for enhancement of ground communications.
- ELINT (SIGINT / COMINT) according to the customer requirement.

-1.4- Aerial Target Drone
Air-to-air and surface-to-air missile training and air gunnery (lower cost version).
-1.5- Civilian Missions specified according to the Customer Requirement.
- Law enforcement : Search & Rescue, Refugee – Fugitive surveillance, Anti Drug, Cost Guarding, Smuggling.
- Land Surveillance : Disasters, Agricultural, Urban planning, Land & Property Registry aerial photography, forestall firefighting.
- Commercial: Infrastructure surveillance, chemical dusting, pollution control, courier services.

-1.6- Weaponised configuration (under development).
- Various weapon external loads such as light rocket launchers, etc
-2- DESCRIPTION & CONFIGURATION

UAV has removable wings and may be transported or stored within its own dedicated Trailer. Assembly and disassembly time is at the order of 10 minutes. UAVmay be operated in two options:

• As a single platform with a simple Ground Control Station (G.C.S.) for dedicated missions. The aircraft is transported within its Trailer which is also used for the operation of the G.C.S.
• Flight Squad of three (3) UAVs in cooperation with a Mobile Ground Control Station for extended time and area surveillance requirements, aiming to keep one continuously flying UAV for long time periods while the second is serviced and the third is a backup or in maintenance.

-3- PLATFORM (U.A.V aircraft)
A durable all metal or composite platform with excellent and 100% proven flight
characteristics in twin or single engine configurations.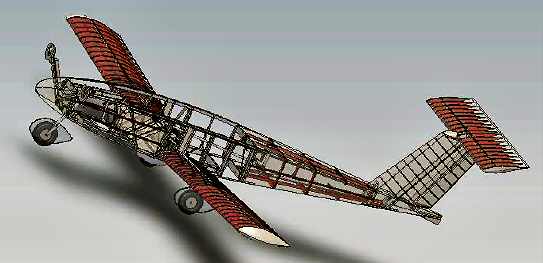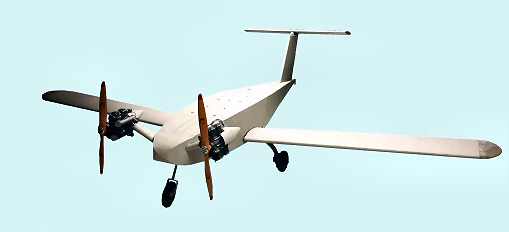 Platform Capabilities

- Twin or single engine configuration.
- Short Take Off and Landing Distance (50 to 150 m depending on the payload and twin or single engine configuration)
- Efficient remote ground taxiing including breaks and parking break for remote engine run up.
- Multi Function Auto-Pilot able to execute sophisticated navigation flight plans dictated in real time over targets of opportunity.
- Remote control uplink and data telemetry downlinks to the Ground Control Station
- Optional : Emergency Recovery System (parachute)
- Optional : Automatic Take-Off and Landing capability

Ground Control Station (GCS) Capabilities
- Two UAV operators are required.
- High gain data link directive antennas allow low power transmitters on board the UAV and long LOS ranges.
- Design and implementation of the GCS man machine interface is according to the customer needs.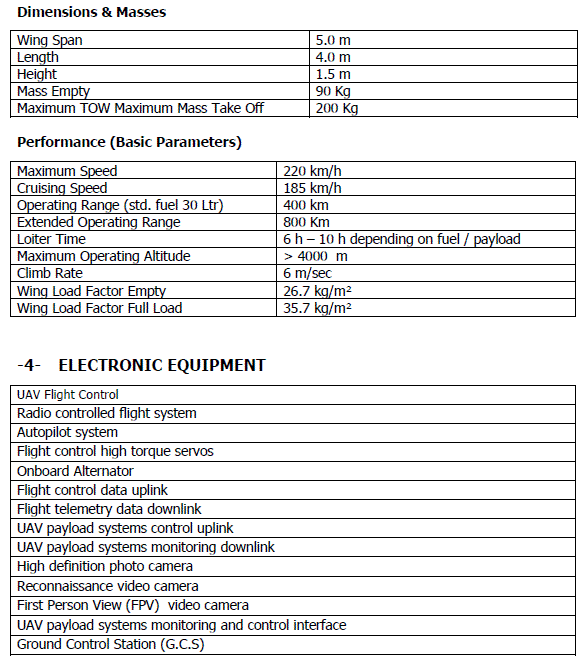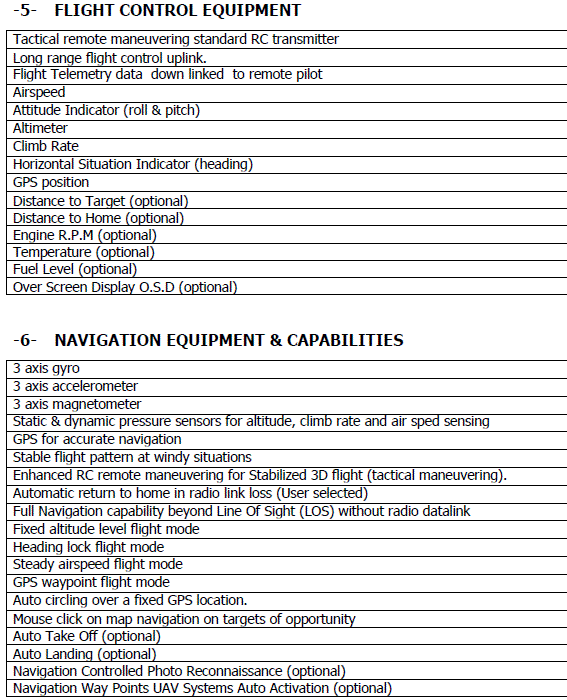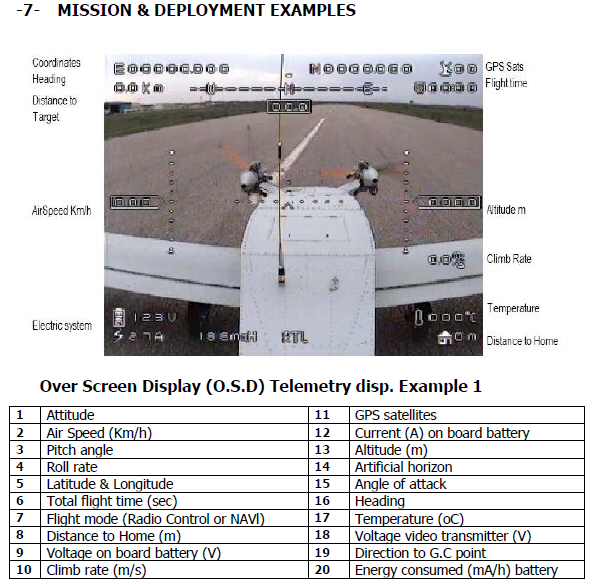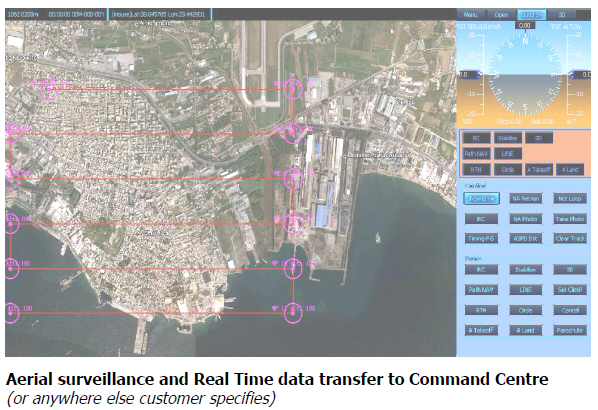 Specification and photos are not contractual and are subject to verification upon inspection
TAKE NOTICE!
PLEASE BE ADVISED THAT INFORMATION INCLUDED IS CONFIDENTIAL IN NATURE AND IS BASED ON PRE-EXISTING BUSINESS RELATIONSHIP WITH THE LEGAL OWNER OF PROPERTY DESCRIBED HEREIN (IF APPLICABLE). AS SUCH, UPON RECEIPT OF SAID INFORMATION THE RECEIVER AKNOWLEDGES THAT ANY UNAUTHORIZED CONTACT WITH SAID LEGAL SELLER WILL BE CHARACTERIZED AS A BREACH OF CONFIDENTIALITY AND SAID AGREEMENT MAY BE ENFORCED UNDER EXISTING LAW OR IN EQUITY.
This paper was prepared by General Equipment Inc.
The paper represents an offer of a partner of General Equipment Inc.
All rights are reserved by and for General Equipment Inc.
All content and ideas of this paper are the property of General Equipment Inc.
---
This transmission may include information on International Traffic in Arms Regulation (ITAR) (22 CFR-120-130) controlled items. These controlled items may not be resold, diverted, transferred or transshipped outside of the United States or to any other country without U.S. State Department approval.
US State Department Arms License: K-5943


Defense items are subject to final destination approval and granting of an
export license issued by exporting country's authorities