---
T55 MBT
| | |
| --- | --- |
| TYPE: | MBT |
| DESCRIPTION: | T55 Main Battle Tank |
| PRICE: | Upon Request |
| PACKING: | Ex Works |

t55 main battle tank
Subject Unsold or Market Withdrawal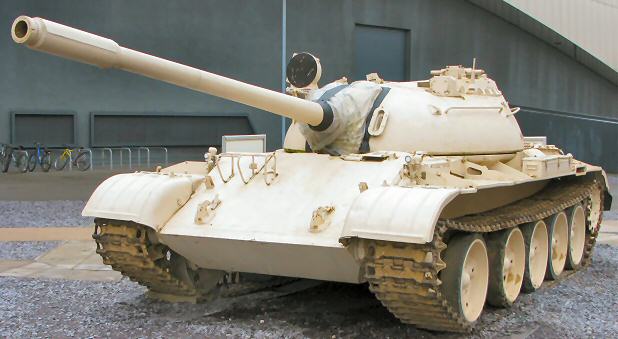 T-55 Main Battle Tank After General Overhaul

Armed with 100mm Rifled D-10T Main Gun
Secondary armament: 7.62mm PKT Coaxial Machine Gun
12.7mm Anti-Aircraft Heavy machine Gun
Engine: V-55 Diesel 580 hp (427 kW)
Transmission: Mechanical manual shifting, hydraulically assisted, with 5 forward and 1 reverse gear
Sighting surveillance and orientation devices:
- Armament stabilizer: STP-2 Cyclon
- Day vision dvices: Gunner's aiming binoculars TSh-2B-22
- Night vision devices: Gunner's aiming infrared binoculars TPN-1-22-11
- Commander's aiming infrared binoculars TKN-1
- Driver's infrared sighting devic TVN-2
Communications equipment;
- Transceiver R-123
- Intercommunication system R124
Warranty: 6 months after delivery date or 600 km which comes first
Delivery time: 18 months from the date of issuing export license
Specification and photos are not contractual and are subject to verification upon inspection
TAKE NOTICE!
PLEASE BE ADVISED THAT INFORMATION INCLUDED IS CONFIDENTIAL IN NATURE AND IS BASED ON PRE-EXISTING BUSINESS RELATIONSHIP WITH THE LEGAL OWNER OF PROPERTY DESCRIBED HEREIN (IF APPLICABLE). AS SUCH, UPON RECEIPT OF SAID INFORMATION THE RECEIVER AKNOWLEDGES THAT ANY UNAUTHORIZED CONTACT WITH SAID LEGAL SELLER WILL BE CHARACTERIZED AS A BREACH OF CONFIDENTIALITY AND SAID AGREEMENT MAY BE ENFORCED UNDER EXISTING LAW OR IN EQUITY.
This paper was prepared by General Equipment Inc.
The paper represents an offer of a partner of General Equipment Inc.
All rights are reserved by and for General Equipment Inc.
All content and ideas of this paper are the property of General Equipment Inc.
---
This transmission may include information on International Traffic in Arms Regulation (ITAR) (22 CFR-120-130) controlled items. These controlled items may not be resold, diverted, transferred or transshipped outside of the United States or to any other country without U.S. State Department approval.
US State Department Arms License: K-5943


Defense items are subject to final destination approval and granting of an
export license issued by exporting country's authorities