---
SW204-2
| | |
| --- | --- |
| TYPE: | Helicopter |
| DESCRIPTION: | SW204 HP Helicopter With T53-L-703 Engine |
| PRICE: | Upon Request |
| PACKING: | Ex-Works |
SW204 HP HELICOPTER WITH T53-L-703 ENGINE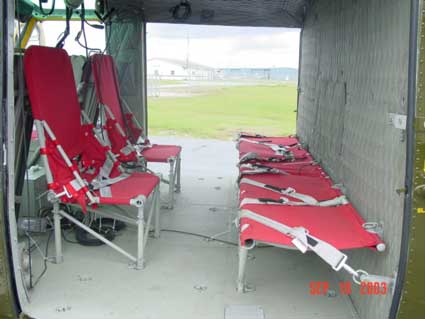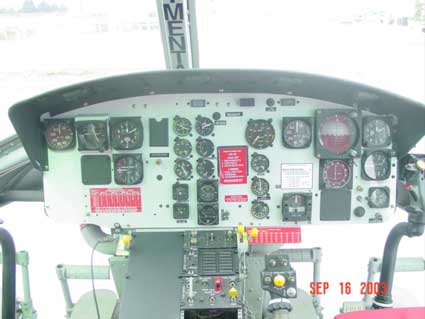 Aircraft Model: SW204HP
Certification: DR Standard Transport Category Airworthiness Certificate
Production Certificate: HI-101
T.C.D.S: Dominican Republic H6SO
Engine Model: T53-L-13B
Engine Hours: TBO: 2400 TSO: 0.0
NEW: Soundproofing, Battery (Lead Acid), Seat Covers, Seat Belts, Fire Extinguisher, Windows
MID-TIME: 212 Main Rotor Blades & 212 Tail Rotor Blades
OVERHAULED: Power-train components
ALL

current applicable

A.D.'s, complied with


Utility Seating Configuration
Standard Aircraft Exterior Dimensions:
Length, fuselage, ft (m)

40.38

(12.31)

Width, fuselage, ft (m)

8.00

(2.44)

Length, T/R turning, ft (m)

44.65

(13.61)
Width, widest point, ft (m)

9.33

(2.84)

Length, both turning, ft (m)

57.10

(17.40)

Width, landing gear, ft (m)

8.37

(2.55)

Height, top, rotor hub, ft (m)

12.40

(3.78)

Gr clearance, fuselage, ft (m)

N/A

(N/A)

Height, top, T/R arc, ft (m)

14.60

(4.45)

Gr clearance, T/R, ft (m)

6.10

(1.86)
Standard Aircraft Interior Dimensions:
Length, max, ft (m)

5.00

(1.52)

Width
7.67

(2.34)

Height, max, ft (m)

4.67

(1.42)

Volume, ft

3

(m

3

)

140.00

(3.96)
Standard Aircraft Weights: (Typical)
Max gross, lbs (kg)

8,501

(3856)

Empty, std acft, lbs (kg)

4,799

(2177)

Useful load, lbs (kg)

3,702 (1679)

Useful, with full fuel, lbs (kg)

2,081 (944)

External load, lbs (kg)

4,000 (1814)

Gross with ext load, lbs (kg)

9,500 (4309)
SW204HP WITH T53-L-703 ENGINE
TAKEOFF AND LANDING GROSS WEIGHT
VERSUS
AMBIENT AIR TEMPERATURE AND PRESSURE ALTITUDE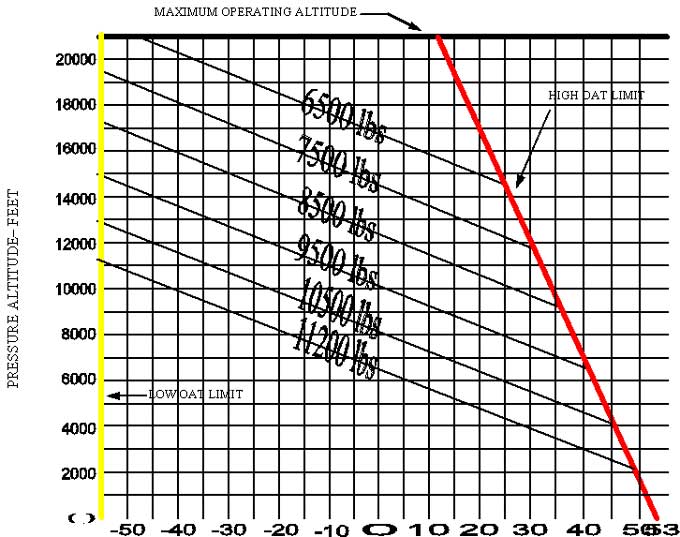 AMBIENT AIR TEMPERATURE- °C
WEIGHT– ALTITUDE– TEMPERATURE
LIMITATIONS FOR TAKEOFF AND LANDING
Specification and photos are not contractual and are subject to verification upon inspection
NB: Aircraft offered for sale subject to contract, prior sale, withdrawal from the market and information regarding any aircraft or helicopter and provided verbally or in written documentation and/or contained within this e.mail or associated paper-work should be taken as a guide only in determining the suitability, including that aircraft or helicopters specification and/or performance. We highly recommend that any buyer or lessee perform their own inspections and due diligence to verify any and all technical, performance and specification information contained therein including OEM claims.
PLEASE NOTE: AIRCRAFT SPECIFICATIONS SUBJECT TO VERIFICATION UPON INSPECTION. WE DO NOT ACCEPT ANY LIABILITY FOR AIRCRAFT DEFECTS, HISTORY OR TECHNICAL RECORD ERRORS. IT IS THE BUYERS RESPONSIBILITY TO INDEPENDENTLY VERIFY THE AIRCRAFT AND COMPONENT HISTORY.
TAKE NOTICE!
PLEASE BE ADVISED THAT INFORMATION INCLUDED IS CONFIDENTIAL IN NATURE AND IS BASED ON PRE-EXISTING BUSINESS RELATIONSHIP WITH THE LEGAL OWNER OF PROPERTY DESCRIBED HEREIN (IF APPLICABLE). AS SUCH, UPON RECEIPT OF SAID INFORMATION THE RECEIVER ACKNOWLEDGES THAT ANY UNAUTHORIZED CONTACT WITH SAID LEGAL SELLER WILL BE CHARACTERIZED AS A BREACH OF CONFIDENTIALITY AND SAID AGREEMENT MAY BE ENFORCED UNDER EXISTING LAW OR IN EQUITY.
This paper was prepared by General Equipment Inc.
The paper represents an offer of a partner of General Equipment Inc.
All rights are reserved by and for General Equipment Inc.
All content and ideas of this paper are the property of General Equipment Inc.
---
Defense items are subject to final destination approval and granting of an
export license issued by exporting country's authorities