---
STEYRMA1
| | |
| --- | --- |
| TYPE: | Pistol |
| DESCRIPTION: | Steyr Pistols M-A1 Series |
| PRICE: | Upon Request |
| PACKING: | Ex-Works |
STEYR PISTOLS M-A1 SERIES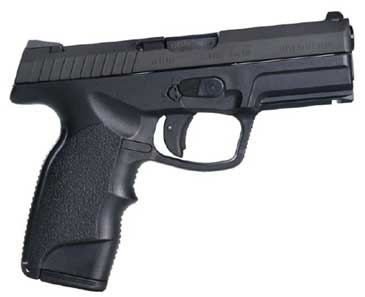 Steyr Mannlicher Pistols are world-famous for its future-orientated design and technology as well as ultimate ergonomics and proverbial precision.
With the Steyr Pistol M-A1 Series the company has even excelled its own perfection.

The new innovative grip frame offers unmatched ergonomics for best pointing characteristics.

The Picatinny rail on the lower front frame allows mounting a wide range of white lights and laser aiming devises.
Fast and precise target acquisition due to the innovative triangular/trapezoid sights and the unique lockable safety system make this semi-automatic pistol what a handgun should be in modern times.
Steyr Mannlicher has long been known as the leader in the utilisation of advanced synthetics for firearms. Also the materials used in the ultra-rigid frame of this new pistol represent the state-of-the art in the world of handguns.
Not only ergonomics was in the foreground during the development process of the new Steyr Pistols.
Also safety was an important point same as at the well known Steyr Pistolen M&S Series.
The new Steyr Pistol M-A1 Series contains two resp. three safety conditions optional :
Automatic Trigger- Drop- Firing Pin Safety Mechanism Ė In this condition the pistol is safe until the moment the trigger is pulled.

Integrated limited access lock with key - The integrated locking function is activated by a key and prevents firing and disassembling of the pistol.

Optional Manual Safety Ė Can be activated manually, according to the userís needs. The safety catch can be quickly deactivated by the trigger finger.
With a weight of only 766 g the new pistol M-A1 Series is also extremely light.
Steyr Mannlicher products are unbeatable in quality and reliability. Due to their world-wide acclaim of producing the most accurate and durable executive self-defence and hunting firearms, itís no surprise that the M&S Series pistols meet these standards as well.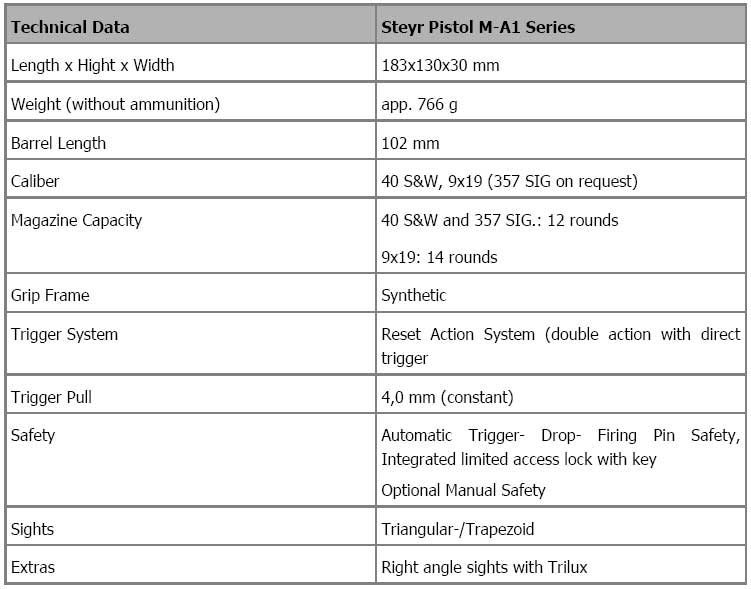 Specification and photos are not contractual and are subject to verification upon inspection
TAKE NOTICE!
PLEASE BE ADVISED THAT INFORMATION INCLUDED IS CONFIDENTIAL IN NATURE AND IS BASED ON PREXISTING BUSINESS RELATIONSHIP WITH THE LEGAL OWNER OF PROPERTY DESCRIBED HEREIN (IF APPLICABLE). AS SUCH, UPON RECEIPT OF SAID INFORMATION THE RECEIVER AKNOWLEDGES THAT ANY UNAUTHORIZED CONTACT WITH SAID LEGAL SELLER WILL BE CHARACTERIZED AS A BREACH OF CONFIDENTIALITY AND SAID AGREEMENT MAY BE ENFORCED UNDER EXISTING LAW OR IN EQUITY.
This paper was prepared by General Equipment Inc.
The paper represents an offer of a partner of General Equipment Inc.
All rights are reserved by and for General Equipment Inc.
All content and ideas of this paper are the property of General Equipment Inc.
---
Defense items are subject to final destination approval and granting of an
export license issued by exporting country's authorities