GENERAL EQUIPMENT CORPORATION INC.

8724 Sunset Drive #191 ● Miami FL 33173 · USA


Email: info@generalequipment.info ● www.generalequipment.info
---
SS109
| | |
| --- | --- |
| TYPE: | Ammunition |
| DESCRIPTION: | 5.56mm NATO SS109 Ball Ammo |
| PRICE: | Upon Request |
| PACKING: | Ex-Depot |

5.56mm nato ss109 ball ammo

The 5.56mm M855 is a NATO round for use in the M16A2, M4 rifles and M249 machine gun.
It's improved penetration characteristics over the M193 provide improved accuracy and higher retained velocity


CHARATERISTICS
Height: 2.260 in
Waight: 190-14 grains
BALLISTICS
Muzzle velocity: 300 ± 40 f/s at 78 ft
Chamber pressure, typical: 55,000psi
Accuracy: ind targets horiz and vert sd=7.8 in at 600 yd
Action time: 3 MS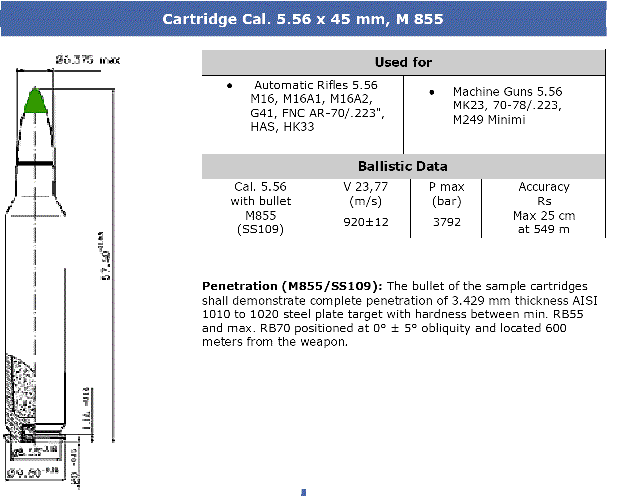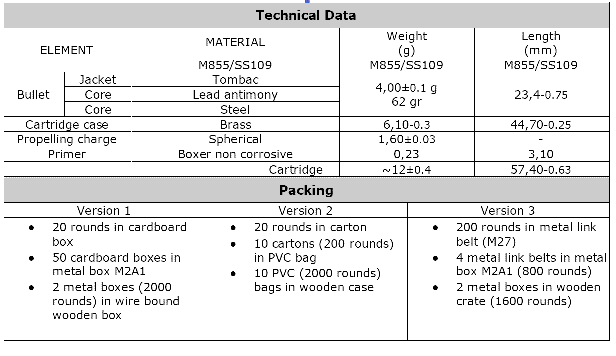 TAKE NOTICE!
PLEASE BE ADVISED THAT INFORMATION INCLUDED IS CONFIDENTIAL IN NATURE AND IS BASED ON PRE-EXISTING BUSINESS RELATIONSHIP WITH THE LEGAL OWNER OF PROPERTY DESCRIBED HEREIN (IF APPLICABLE). AS SUCH, UPON RECEIPT OF SAID INFORMATION THE RECEIVER ACKNOWLEDGES THAT ANY UNAUTHORIZED CONTACT WITH SAID LEGAL SELLER WILL BE CHARACTERIZED AS A BREACH OF CONFIDENTIALITY AND SAID AGREEMENT MAY BE ENFORCED UNDER EXISTING LAW OR IN EQUITY.
This paper was prepared by General Equipment Corp.
The paper represents an offer of a partner of General Equipment Corp.
All rights are reserved by and for General Equipment Corp..
All content and ideas of this paper are the property of General Equipment Corp.
---
Defense items are subject to final destination approval and granting of an
export license issued by exporting country's authorities