---
SNIPER RIFLE 20MM
| | |
| --- | --- |
| TYPE: | Rifle |
| DESCRIPTION: | Sniper Rifle 20mm |
| PRICE: | Upon Request |
| PACKING: | Upon Request |
sniper rifle 20mm
Anti Material Sniper Rifle, cal.20x110mm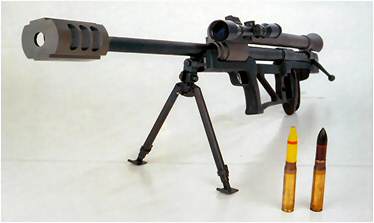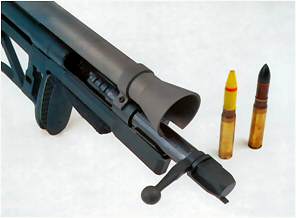 Design features:
Ø Single shot bolt action weapon
Ø Manually operated bolt handle on the left of the receiver
Ø Recoil forces reduction achieved by a recoil compensation tube
Ø Recoil forces reduction achieved by a high efficiency multi-baffler
Ø Muzzle brake grate power at cartridge
Ø One-man operating and transporting
Specification of Standard Equipment
Optical sight with case - Khales ZF6x42
Backpack
Cleaning and Oiling Kit
Wooden case for transport and storage
User Manual
Anti Material Sniper Rifle Type, cal.20x110mm

TECHNICAL DETAILS

Calibre:

20x110mm

Overall length:

1330mm

Barrel length:

920mm

Muzzle velocity:

850 m/s

Scope:

6x42

Operation:

manually operated bolt

Maximum operational range:

2000m

Mass of the Rifle without bipod and scope:

15,1 kg

Mass of bipod:

1,3 kg

Mass of scope:

0,6 kg

Mass of Rifle with bipod and scope:

17 kg

Mass of backpack:

3,2 kg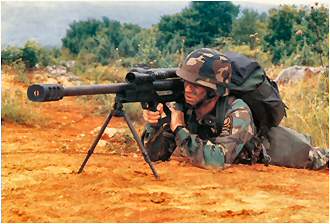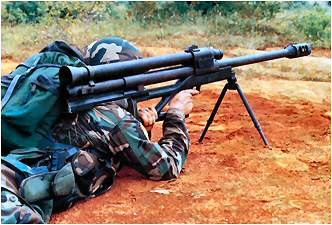 Anti material Rifle Type cal.20x110mm, is designed to be used against hostile vehicles, communication centres, command post shelters, logistic centres and similar targets. The rifle can be also used by explosive ordnance disposal teams.
Aiming with the Anti Material Rifle is stabilized by height adjustable bipod.
The bipod height can be adjusted from 215 to 295mm.
The recoil produced by 20mm cartridge while firing Anti Material Rifle is absorbed in two ways: a) by recoils compensation tube mounted above the barrel and b) by high efficiency muzzle brake.
The bolt has three sets of locking lugs opened by turning the bolt handle 60°. Once the bolt is moved forward and locked, the AM Rifle can be fired.
About half way down the barrel there is a block with an upwards facing gas port. As the projectile passes this point, some of the propellant gases are topped off and directed along the recoil compensation tube to be vented behind and above the bolt area.

Specification and photos are not contractual and are subject to verification upon inspection
TAKE NOTICE!
PLEASE BE ADVISED THAT INFORMATION INCLUDED IS CONFIDENTIAL IN NATURE AND IS BASED ON PRE-EXISTING BUSINESS RELATIONSHIP WITH THE LEGAL OWNER OF PROPERTY DESCRIBED HEREIN (IF APPLICABLE). AS SUCH, UPON RECEIPT OF SAID INFORMATION THE RECEIVER ACKNOWLEDGES THAT ANY UNAUTHORIZED CONTACT WITH SAID LEGAL SELLER WILL BE CHARACTERIZED AS A BREACH OF CONFIDENTIALITY AND SAID AGREEMENT MAY BE ENFORCED UNDER EXISTING LAW OR IN EQUITY.
This paper was prepared by General Equipment Inc.
The paper represents an offer of a partner of General Equipment Inc.
All rights are reserved by and for General Equipment Inc.
All content and ideas of this paper are the property of General Equipment Inc.
---
Defense items are subject to final destination approval and granting of an
export license issued by exporting country's authorities