---
SNIPER RIFLE .308 AGLC
| | |
| --- | --- |
| TYPE: | Rifle |
| DESCRIPTION: | Sniper Rifle .308 AGLC |
| PRICE: | Upon Request |
| PACKING: | Upon Request |
SNIPER RIFLE .308 AGLC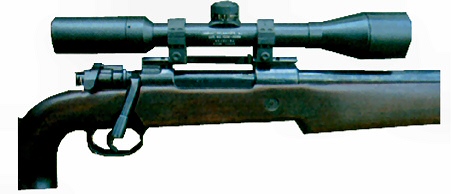 The .308 AGLC rifle is a precision rifle based on the Mauser action, with a floating match barrel, in caliber 7.62x51mm, hammer forged and adapted for use with telescopic sights.
It was developed to assist the needs of those that want a robust weapon with accuracy and realiability.
The flexibility of the design of the .308 AGLC rifle makes it possible the use of the more varied types of scopes as well as the installation of other optional items such as triggers, slings, bipod and special stocks.
The level of accuracy (99% chnace of hitting the target at 400m in the first impact) makes this weapon the ideal solution for operational employment of training of military forces and police.
| | |
| --- | --- |
| Caliber: | 7.62 x 51 mm |
| Operation: | Repetition, Mauser action |
| Magazine: | 4 rounds |
| Weight: | 4.7 kg (without accesories) |
| Length: | 1,200 mm |
| Barrel: | 1:12 rh * length of 609mm (24 in) |
| Muzzle velocity: | 820 m/s |
| Precision: | 1 MOA |
| Accessories: | Metallic sights, telescopic scopes for day and night uses, bipod, sling and stock |
Specification and photos are not contractual and are subject to verification upon inspection
TAKE NOTICE!
PLEASE BE ADVISED THAT INFORMATION INCLUDED IS CONFIDENTIAL IN NATURE AND IS BASED ON PRE-EXISTING BUSINESS RELATIONSHIP WITH THE LEGAL OWNER OF PROPERTY DESCRIBED HEREIN (IF APPLICABLE). AS SUCH, UPON RECEIPT OF SAID INFORMATION THE RECEIVER ACKNOWLEDGES THAT ANY UNAUTHORIZED CONTACT WITH SAID LEGAL SELLER WILL BE CHARACTERIZED AS A BREACH OF CONFIDENTIALITY AND SAID AGREEMENT MAY BE ENFORCED UNDER EXISTING LAW OR IN EQUITY.
This paper was prepared by General Equipment Inc.
The paper represents an offer of a partner of General Equipment Inc.
All rights are reserved by and for General Equipment Inc.
All content and ideas of this paper are the property of General Equipment Inc.
---
Defense items are subject to final destination approval and granting of an
export license issued by exporting country's authorities