---
REFRIGTRAILSKO24
| | |
| --- | --- |
| TYPE: | Trailer |
| DESCRIPTION: | Refrigeration Semi-Trailer |
| PRICE: | Upon Request |
| PACKING: | Upon Request |
3 axles ferroplast refrigeration semi-trAILER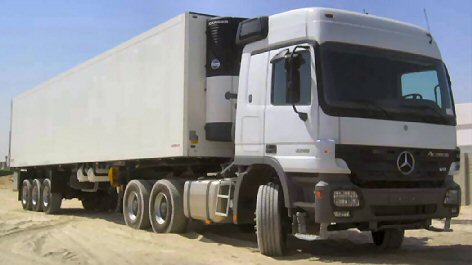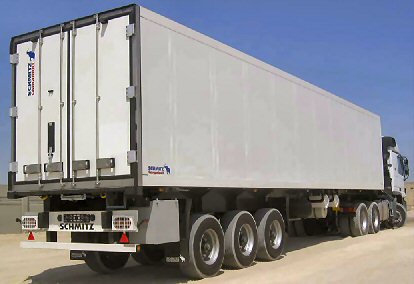 SCHMITZ 3-Axle Ferroplast Refrigeration Semi-Trailer

Type SKO 24/L - 13.4 FP 80/80 PLUS-2 FG

T E C H N I C A L S P E C I F I C A T I O N

3-AXLE FERROPLAST SEMI-TRAILER for the transport of deep frozen goods

TYPE: SKO 24/L – 13.4 FP 80/80 PLUS-2 FG


Weights and Dimensions

Internal length ap. 13285 mm (43'7") - Gross weight (plated/design) ap. 43000 kg (94800 lb)

Internal width ap. 2420 mm (7'11 ¼") - Payload (plated/design) ap. 34300 kg (75600 lb)

Internal height ap. 2250 mm (7'4 ½") - Bogie load (plated/design) ap. 27000 kg (59500 lb)

Total height (unladen) ap. 4020 mm (13'2 ¼") - Kin ping load (plated/design) ap. 16000 kg (35250 lb)

Overall length ap. 13380 mm (43'10 ¾") - Total tare weight +/- 4% 8700 kg (19200 lb)

Overall trailer width ap. 2600 mm (8'6 ¼") - 5th wheel height (unladen) ap. 1360 - 1480 mm

ap. (4'5 ½"- 4'10 ¼")

Tyre size 385/65R22.5


Chassis

Registration/Certification

• International custom seal (TIR) for body with rear door, without TIR certificate

Chassis

• Chassis in PLUS-ISO construction

• Rear underrun bar in heavy duty, reinforced execution

• Single bolted 3 ½" king pin

•

3 units heavy duty spare wheel carriers, 2 x for semi trailer & 1 x for truck tractor with tyres size: 315/80 R 22.5 or alternative 12.00 R 24


Axles

• Axle BPW with drum brakes in heavy duty execution, incl. ABS, AGS

• 10 stud wheel spigot mounting according to DIN 74 361 (part 3)


Lift axle

• First axle designed as lifting axle, with auto drop facility


Suspension

• Air-suspension Type MRH-U35/AC245 with steel piston, 350 mm (13' ¾") bellow


Brake system

• Dual line brake system according to RR EG 71/320

• EBS 2S/2Mm electronic braking system incl. RSP (Rollover stability program)

• EBS power supply by ISO 7638 socket + CAN-bus

• Spring brake air chambers

• Raise-lower valve

• 2 wheel chocks with holders


LANDING GEARS

• Mechanical operation with extra large universal base plates, special wide sand plates, total capacity 25 tons (55100 lb)

Operation from one side for uncoupling of the loaded semi-trailer

• Handle can be locked during transport


Light system

• Light system 24 V. acc.to RU75/756/EWG with 2 x 3 chamber lights

• Rear lamp panel with colour: WHITE RAL9010

• 2 x 7-pin connector sockets: 1 x DIN ISO 1185 & 1 x parking position

• LED side marker lights with reflectors

• 2 x red rear top LED marker lights, 4 x White front LED marker lights/reflectors

• 1 pair of side tracking lights, positioned at the rear


Wheels and tyres

• Tyre make: European first class

• 8 x 385/65R22.5 (11.75x22.5) (2 spare wheels included)

• Steel rims


Spray suppression

• Vertical plastic mudguards

• Mud flaps


Further chassis equipment

• Access step at rear, right hand side

• 2 vertical rubber block buffer mounted at rear of chassis

• Coupling connectors and sockets mounted on front bulkhead, low specification

• 2 rear corner rubber buffer, 1 rear rubber buffer across rear width


Bodywork

• PU foam panel, free of thermal bridges - sealed against vapour diffusion

• Inner skin is 0.6mm (0.02") PVC coated steel scuff proof and load safe

Front bulkhead/Roof/Side walls

• Front wall FERROPLAST 80 mm (3 ¼") with reinforcement for refrigeration unit

• Side walls FERROPLAST 80 mm (3 ¼")

• Roof FP140 – 140 mm (5 ½ ") thickness panel

• 4 ALU circulation profiles on the front bulkhead

• 2 ventilation flaps, one at front and one at rear


Rear closure

• Double rear door FP80,3 anodised ALU hinges with double s/s turn.bar locks+large s/s handle/door

• Rear frame is stainless steel with bead blasted finish

• 300mm (11 ¾") depth, anodised ALU wear-strip fitted at base of each rear door


Floor

• Chequered ALU floor

• 300mm ALU (11 ¾ ") kick strip to front and both sides welded to floor pan


Further body equipment

• 4 ceiling lights recessed switch at the rear of rear lamp panel

• Hinge protection rubber buffers fitted vertically to lower part of the rear frame, incl. access handle


Refrigeration unit

• Fridge unit aperture cut out and bolt holes drilled in front bulkhead

• Supply &fitting CARRIER ULTRA NDA wm ss with battery

• Steel fuel tank 190 litre (50 US gallons)

• Fridge unit piped wired and commissioned


Load securing installation

• Row(s) recessed el. plated univ.load restraint hole and slotted edge, without side door

• 2 x Telescopic supporting beam ALU

• Special securing installation for telescopic supporting beams


Toolbox

• One tool box, made of steel plates for equipment storage,


Water tank

• Two drinking water tank, with tap, capacity: 30 litre ea. (8 gal), total app. 60 litre (16 US GAL)


Painting/Finishing

• One colour body

• Roof finished in white RAL 9010

• Spare wheel carrier: powder coated black RAL 9005

• One colour chassis

• Hubs: Factory finished (KTL)

• Wheel rims: Factory finish (Silver)

• Body finished in white RAL 9010

• Landing legs: Factory finish - Jet Black

• Wheel nuts: Unpainted

Attachment no. 5


Painting/Finish details

• Chassis 7350 GRANIT

• Hubs KTL 12 KTL-COATED - JET BLACK

• Wheels RAL 9006 White aluminium

• Body RAL 9010 Pure white

• Roof RAL 9010 Pure white

Specification and photos are not contractual and are subject to verification upon inspection






TAKE NOTICE!

PLEASE BE ADVISED THAT INFORMATION INCLUDED IS CONFIDENTIAL IN NATURE AND IS BASED ON PRE-EXISTING BUSINESS RELATIONSHIP WITH THE LEGAL OWNER OF PROPERTY DESCRIBED HEREIN (IF APPLICABLE). AS SUCH, UPON RECEIPT OF SAID INFORMATION THE RECEIVER ACKNOWLEDGES THAT ANY UNAUTHORIZED CONTACT WITH SAID LEGAL SELLER WILL BE CHARACTERIZED AS A BREACH OF CONFIDENTIALITY AND SAID AGREEMENT MAY BE ENFORCED UNDER EXISTING LAW OR IN EQUITY.

This paper was prepared by General Equipment Corp.
The paper represents an offer of a partner of General Equipment Corp.
All rights are reserved by and for General Equipment Corp..
All content and ideas of this paper are the property of General Equipment Corp.