---
RAPID DEPLOY SHELTERS
| | |
| --- | --- |
| TYPE: | Shelters |
| DESCRIPTION: | Rapid Deploy Shelters |
| PRICE: | Upon Request |
| PACKING: | Upon Request |
rapid deploy shelters
From new manufacture
EXPERIENCE, INNOVATION, DESIGN
In just a few years the Rapid Deploy Shelters has become a world reference in design, manufacturing and marketing of Rapid Deploy Shelters, with unique experience in research, industrialization, service and training, the company has been able to meet customer requirement efficiently.
The company provides full back up throughout any project and becomes your partner in searching and developing the most appropriate and advanced solutions.
With its own manufacturing facilities in France and in the USA, the company offers robust, field-proven, innovative and turnkey solutions.



A COMPLETE RANGE OF SHELTERS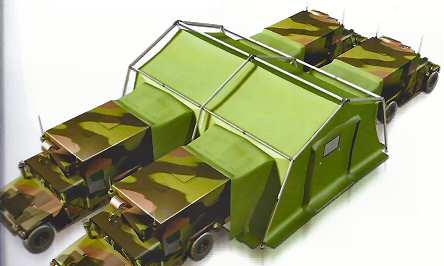 Whatever the size of your camp, requested level of production and comfort, the company offers a range of shelters to meet your needs.
The company energy-optimized products are conceived to minimize logistic constraints (size, weight, durability...).
Furthermoree, the company teams ensure maintenance, installation and supervision of your projects.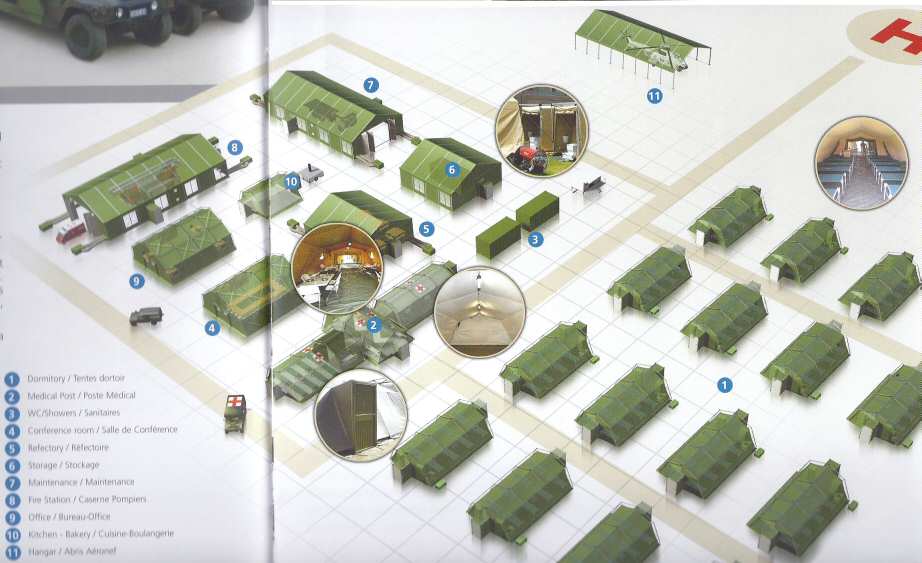 DECONTAMINATION
Mobile decontamination units are intended for decontamination of walking/non-walking casulaties, men/women separately, in situation of chemical, biological, nuclear or industrial accident, terrorist attack or wae (CBRN).
The role of these decontamination units is to treat people close to disaster zones or at the entry to care zones. The aim is to limit in time further decontamination of people.
Easily transportable on site, they provide facilities for continuous decontamination, in the shortes possible time.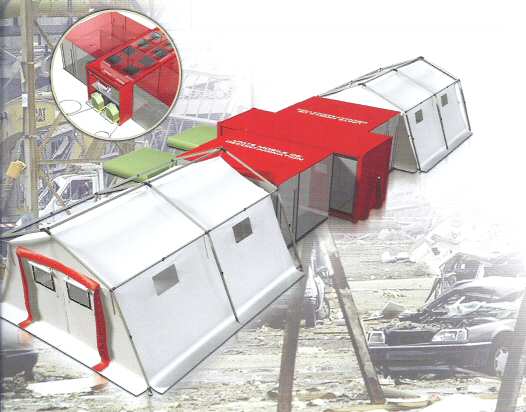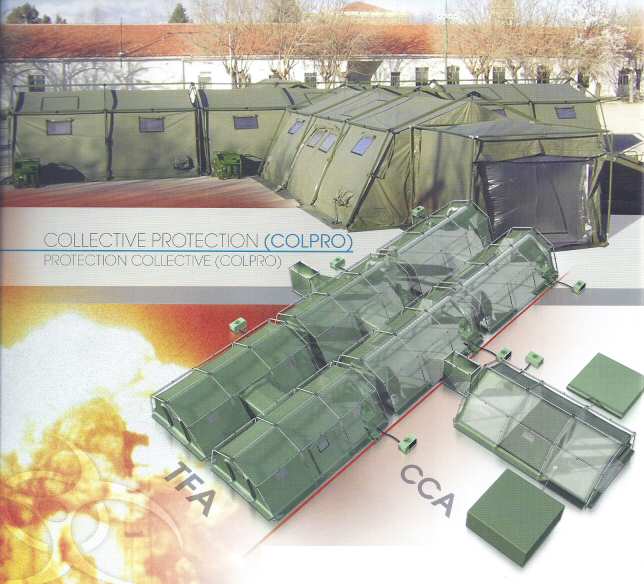 On the battlefiels with real risks of CBRN contamination, COLPRO systems provide protection of the military personnel, thus allowing them to continue their mission or retreat to the witing position.
While working on specific projects with different NATO armies, the company has developed real expertise's in collective protection.
The company offers bespoke systems meeting your requirements number of people to be protected, protection level and utilization period.
Thanks to the air handling, management of materials and mastering of logistic constraints, the company solutions are perceived to be highly reliable.
The COLPRO system consists of three zones: Access module (CCA), isolation airlocl and clean zone (TFA). The TFA could be set up as a camp, command post, hospital or storage enclosure (vehicles or equipment).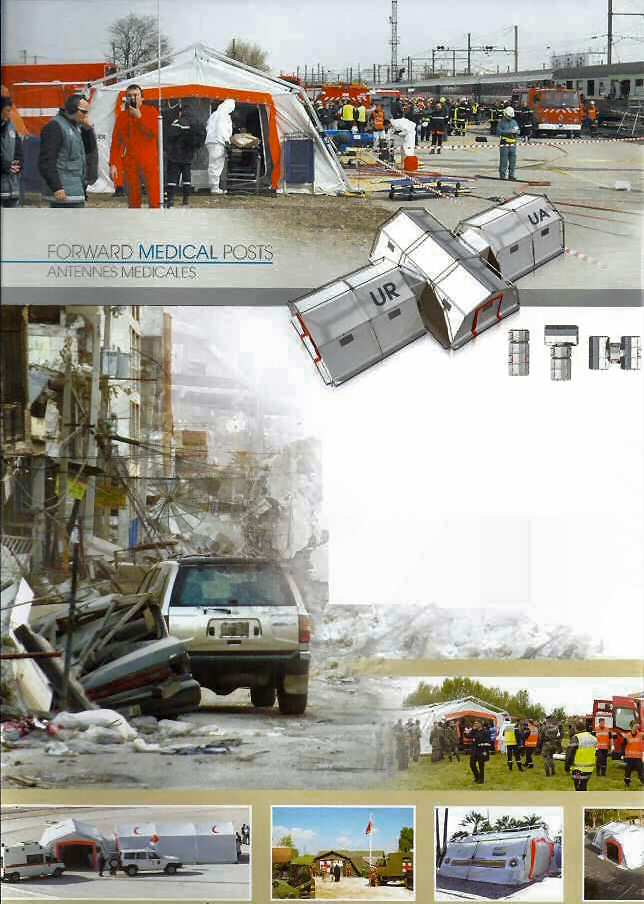 MOBILE FIELD HOSPITAL
The Company has a history of complete equipment solutions for field hospitals, forward medical posts and other medical facilities, both in the civilian and military markets.
Emergency care facilities and general hospital facilities are designed and supplied both for highly mobile or long-term applications.
A variable range of treating modules are efficiently adapted to any mission's requirements offering a sustained medical support accomplished by food, hygiene, water treatment, power distribution and lodging modules that are vital for smooth and certain operation.
Skilled team assist you in the installation process and train your staff through the organization of large-scale disaster scenarios.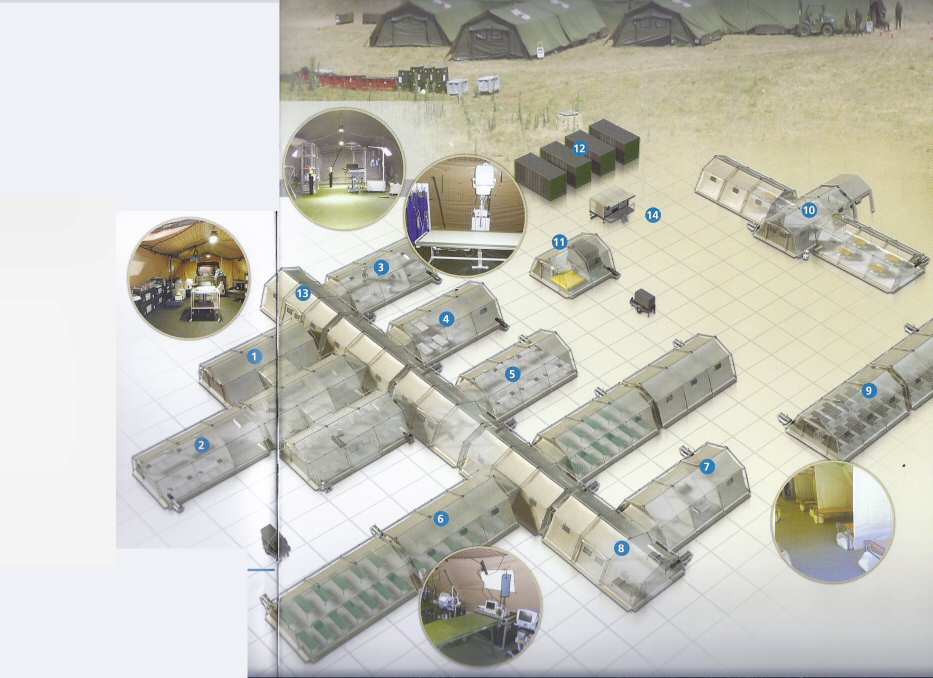 HANGAR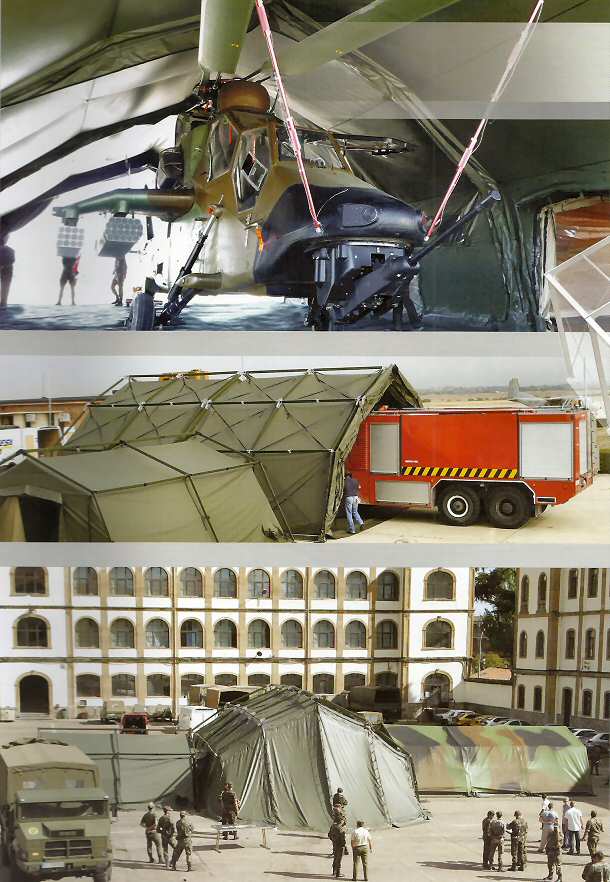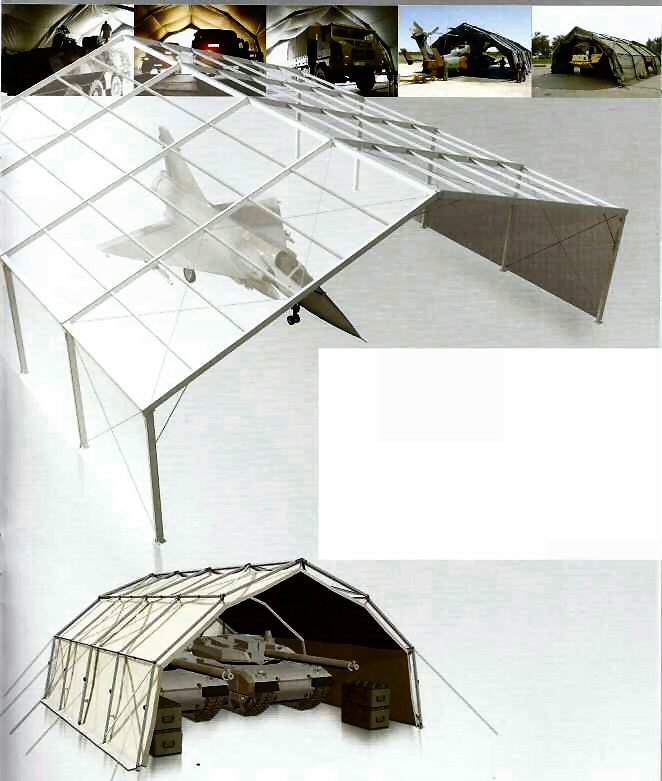 For large work areas, the company provides TL and TXL shelters that are designed for various applications such as:
Maintenance enclosures for vehicles and aircrafts

Dray Air storage

CBRN protection of vehicles and aircrafts

Command posts

Refectories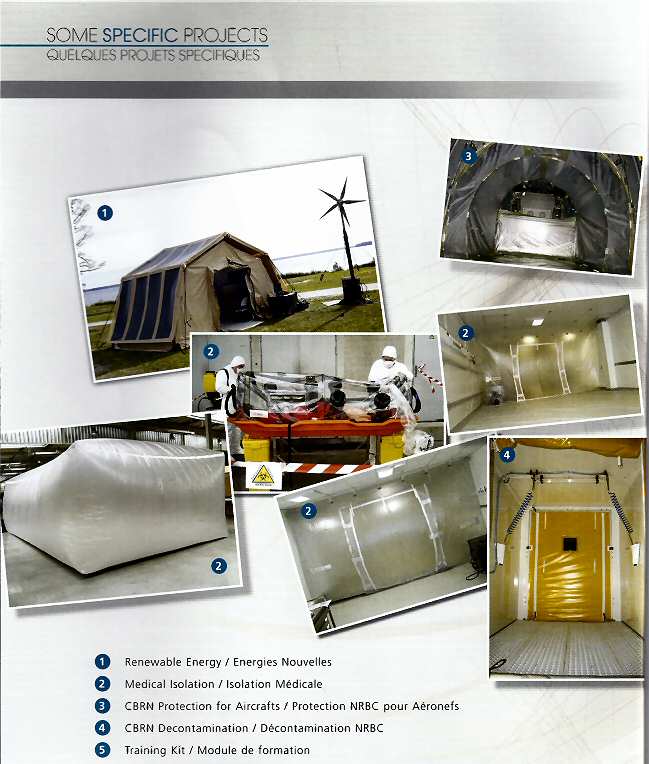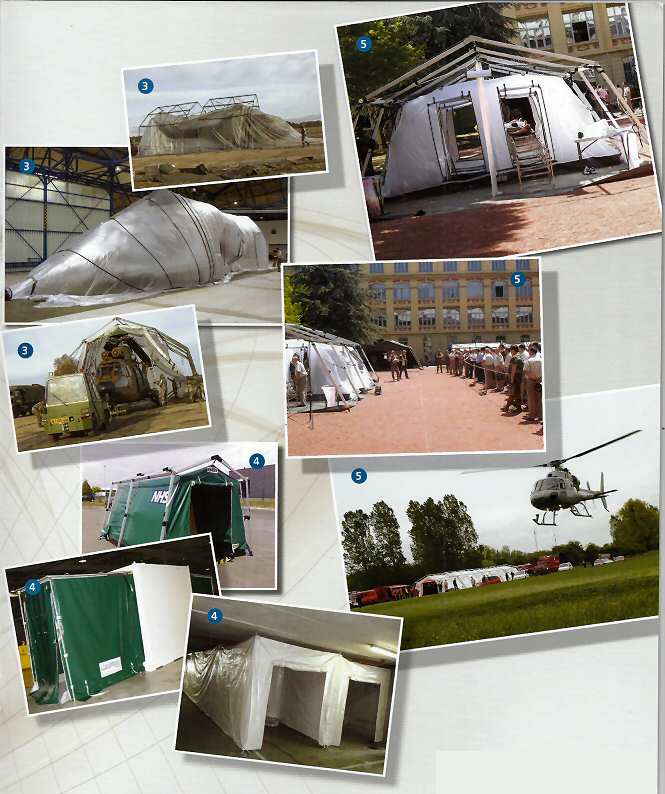 Specification and photos are not contractual and are subject to verification upon inspection
TAKE NOTICE!
PLEASE BE ADVISED THAT INFORMATION INCLUDED IS CONFIDENTIAL IN NATURE AND IS BASED ON PRE-EXISTING BUSINESS RELATIONSHIP WITH THE LEGAL OWNER OF PROPERTY DESCRIBED HEREIN (IF APPLICABLE). AS SUCH, UPON RECEIPT OF SAID INFORMATION THE RECEIVER ACKNOWLEDGES THAT ANY UNAUTHORIZED CONTACT WITH SAID LEGAL SELLER WILL BE CHARACTERIZED AS A BREACH OF CONFIDENTIALITY AND SAID AGREEMENT MAY BE ENFORCED UNDER EXISTING LAW OR IN EQUITY.
This paper was prepared by General Equipment Inc.
The paper represents an offer of a partner of General Equipment Inc.
All rights are reserved by and for General Equipment Inc.
All content and ideas of this paper are the property of General Equipment Inc.
---
This transmission may include information on International Traffic in Arms Regulation (ITAR) (22 CFR-120-130) controlled items. These controlled items may not be resold, diverted, transferred or transshipped outside of the United States or to any other country without U.S. State Department approval.


Defense items are subject to final destination approval and granting of an
export license issued by exporting country's authorities