---
RAMP
| | |
| --- | --- |
| TYPE: | Security Sytem |
| DESCRIPTION: | Modular Vehicle Adjustable Ramp |
| PRICE: | Upon Request |
| PACKING: | Ex-Works |

MODULAR AJUSTABLE VEHICLE RAMP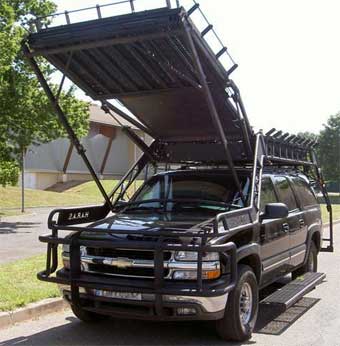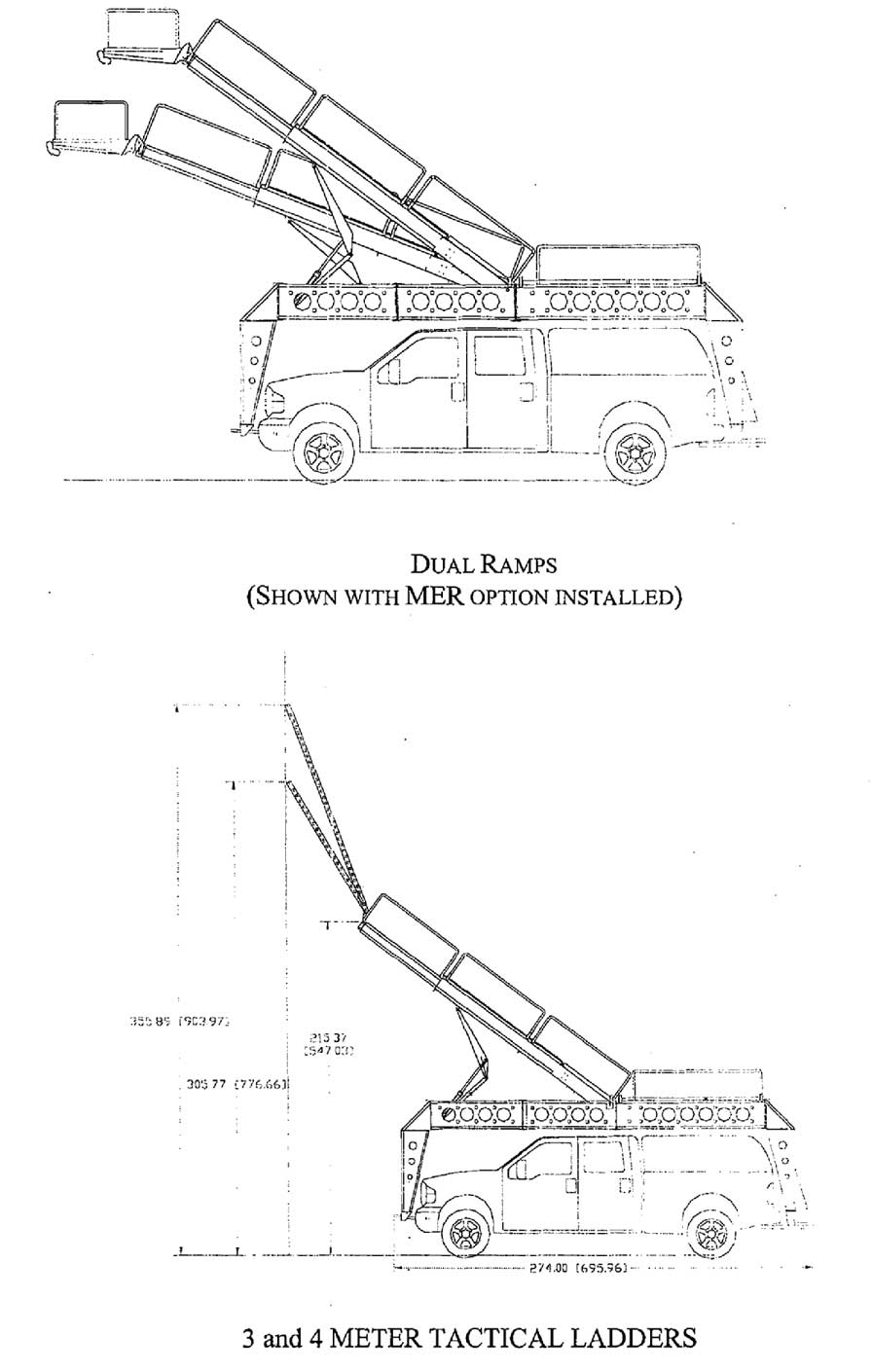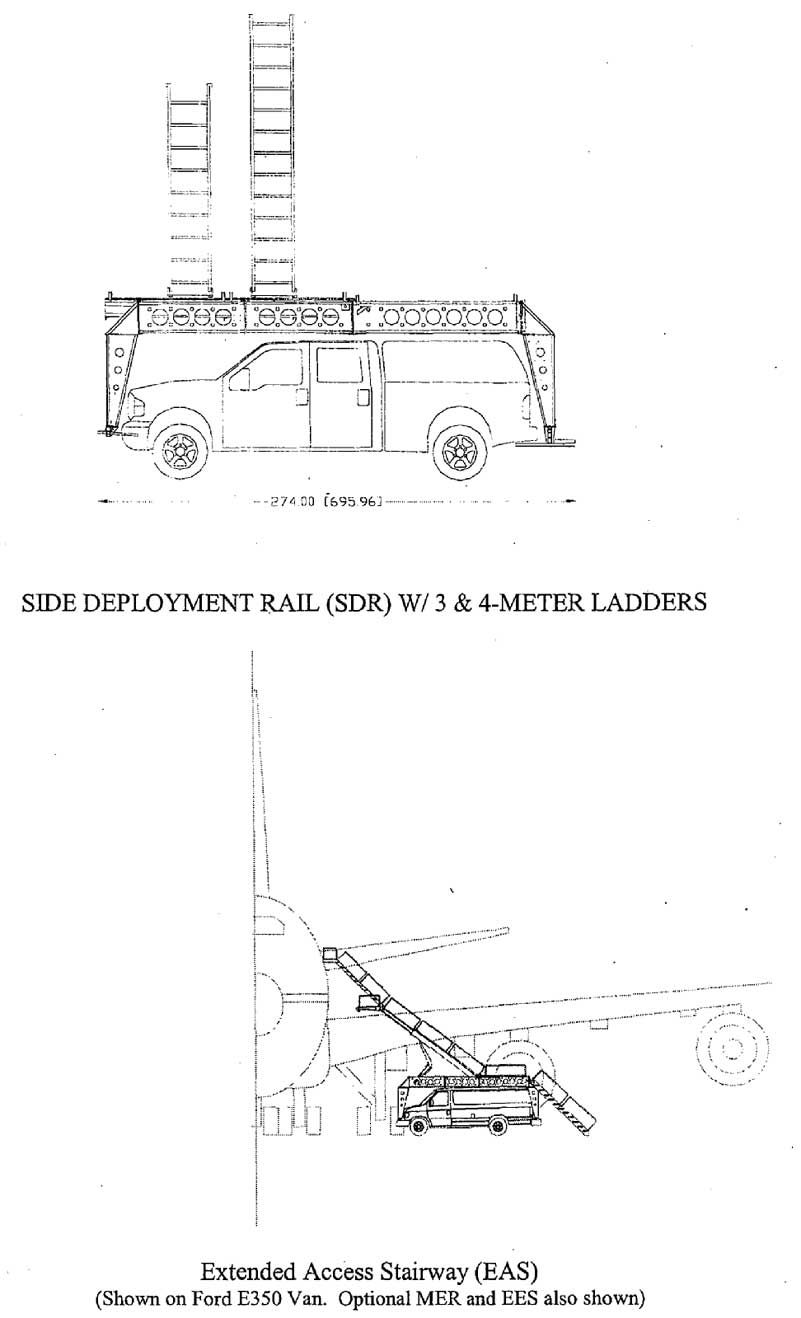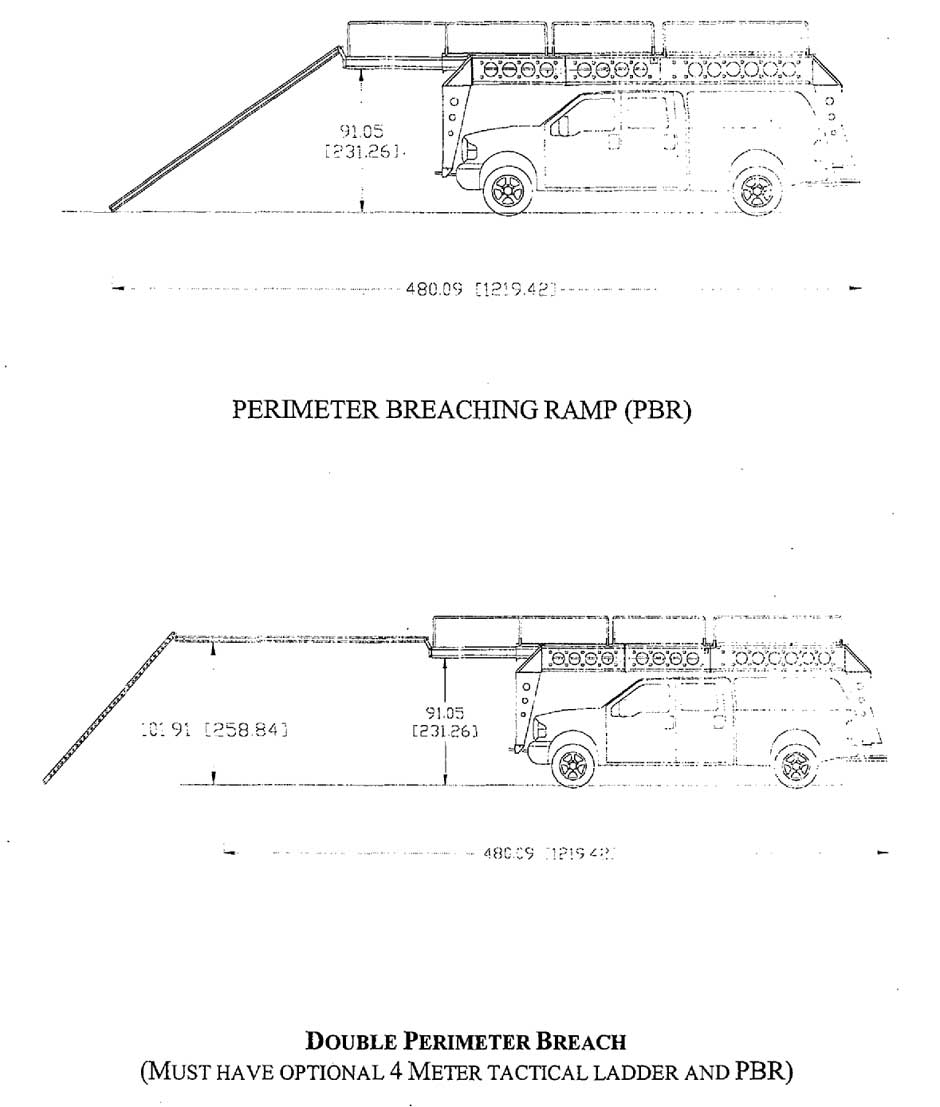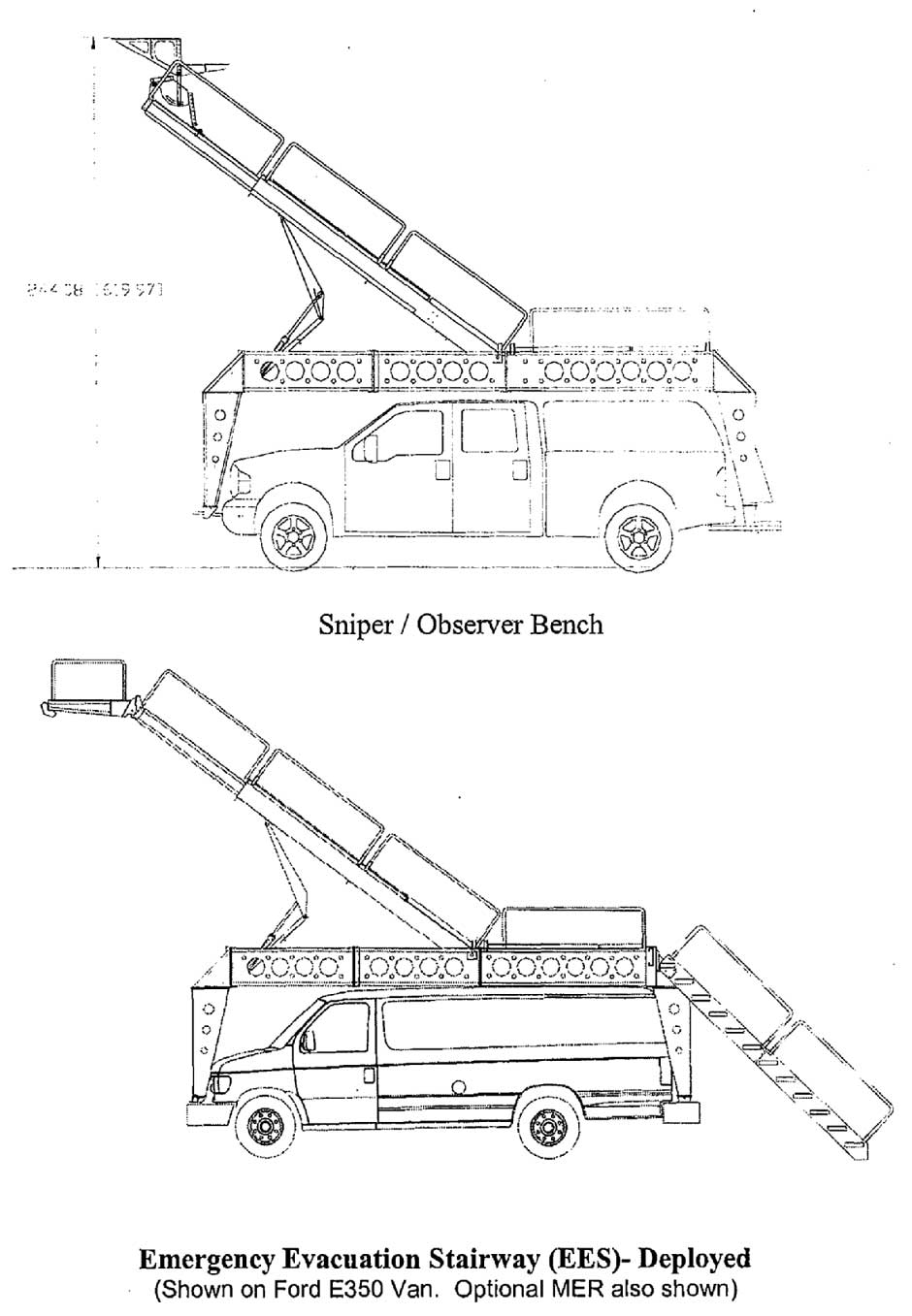 Specifications:

Adjustable Ramp

Description:
Modular designed, vehicle-based adjustable ramp system for elevated entry and capable of fitting a variety of vehicles.

System:
Frame: Material —5053H32 aluminum sheet, extrusions 6061T6 aircraft aluminum, Frame supports all components of system. Truss type frame spans vehicle. Attaches to front and rear vehicle mounting components.
Construction: Modular - components bolted together using Stainless Steel fasteners
Finish: All aluminum components Anodized; all mild steel components powder coated; Stainless Steel components require no finish
Deck Surface: All deck surfaces and rear stair tread are aluminum Grip Strut® safety grating. Grip Strut® slip resistance exceeds US Federal spec RRG-1602A slip resistance requirements.
System Overall Dimensions
Overall length: Varies with vehicle
Overall height: Varies with vehicle
Overall width: 93 inches (236.22 cm) without SDR installed Approximate Weight: 1900-2400 Lbs. Varies with vehicle
Maximum Ramp Height: 18'— 21' varies with vehicle
Maximum Ramp Angle: 37 degrees
Extension Ramp Stroke: 60 inches (1 52cm)
Bolts/Fasteners: Stainless Steel/Zinc Plated
Power Supply: Operates on vehicle supplied 12V or 24V power (Specify voltage at time of order placement)
Maintenance and Use Manuals: Supplied in English
Bearings: Nickel plate steel w/ lubrication fittings
System contains:
NOTE: Some components may not be available with all vehicles. Request an exact system list suited to your specific vehicle.

Main Ramps
• Quantity — 2, independently operated
• Hydraulic powered
• Overall dimensions — 39" x 244" (1 .0 x 6.2 meters)
• Main Ramp Speed:Full extension < 10 seconds
• Includes hydraulic service/ballistic panel
Extension Ramps
• Quantity — 2, independently operated
• Stored within main ramps
• Hydraulic powered
• Overall dimensions — 36" x 96" (0.9 x 2.4 meters)
• Extension Ramp Speed:Full extension <10 seconds
Hydraulics
• Hydraulic Cylinders and flow control components
• Redundant safety valves
• High speed regenerative fluid circuit for extension ramps
• 2 — 12v DC powered hydraulic pumps
• Push button operation via 4-button pendant w/ retractile cord and weather-tite plug Safety Railing
• Safety railing is stainless steel; Primarily sand blasted for textured finish to enhance grip qualities; folds down to reduce overall system height for transport and operation; quick removal if necessary
• Railing height — 20" (59 cm) (may vary with vehicle)
Accessory Yolks
• Attach to the end of the ramps to allow for Tactical Ladder and Breaching Ramp use. Rear Access Ladders
• Attach to the rear of the MARS staging area and allows for access to the system from the ground. Ladders may be removed and installed in the accessory yolks at the end of the ramps.
Standard Pin Replacement Pack
Kit contains all the quick-fastening pins used on the MARS handrails, legs, vehicle components and running boards. It is recommended that due environmental impact, all pins should be replaced every 12 months to ensure smooth fit and unction.
WARRANTY
One-year warranty on all parts and labor to be free of manufacturing defects beginning the date of delivery to end-user.
Specification and photos are not contractual and are subject to verification upon inspection
TAKE NOTICE!
PLEASE BE ADVISED THAT INFORMATION INCLUDED IS CONFIDENTIAL IN NATURE AND IS BASED ON PRE-EXISTING BUSINESS RELATIONSHIP WITH THE LEGAL OWNER OF PROPERTY DESCRIBED HEREIN (IF APPLICABLE). AS SUCH, UPON RECEIPT OF SAID INFORMATION THE RECEIVER AKNOWLEDGES THAT ANY UNAUTHORIZED CONTACT WITH SAID LEGAL SELLER WILL BE CHARACTERIZED AS A BREACH OF CONFIDENTIALITY AND SAID AGREEMENT MAY BE ENFORCED UNDER EXISTING LAW OR IN EQUITY.
This paper was prepared by General Equipment Corp.
The paper represents an offer of a partner of General Equipment Corp.
All rights are reserved by and for General Equipment Corp..
All content and ideas of this paper are the property of General Equipment Corp.
---
Defense items are subject to final destination approval and granting of an
export license issued by exporting country's authorities