PUROVITAM
| | |
| --- | --- |
| TYPE: | Nutritional |
| DESCRIPTION: | Purovitam, Nutritional Solution |
| PRICE: | Upon Request |
| PACKING: | Upon Request |

PUROVITAM - NUTRITIONAL SOLUTION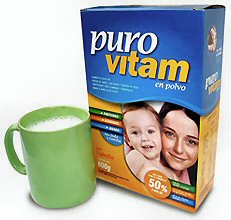 PUROVITAM
PUROVITAM: A NUTRITIONAL SOLUTION
PUROVITAM was created as a nourishing product aimed at complementing the nutrition of persons that need to improve their diets, either because they do not feed adequately or because they have higher nutritional needs; such as children, pregnant women, mothers who are breast-feeding their babies, adolescents, sportspersons, aged persons, persons that have monotonous diets or persons who suffer from malnutrition, anorexia, etc. It has been particularly indicated for persons of all age groups that are at nutritional risk (except nursing babies under 1 year of age) and it can be used to substitute milk.

Description: PUROVITAM is a liquid, complete, well-balanced, fortified nourishing product. It has high energetic and nutritional density and it is particularly rich in proteins, vitamins and proteins. It is a drink with excellent nutritional and sensory qualities.
Ingredients: PUROVITAM contains rice flour, powdered milk, soy flour, saccharose, dehydrated cheese serum, powdered egg, vitamins, minerals, and vanilla flavor.
100% nutritive. Purovitam provides proteins, minerals, amino acids and fitonutrientes, hydrates and fats
Pleasant flavor and good acceptability
Low cost and easy preparation
PUROVITAM BENEFITS


Qualities: PUROVITAM provides the body with the nutritional substances it requires for its normal functioning and development. It is adequate for all age groups, including children over 1 year of age. It provides energy that has easy and high availability, which derives from carbohydrates. Besides, its excellent quality proteins, rich in essential amino acids, contribute to the development and recovery of tissue. Its high vitamin and mineral content contributes to the correct functioning of the body. It is highly recommended to maintain or recover the nutritional balance for persons with higher nutritional needs.
Indications: PUROVITAM has been specially indicated for persons in the growing period, such as young children, children in the school period, adolescents, pregnant women, nursing mothers, persons who suffer from anorexia (lack of appetite) and/or energetic-protein malnutrition, sportspersons, aged persons, persons with difficulties to consume solid food, nutritional recovering patients (convalescent patients, oncology patients, etc.); either for maintenance or to gain weigh, and in every situation where there is higher demand of energy, proteins, vitamins and minerals. It is also indicated for persons who need to reduce their consumption of liquids. This product is adequate for persons suffering from celiac disease, since it does not contain wheat, oat, barley or rye, or their derivatives.
Use: PUROVITAM can be prepared instantaneously by adding boiled or drinking water. It is a product for oral consumption. You can drink it hot or cold, between meals or at mealtime, on its own or it can be used to prepare flans, desserts, ice creams, milkshakes, etc.
Presentation: Powder to be reconstituted by adding boiled or drinking water. It is presented in a tri-laminated hermetic pack, which contains 800 g. It has a pleasant flavor and delicate vanilla scent. It contains 16 servings.
A RATION OR GLASS COVERS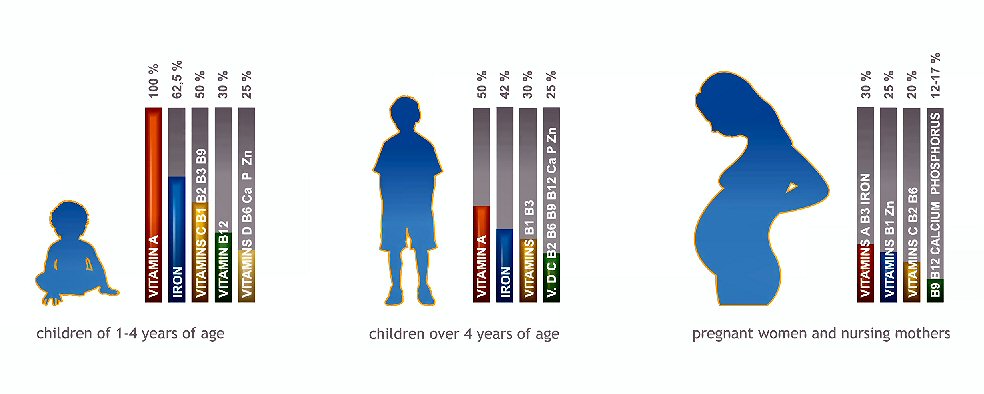 WHOLE MILK WITH RECONSTITUTED DUST IRON VERSUS PUROVITAM (100 mililiter)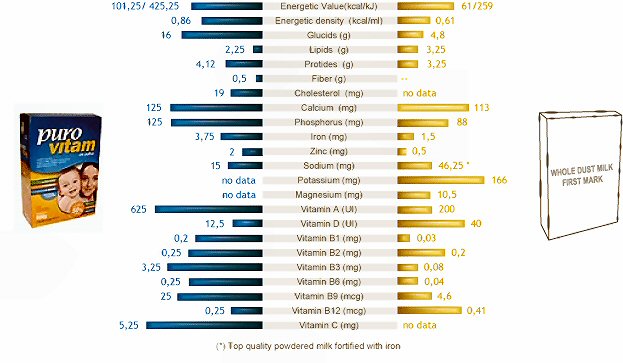 <![if !vml]><![endif]>Almost 2/3 more energy

<![if !vml]><![endif]>27% more proteins

<![if !vml]><![endif]>1.5 times more iron

<![if !vml]><![endif]>2 times more vitamin A

<![if !vml]><![endif]>3 times more zinc

<![if !vml]><![endif]>4 times more B9 vitamin

<![if !vml]><![endif]>5 times more vitamin B1 and B6

<![if !vml]><![endif]>39 times more B3 vitamin

In addition it contributes complex carbohydrates, dietaria fiber, vitamin C, fatty acids poli-insaturados and isoflavonas
Specification and photos are not contractual and are subject to verification upon inspection