---
PANHARD EC90
| | |
| --- | --- |
| TYPE: | Parts |
| DESCRIPTION: | Panhard EC90 |
| PRICE: | Upon Request |
| PACKING: | Ex-Works |
PANHARD EC90
PANHARD EC90 CMI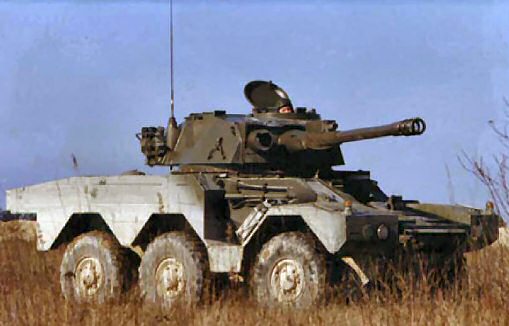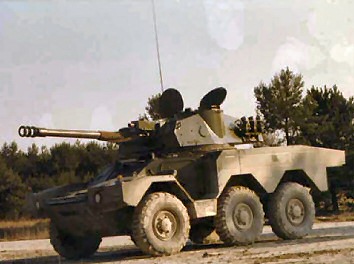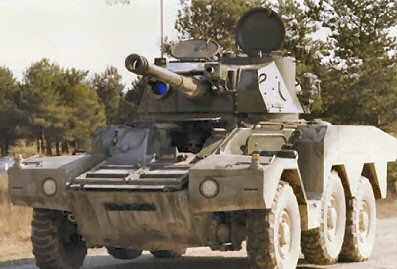 DIMENSIONS

WEIGHT

Overall length

7,675 mm

Weight in combat order

8.89 T

Length of the chassis

5,275 mm

Tare weight

8.1 T

Overall width

2,500 mm

Overall height

2,318 mm

Ground clearance

325 mm

Wheelbase :
- front/middle
- middle/rear


1,630 mm
1,220 mm

Crew

3





| | | | |
| --- | --- | --- | --- |
| ARMAMENT | | The ERC is equipped with a two men crew CMI CSE-90 turret. Equipped with a 90 mm gun and the last generation control system, the ERC CSE-90 is the best compromise between weight and fire power. | |

MOTORIZATION

This vehicle is equipped with on Diesel MTU engine of 170 Hp and equipped with an automatic Renk gearbox.
The maximum power is of 125 Kw at 2,300 Rpm.




PERFORMANCES

Max. speed
Range
Gradient
Side slope
Vertical obstacle
Trench
Fording

95 km/h
800 km
50 %
30 %
0.5 m
1.1 m
1 m

---
PANHARD ERC 90 SAGAIE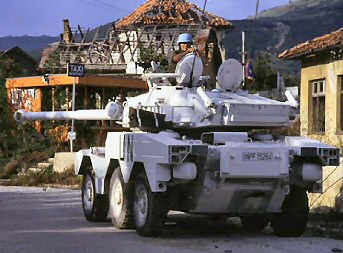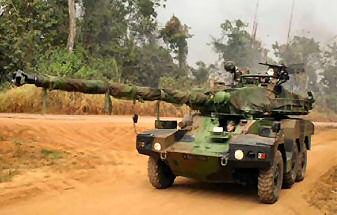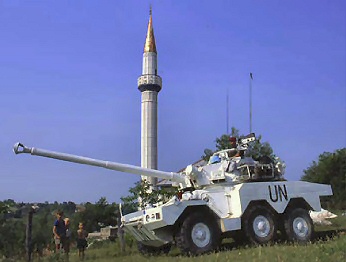 This light vehicle is in service in many armies in the world, with among them the French land forces operate 193 ERC 90.

DIMENSIONS

WEIGHT

Overall length

7,675 mm

Weight in combat order

8.89 T

Length of the chassis

5,275 mm

Tare weight

8.1 T

Overall width

2,500 mm

Overall height

2,318 mm

Ground clearance

325 mm

Wheelbase :
- front/middle
- middle/rear


1,630 mm
1,220 mm

Crew

3

| | | | |
| --- | --- | --- | --- |
| ARMAMENT | | The ERC is equipped in this version of the two crew TS-90 turret. Equipped with a 90 mm F4 canon, capable of firing APFSDS ammunitions and a coaxial machine gun, the ERC 90 disposes of 20 ammunitions for its main artillery. | |

MOTORIZATION

This vehicle is equipped with on Diesel MTU engine of 170 Hp and equipped with an automatic Renk gearbox.
The maximum power is of 125 Kw at 2,300 Rpm.




PERFORMANCES

Max. speed
Range
Gradient
Side slope
Vertical obstacle
Trench
Fording

95 km/h
800 km
50 %
30 %
0.5 m
1.1 m
1 m

---
PANHARD ERC90 LYNX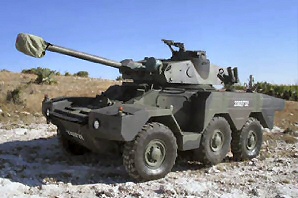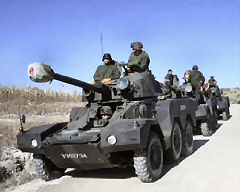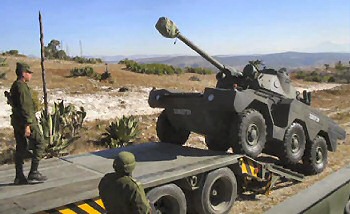 This light vehicle is in service in many armies in the world, among them the Mexican army with 120 units in service.

DIMENSIONS

WEIGHT

Overall length

7,675 mm

Weight in combat order

8.89 T

Length of the chassis

5,275 mm

Tare weight

8.1 T

Overall width

2,500 mm

Overall height

2,318 mm

Ground clearance

325 mm

Wheelbase :
- front/middle
- middle/rear


1,630 mm
1,220 mm

Crew

3

| | | | |
| --- | --- | --- | --- |
| ARMAMENT | | This vehicle is equipped with a two men crew HS-90 turret. Equipped with a 90 mm F1 canon, capable of firing antitank or antipersonnel ammunitions and of a coaxial machine gun, the ERC 90 Lynx disposes of 21 ammunitions for its main artillery. | |

MOTORIZATION

This vehicle is equipped with on Diesel MTU engine of 170 Hp and equipped with an automatic Renk gearbox.
The maximum power is of 125 Kw at 2,300 Rpm.



PERFORMANCES

Max. speed
Range
Gradient
Side slope
Vertical obstacle
Trench
Fording

95 km/h
800 km
50 %
30 %
0.5 m
1.1 m
1 m

Specification and photos are not contractual and are subject to verification upon inspection
TAKE NOTICE!
PLEASE BE ADVISED THAT INFORMATION INCLUDED IS CONFIDENTIAL IN NATURE AND IS BASED ON PRE-EXISTING BUSINESS RELATIONSHIP WITH THE LEGAL OWNER OF PROPERTY DESCRIBED HEREIN (IF APPLICABLE). AS SUCH, UPON RECEIPT OF SAID INFORMATION THE RECEIVER ACKNOWLEDGES THAT ANY UNAUTHORIZED CONTACT WITH SAID LEGAL SELLER WILL BE CHARACTERIZED AS A BREACH OF CONFIDENTIALITY AND SAID AGREEMENT MAY BE ENFORCED UNDER EXISTING LAW OR IN EQUITY.
This paper was prepared by General Equipment Inc.
The paper represents an offer of a partner of General Equipment Inc.
All rights are reserved by and for General Equipment Inc.
All content and ideas of this paper are the property of General Equipment Inc.
---
Defense items are subject to final destination approval and granting of an
export license issued by exporting country's authorities