---
P90 SMG
| | |
| --- | --- |
| TYPE: | SMG |
| DESCRIPTION: | P90 Sub Machine Gun |
| PRICE: | Upon Request |
| PACKING: | Upon Request |
P90 SUB MACHINE GUN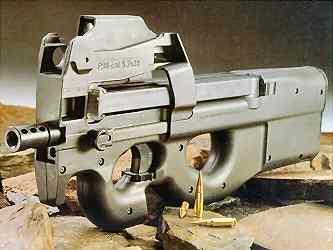 5.7x28mm (NATO Recommended)
The P90 submachine gun was developed around the 5.7x28mm ammunition to meet the Armies requirement in terms of efficiency.

Two versions are available:
P90 Standard

P90 Tactical
Either version can be fitted with an integrated visible laser or an infrared laser.
Fully Reliable

The simple design of the mechanism, the unique feed mechanism and the materials used to manufacture the P90 make it highly reliable, whatever the conditions.
Rapid Deployment

The P90 is carried ready fire. There is no need to extend any folding buttstock. Despite its shortness, the P90 is designed to be fired from the shoulder, giving maximum stability.
Fully Ambidextrous

The cocking handle and magazine catch are located on both sides of the P90. The safety and fire selector is under the trigger and can be operated in either hand. Empty cartridge cases are ejected downwards. The P90 can therefore be handled by right-and left-handed without any modification.
Specification and photos are not contractual and are subject to verification upon inspection
NB: Aircraft offered for sale subject to contract, prior sale, withdrawal from the market and information regarding any aircraft or helicopter and provided verbally or in written documentation and/or contained within this email or associated paper-work should be taken as a guide only in determining the suitability, including that aircraft or helicopters specification and/or performance. We highly recommend that any buyer or lessee perform their own inspections and due diligence to verify any and all technical, performance and specification information contained therein including OEM claims.
PLEASE NOTE: AIRCRAFT SPECIFICATIONS SUBJECT TO VERIFICATION UPON INSPECTION. WE DO NOT ACCEPT ANY LIABILITY FOR AIRCRAFT DEFECTS, HISTORY OR TECHNICAL RECORD ERRORS. IT IS THE BUYERS RESPONSIBILITY TO INDEPENDENTLY VERIFY THE AIRCRAFT AND COMPONENT HISTORY.
TAKE NOTICE!
PLEASE BE ADVISED THAT INFORMATION INCLUDED IS CONFIDENTIAL IN NATURE AND IS BASED ON PRE-EXISTING BUSINESS RELATIONSHIP WITH THE LEGAL OWNER OF PROPERTY DESCRIBED HEREIN (IF APPLICABLE). AS SUCH, UPON RECEIPT OF SAID INFORMATION THE RECEIVER ACKNOWLEDGES THAT ANY UNAUTHORIZED CONTACT WITH SAID LEGAL SELLER WILL BE CHARACTERIZED AS A BREACH OF CONFIDENTIALITY AND SAID AGREEMENT MAY BE ENFORCED UNDER EXISTING LAW OR IN EQUITY.
This paper was prepared by General Equipment Inc.
The paper represents an offer of a partner of General Equipment Inc.
All rights are reserved by and for General Equipment Inc.
All content and ideas of this paper are the property of General Equipment Inc.
---
Defense items are subject to final destination approval and granting of an
export license issued by exporting country's authorities