---
NVAG6
| | |
| --- | --- |
| TYPE: | Night Vision |
| DESCRIPTION: | NVGA-6 Night Vision Aviator Goggle System |
| PRICE: | Upon Request |
| PACKING: | Upon Request |

nvag-6 night vision aviator goggle system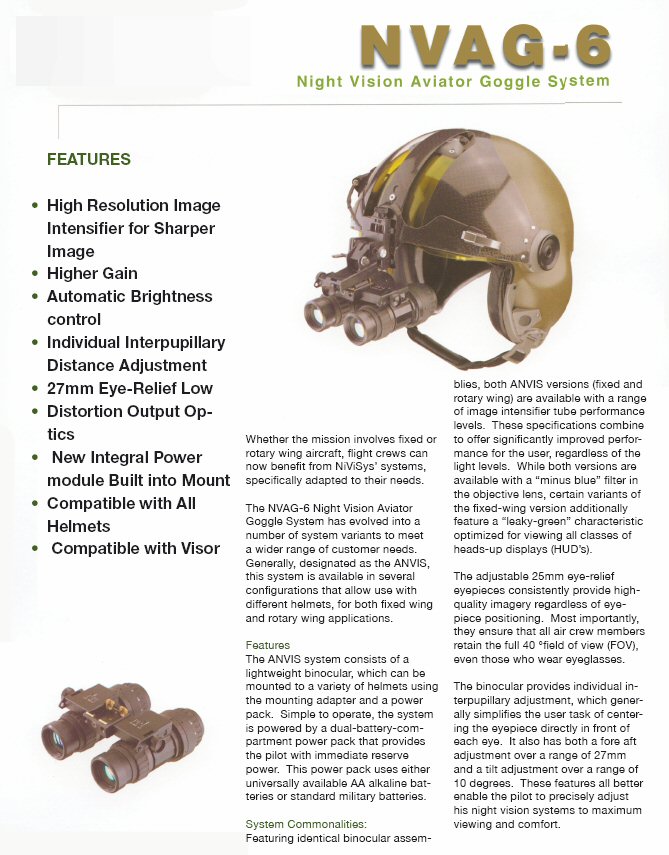 NVS 15-3XT

Gen 3 (eXtreme Performance) Dual-Tube Night Vision Goggles, enhanced depth perception & performance, manual gain control, full MIL SPEC, minimum 64 lp/mm resolution, helmet/head/weapon mountable, waterproof, built in 'IR on' and 'low battery' indicators.
 Soft Case
 Head Gear
 2x AA Batteries
 Objective Lens Cover
 Lens Cleaning kit
 Operational Manual
NVS GCS Upgrade: 20m waterproof upgrade available
Optional Accessories:

Visualization Chart Cont'd: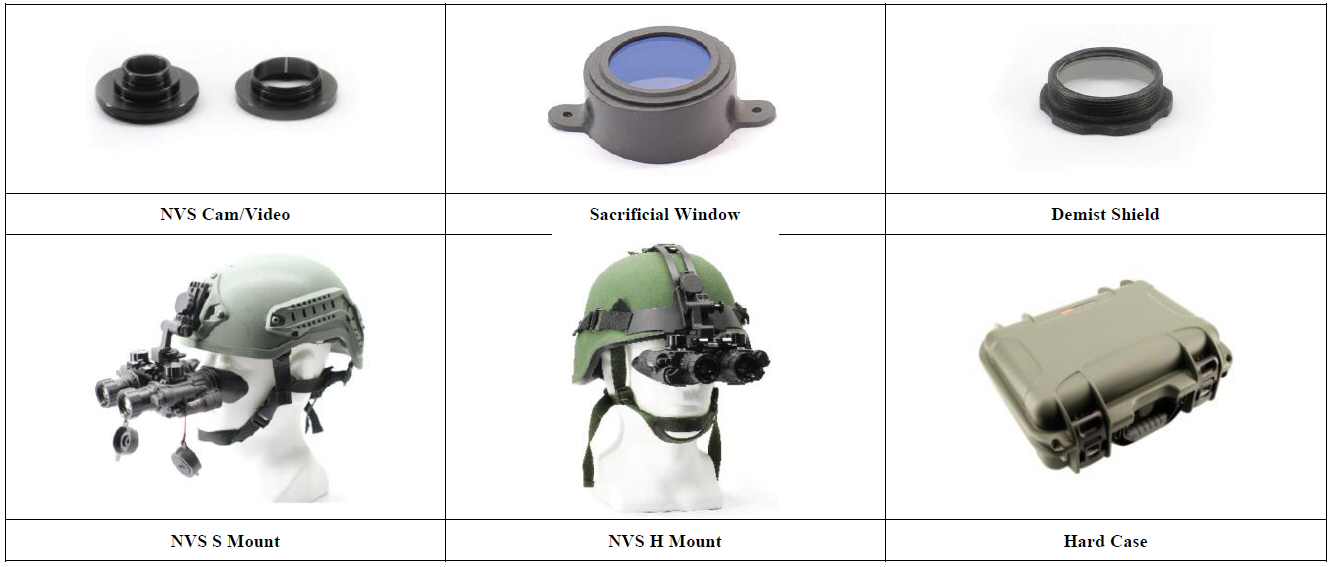 Specification and photos are not contractual and are subject to verification upon inspection
TAKE NOTICE!
PLEASE BE ADVISED THAT INFORMATION INCLUDED IS CONFIDENTIAL IN NATURE AND IS BASED ON PRE-EXISTING BUSINESS RELATIONSHIP WITH THE LEGAL OWNER OF PROPERTY DESCRIBED HEREIN (IF APPLICABLE). AS SUCH, UPON RECEIPT OF SAID INFORMATION THE RECEIVER ACKNOWLEDGES THAT ANY UNAUTHORIZED CONTACT WITH SAID LEGAL SELLER WILL BE CHARACTERIZED AS A BREACH OF CONFIDENTIALITY AND SAID AGREEMENT MAY BE ENFORCED UNDER EXISTING LAW OR IN EQUITY.
This paper was prepared by General Equipment Inc.
The paper represents an offer of a partner of General Equipment Inc.
All rights are reserved by and for General Equipment Inc.
All content and ideas of this paper are the property of General Equipment Inc.
---
Defense items are subject to final destination approval and granting of an
export license issued by exporting country's authorities