---
MI-24V-1
| | |
| --- | --- |
| TYPE: | Helicopter |
| DESCRIPTION: | 12 x Mi-24V-1 Helicopters |
| PRICE: | Upon Request |
| PACKING: | As is, Where is |
12 x Mi-24 V-1 Helicopters
Subject unsold or market withdrawal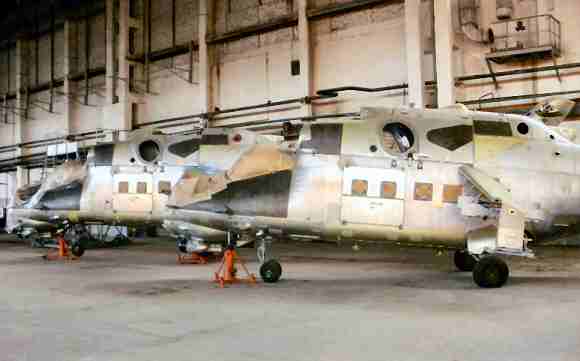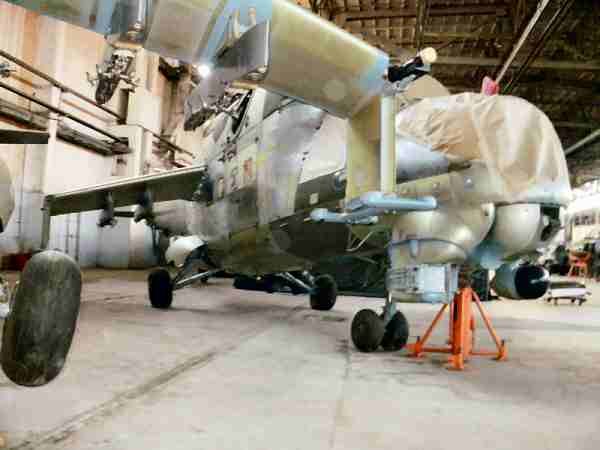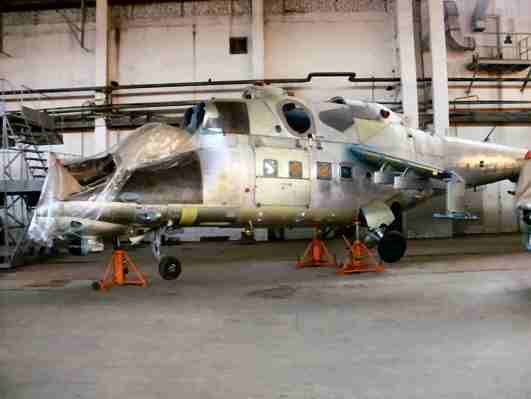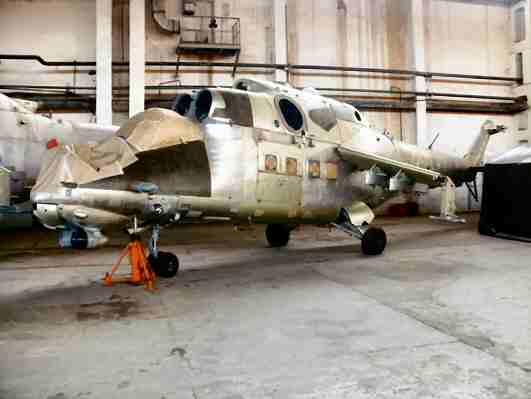 Primary Function:
Armed assault/attack helicopter
Contractor:
Mil
Crew:
Two; cabin holds 8 troops or 14 stretchers.
Unit Cost:
N/A
Powerplant
Two Klimov TV3-117 turboshafts at 2190 shp (1635 kW) driving five blade main rotor and 3-blade tail rotor. -- Mi-24P - 1700 kW on the V-1
Dimensions
Length:
57 ft 5 in (17.51 m) -- Mi-24P
Rotor Diameter:
56 ft 9 in (17.30 m) -- Mi-24P
Height:
13 ft 1 in (3.97 m) -- Mi-24P
Weights
Empty:
18,078 lb (8200 kg) -- Mi-24P
Maximum Takeoff:
26,455 lb (12,000 kg) -- Mi-24P
Performance
Speed:
180 kt (335 km/h) -- Mi-24P
Ceiling:
14,750 ft -- Mi-24P
Range:
540 nm (1000 km) -- with aux. fuel -- Mi-24P
Armament
One 12.7 mm four barrel YakB machine gun or twin 23 mm or 30 mm cannon. Two anti-armor missiles, rockets, and guns.
Up to 12 units of MI-24V, offered with full Major Overhaul, meaning the machines would be supplied "like new", fully overhauled with all TBOs and Service Lives zeroed during MOH in the approved overhaul plant.

Please see attached the list of standard equipment of MI-24V.

We have currently two machines already stripped in the plant, which could be delivered within 3 months since signing of the contract and receiving the first payment.

Any further machines would be delivered in the pairs of two each consecutive month.

All of the helicopters are of YOM 1986.
LIST OF EQUIPMENT MI-24V
Four barrel 12.7 mm Machine gun system in movable nose turret – 1 set

Non guided missile launcher B-8V20 for 80 mm S-8 missiles type – 2 sets

Complex 9K113 "Shturm" Missile System – 1 set

Batteries 12SAM-28 – 2 sets

ASO-2V Launcher – 1 set

Sight PKI – 1 set

Sight ASP-17V – 1 set

Radar Warning Station SPO-10 – 1 set

Automatic Flight System SAU-V24 with Autopilot VAUP-1 – 1 set

ADF ARK-15M – 1 set

ADF ARK-U2 – 1 set

Doppler Measuring System DISS-15 – 1 set

Radioaltimeter RV-5 – 1 set

Complex Nav System "Grieben-1" – 1 set

Instrument System PKP-72M – 1 set

Instrument System UKT-2 – 2 sets

UHF Radio R-863 – 1 set

HF Radio "Yadro-1I" – 1 set

Intercom SPU-8 – 1 set

Flight Recorder SARPP-12 – 1 set

Warning System RI-65 – 1 set

Infra Red System "Lipa" – 1 set

Screen EVU - 1 set
Specification and photos are not contractual and are subject to verification upon inspection
NB: Aircraft offered for sale subject to contract, prior sale, withdrawal from the market and information regarding any aircraft or helicopter and provided verbally or in written documentation and/or contained within this email or associated paper-work should be taken as a guide only in determining the suitability, including that aircraft or helicopters specification and/or performance. We highly recommend that any buyer or lessee perform their own inspections and due diligence to verify any and all technical, performance and specification information contained therein including OEM claims.
PLEASE NOTE: AIRCRAFT SPECIFICATIONS SUBJECT TO VERIFICATION UPON INSPECTION. WE DO NOT ACCEPT ANY LIABILITY FOR AIRCRAFT DEFECTS, HISTORY OR TECHNICAL RECORD ERRORS. IT IS THE BUYERS RESPONSIBILITY TO INDEPENDENTLY VERIFY THE AIRCRAFT AND COMPONENT HISTORY.
TAKE NOTICE!
PLEASE BE ADVISED THAT INFORMATION INCLUDED IS CONFIDENTIAL IN NATURE AND IS BASED ON PRE-EXISTING BUSINESS RELATIONSHIP WITH THE LEGAL OWNER OF PROPERTY DESCRIBED HEREIN (IF APPLICABLE). AS SUCH, UPON RECEIPT OF SAID INFORMATION THE RECEIVER ACKNOWLEDGES THAT ANY UNAUTHORIZED CONTACT WITH SAID LEGAL SELLER WILL BE CHARACTERIZED AS A BREACH OF CONFIDENTIALITY AND SAID AGREEMENT MAY BE ENFORCED UNDER EXISTING LAW OR IN EQUITY.
This paper was prepared by General Equipment Inc.
The paper represents an offer of a partner of General Equipment Inc.
All rights are reserved by and for General Equipment Inc.
All content and ideas of this paper are the property of General Equipment Inc.
---
***************IMPORTANT NOTE***************

This e-mail and any attachments may include technical data subject to the U.S. Arms Export Control Act (22 U.S.C.Sections 2751 and following) or the U.S. Export Administration Act of 1979 as amended (50 U.S.C. App. 2401 and following). Technical data covered by these laws may not be exported or disclosed to non-U.S. persons without first obtaining an export license. Violations may result in criminal, civil or administrative penalties.
Defense items are subject to final destination approval and granting of an
export license issued by exporting country's authorities