---
METIS AT
| | |
| --- | --- |
| TYPE: | Missile |
| DESCRIPTION: | Metis 9M115 Anti-Tank Missile |
| PRICE: | Upon Request |
| PACKING: | Ex Depot |

metis 9m115 anti-tank missile
Subject Unsold or Market Withdrawal
From Arsenal Stock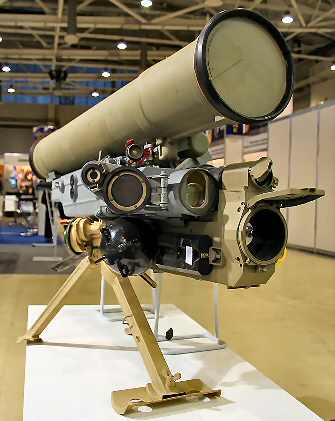 Type

Place of origin

Russia

Service history

In service

1992–present

Used by

See Operators

Production history

Manufacturer

Produced

1992–present

Specifications

Weight

13.8 kg

Length

980 mm

Diameter

130 mm

Warhead

HEAT tandem warhead, Armor penetration behind ERA 900-950 mm.[1][2] Thermobaric anti-personnel/anti-material warhead is also available.

---

Engine

solid-fuel rocket

0.08 - 2 km[1]

Speed

200 m/s
The Metis-M system adds to the usual positive qualities of a man-portable anti-tank guided missile with significant improvements in range, accuracy and lethality. Owing to the small dimensions and light weight of its components, this manportable system can be carried by its crew in compact packs over any distance and over a wide variety of terrain types, including stream crossing. The three-man crew carries personal weapons and an ammunition load of five missiles. One crew member carries a pack with a missile-loaded launcher, which considerably reduces the time of fire preparation and allows the crew to engage targets whilst moving. In the event of sudden appearance of a target, the operator can fire from the shoulder with the launcher rested against a local object. The two other crew members each carry a pack with two missiles.
The Metis-M ATGM system has a semi-automatic missile guidance, with commands transmitted over a wire link. The guidance system is constructed so that the most sophisticated and costly components, such as a gyroscopic coordinator, electronic units and an onboard battery, are excluded from the missile.
changes from the traveling to the firing position—and vice versa—in 15 – 20 seconds;

firing rate of 3 - 4 rounds per minute;

fired from organized and deployed sites in the prone and standing foxhole positions, as well as from combat vehicles;

can be shipped by any type of transport and can be air-dropped.
The Metis-M system comprises:
combat assets;

maintenance facilities;

training aids.
The combat assets of the Metis-M system include:
9M131 (9M131F) ATGM;

9P151 launcher;

1PBN86-VI thermal sight.
Specification and photos are not contractual and are subject to verification upon inspection
TAKE NOTICE!
PLEASE BE ADVISED THAT INFORMATION INCLUDED IS CONFIDENTIAL IN NATURE AND IS BASED ON PRE-EXISTING BUSINESS RELATIONSHIP WITH THE LEGAL OWNER OF PROPERTY DESCRIBED HEREIN (IF APPLICABLE). AS SUCH, UPON RECEIPT OF SAID INFORMATION THE RECEIVER AKNOWLEDGES THAT ANY UNAUTHORIZED CONTACT WITH SAID LEGAL SELLER WILL BE CHARACTERIZED AS A BREACH OF CONFIDENTIALITY AND SAID AGREEMENT MAY BE ENFORCED UNDER EXISTING LAW OR IN EQUITY.
This paper was prepared by General Equipment Inc.
The paper represents an offer of a partner of General Equipment Inc.
All rights are reserved by and for General Equipment Inc.
All content and ideas of this paper are the property of General Equipment Inc.
---
This transmission may include information on International Traffic in Arms Regulation (ITAR) (22 CFR-120-130) controlled items. These controlled items may not be resold, diverted, transferred or transshipped outside of the United States or to any other country without U.S. State Department approval.
US State Department Arms License: K-5943


Defense items are subject to final destination approval and granting of an
export license issued by exporting country's authorities