---
MB3348REFR
| | |
| --- | --- |
| TYPE: | Truck |
| DESCRIPTION: | Mercedes 3348 Refrigeration Truck |
| PRICE: | Upon Request |
| PACKING: | Ex-Works |

mercedes 3348 - 6x4 refrigeration body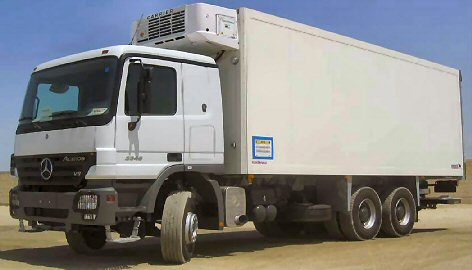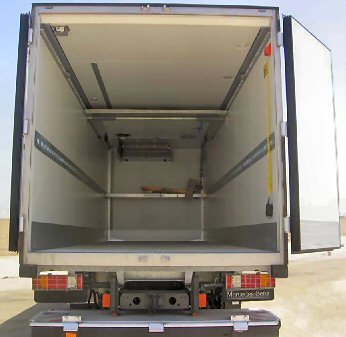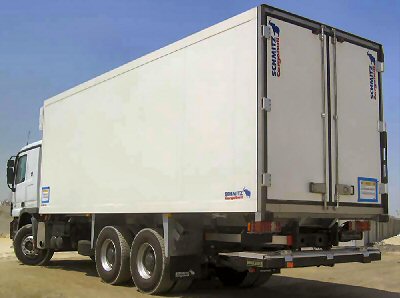 MERCEDES-BENZ Actros 3348 / 4500 chassis, 6 X 4 with SCHMITZ FERROPLAST Refrigeration Body Type MKO7.5 FP 80/60-2
Mercedes-Benz Actros 3348/4500 chassis, 6x4
MERCEDES-BENZ Actros
Chassis with cabin
Model : 3348 6X4
Wheelbase : 4500 mm (14'9 Ό") (1350) mm (4'5 Ό")
Cab : L-cab (long)
GVW : 33000 kg (72,750 lb)
Engine power : 350 KW (476 HP)
Paint Cab :arctic white
chassis :grey nova
wheels :truck-silver

Tyres
1st Axle 3 x 315/80 R 22,5
2nd Axle 4 x 315/80 R 22,5
3rd Axle 4 x 315/80 R 22,5

Equipments
A91 Front axle, straight
AL3 Front axle 7.5 t (16,500 lb)
AM3 Rear axle H7, 13.0 t (28,600 lb), crownwheel 300 mm (11 Ύ")
Differential lock rear axle
BB5 Disc brakes front and rear
BB8 Telligent brake system with ABS and ASR
Brakes compressed air 2-circuit
Automatic brake adjusting
Compressed-air drier (single-chamber system)
Roll back prevention
C42 Stabilizer rear axle under frame
CL9 Steering LS 6/LS 8
Stabilizer front axle
Steering column-rake and height adj. w. pneum lock
Implement carrier, left
multi-function steering wheel
FE5 Window lift for driver/co-driver door, electr.
Cab rear wall without window
Wide-angle exterior mirror on front passenger side
Electrical adjustable, heated rearview mirrors
Ramp mirror
Central locking
GS7 Telligent-gearshift version II
Air controlled heating/ventilation system
Outside temperature gauge
Instrument cluster with graphics-capable display
Telligent Maintenance System
Fuel consumption display
6-part tail light cluster with reflector
Light range regulator
Entrance step light
Headlights with transparent lenses (H7)
Indicator transmitter for extra indicator lamps
MD9 Cruise control
Single-cylinder air compressor, non-regulated
Fuel preheating system
Engine brake with constantly open throttle valve
Insect screen in front of radiator
R38 Wheels 9.0 x 22.5
R60 Spare wheel provisionally mounted
TR6 Weight variant 33.0 t (72,750 lb) (7.5/13.0/13.0)
Tire inflating hose 10 m (32'9 Ύ")
Telescopic jack 12t (26,500 lb)
BB0 ABS cut out option
C63 Steel bumper
C95 Deletion rear underrun guard EU
D25 Steel sunroof
DD2 Low roof cab, interior height 1560 mm (5'1½")
E33 Isolation switch for tailgate
E39 Trip switch circuit breakers
EB3 Batteries 2 X 12V 220 Ah (low-maintenance)
ED9 Preparation for electrical components
EG8 Radio Truckline CD 65/70 with CD player
ES8 Power socket 24V/15A in cab console
ET2 Transformer 24V to 12 V, 15A
EV0 Communications interface, KOM
EX3 Installation kit for FleetBoard
F04 L-cab (long)
F24 Cab rear wall, straight
FC7 Tinted windows without band filter
FE6 Cab steps, movable
FG1 Digital alarm clock
FL6 Cab suspension for off-road ( 6 Hz)
FN1 Distribution Cockpit
FS2 Wide angle mirror on driver's side, heated
FW2 Deletion immobiliser (transponder)
FZ9 Two main keys with additional remote control
GC2 Gearbox G 240-16/11.7-0.69
GE2 Telligent Automatic Shift, version II
H03 Air conditioning
HF1 Dust filter for heating and ventilation
J10 Speedometer in km/h
J58 Seat belt warner
J70 Air horn under cab
K40 Lockable fuel cap
K45 Fuel screen in filler neck
K81 Primary fuel filter with heated water separator
KH7 Silencer with tail pipe at side
KX6 Main tank right 550 l (145 US gall.) alumin., large cross section
L16 Halogen fog lights
L30 Protective grilles for headlights
L42 Roof marker lights, yellow
L72 Power for body lighting
M45 Alternator 28 V / 100 A
M67 Cyclone pre-cleaner
MA9 Engine mountings for off-road application
MG8 Vertical engine air intake at rear of cab
MK8 Speed limiter for max. speed up to 140 km/h (87 mph)
ML3 Step-up cooling fan drive with belt drive
MS0 Engine version Euro 2
MX5 Engine OM 502 LA 350 KW (476 HP) 1800/rpm
N55 Gearbox oil cooler
Q29 Ringfeder coupling
Q57 Recovery coupling rear
QC6 Front springs 7.5 t, (16,500 lb) firm
QF6 Rear springs 16.0 t (35,250 lb)firm
R04 Wheel nut covers
SF0 Fold-up seat for co-driver
SG5 Standard driver suspension seat, Isringhausen
SM3 lower berth
X42 Plates / booklets, English
X53 Booklets, Arabic
XC2 Chassis plate, Gulf States
Y10 First aid kit
Y16 Fire extinguisher
Y20 Tools for export
Y28 Two wheel chocks
Y30 Tire pressure gauge
Y35 Tire inflating hose 25 m (82')
Y44 Warning triangle
Y45 Warning lamp
YM1 FleetBoard onboard computer
Telligent Automatic Gearshift System II
Spare Wheel with winch behind cab
---
Ferroplast Refrigeration Body Type MKO 7.5 FP 80/60-2
==================================================================
T E C H N I C A L S P E C I F I C A T I O N
==================================================================
FERROPLAST REFRIGERATION BODY for the transport of deep frozen, fresh and dry goods TYPE: MKO 7.5 FP 80/60 -2 build on ACTROS, Type: 3348 / 45 with sleeper cab
suitable for the transport of 14 standard pallets (1 m. x 1.2 m)

Weights and Dimensions
Internal length ap. 7100 mm* (23'3 ½") - Total tare weight +/- 4% 3564 kg (7,850 lb)
Internal width ap. 2460 mm (8'3/4" ) - Overall length ap. 7240 mm* (23'9")
Internal height ap. 2250 mm (7'4 ½") - Overall trailer width ap. 2600 mm (8'6 Ό")
Usable internal length ap. 7100 mm (23'3 ½") - Rear aperture height ap. 2240 mm (7'4 Ό")
Usable internal height ap. 2250 mm (7'4 ½") - Door aperture width ap. 2460 mm (8'3/4")
* Internal length ap. 7500 mm (24'7 Ό") with mandatory equipment
* Overall length ap. 7640 mm (25'3/4") with mandatory equipment

General
The body insulation can withstand out side temperatures reaches excess of 50 Celsius (122 F)

Registration/Certification
• International custom seal (TIR) for body with rear door, without TIR certificate Chassis
• Superstructure in screwed specification
• Further chassis equipment: 2 rear corner rubber buffers

Spare wheel carrier
• Spare wheel carrier, mounted at side of chassis including spare tire

Light system
• 2 white front top position marker lights, 2 red rear top position marker lights

Spray suppression
•1 pair full mudguards for rear axles, inc. mudflaps

Body
• PU foam panel, free of thermal bridges - sealed against vapour diffusion
• Inner skin is 0.6mm (0.02") PVC coated steel scuff proof and load safe

Front bulkhead/Roof/Side walls
• Front bulkhead: FP50 - 50mm (2") with reinforcement for fridge unit
• Side walls FERROPLAST 60 mm (2 Ό")
• Roof: FP140 - 140mm (5 ½") thickness panel

Rear closure
• FP80 panel doors, single stainless steel lock rods & handles, anodised ALU hinges
• Rear frame is stainless steel with bead blasted finish
• 300mm (11 Ύ") depth, anodised ALU wear-strip fitted at base of each rear door

Floor
• ALU barley seed floor, plywood, density foam, FP outer skin
• 300mm ALU (11 Ύ") kick strip to front and both sides welded to floor pan

Further body equipment
• 4 ceiling lights recessed
• Evaporator protection frame (stainless steel)
• Hinge protection rubber buffers fitted vertically to lower part of the rear frame

Refrigeration unit
• Fridge unit aperture cut out and bolt holes drilled in front bulkhead
• Fridge unit piped wired and commissioned
• 1 remote thermometer -40° up to 40°, accuracy class 2 DIN16203, at front bulkhead l.h.s.
• Mounting of control unit for remote contr. of the fridge unit from driver's cab

Provision for CARRIER OASIS 300, recessed mounted Supply & fitting CARRIER OASIS 300 with battery and battery box
The CARRIER cooling units are stronger than the THERMOKING ones

Standard Accessories:
- 1 lockable toolbox
- Rear light protectors
- 2 chock blocks with holders
- 1 pallet moving pump truck
- Operating manuals
Load securing installation
• Row(s) recessed el. plated univ. load restraint track to both walls,
without side door (7100), Floor to middle of 1st load securing rail: 1150
• 2 x Telescopic supporting beam ALU
• Special securing installation for telescopic supporting beams
Paintinq/Finish details
Body RAL 9010 Pure white
Roof RAL 9010 Pure white

MANDATORY EQUIPMENT: All is included
1. Tail lift 1'500 kg capacity (3300 lb)
• Stainless steel cross cam at the rear panel frame
• Earth cable for tail lift (MKO)
• Warning signal lights and warning flags at the platform of the tail lift
• Rolling buffers for tail lift
• Trolley stop for 2 trolleys
Operated by hand held control, by one operator
2. Internal door
• Internal, movable dividing door in order to easily convert the refer body into a multiple temperature zone vehicle, to transport fresh, frozen or dry products. The door can be moved from front to back and can be stored under the roof if not in use. It is equipped with safety locking bolts, that the driver can not lock himself
• Thermostatic controlled ventilator, in order to guarantee full air distribution in both compartments
Incl. 1 pallet moving pump truck
Specification and photos are not contractual and are subject to verification upon inspection
TAKE NOTICE!
PLEASE BE ADVISED THAT INFORMATION INCLUDED IS CONFIDENTIAL IN NATURE AND IS BASED ON PRE-EXISTING BUSINESS RELATIONSHIP WITH THE LEGAL OWNER OF PROPERTY DESCRIBED HEREIN (IF APPLICABLE). AS SUCH, UPON RECEIPT OF SAID INFORMATION THE RECEIVER ACKNOWLEDGES THAT ANY UNAUTHORIZED CONTACT WITH SAID LEGAL SELLER WILL BE CHARACTERIZED AS A BREACH OF CONFIDENTIALITY AND SAID AGREEMENT MAY BE ENFORCED UNDER EXISTING LAW OR IN EQUITY.
This paper was prepared by General Equipment Corp.
The paper represents an offer of a partner of General Equipment Corp.
All rights are reserved by and for General Equipment Corp..
All content and ideas of this paper are the property of General Equipment Corp.