---
M91 SNIPER RIFLE
| | |
| --- | --- |
| TYPE: | Rifle |
| DESCRIPTION: | M91 Sniper Rifle 7.62x54mm |
| PRICE: | Upon Request |
| PACKING: | Upon Request |
M91 SNIPER RIFLE 7.62X54MM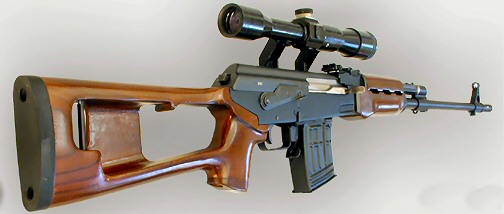 7.62 x 54R M91 semi-automatic sniper riflle
Primary demand for this kind of product: "High accuracy at large distances" is fulfilled and confirmed in hardest exploiting conditions.

High-quality materials are used, with high precision of making.

The best results are obtained at ranges up to 800m.
The possibility of aiming with optical sight and with mechanical sight is 1000m.
For targets of height of 30cm (head silhouette), the sweeping range is approx. 320m, for chest silhouette (height 50cm) is 450m and for running silhouette (150cm) the sweeping range is 650m.
The most important custom features:
- Possibility of adjusting to different types of fields for easier aiming
- Ergonimically designed with perfect balance
- Easily controlled
- Easy handling and maintenance
- Possibility of mounting of different types of optical devices
- Possibility of installing of silencer
This weapon was designed after long and careful study of combat tactics and experience of millitary and police special forces world wide.
The development work has been done under supervision and in close cooperation with some of the most experienced and capable special and antiterrorist units.
Stock ergonomics provides for safety and comfortable position of shooter's head during aiming.
| | |
| --- | --- |
| Caliber (mm) | 7.62 x 54R |
| Weight (kg) | |
| Weapon with optical sight | 5.150 |
| Optical sight with mount | 1 |
| | |
| Length (mm) | |
| Weapon | 1195 |
| Barrel | 620 |
| | |
| Mechanical Features | |
| Locking system | rotating bolt |
| Possibility of mounting | opt/night sight |
| Muzzle velocity (m/s) | 790 |
| Maximum effective range (m) | 1000 |
| Magazine (rds) | detachable, 10 |
---
SVD SNIPER RIFLE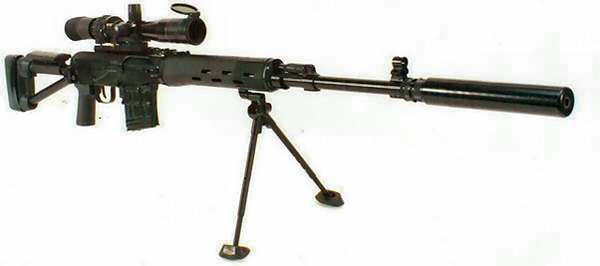 Specifications
Weight
4.30 kg (9.48 lb) (with scope and unloaded magazine)[2]
4.68 kg (10.3 lb) (SVDS)
4.40 kg (9.7 lb) (SVU)
5.02 kg (11.1 lb) (SWD-M)
Length
1,225 mm (48.2 in) (SVD)[2]
1,135 mm (44.7 in) stock extended / 815 mm (32.1 in) stock folded (SVDS)
900 mm (35.4 in) (SVU)
1,125 mm (44.3 in) (SWD-M)
Barrel length
620 mm (24.4 in) (SVD, SWD-M)[2]
565 mm (22.2 in) (SVDS)
600 mm (23.6 in) (SVU)

---

Cartridge
7.62×54mmR[2]
Action
Gas-operated,

rotating bolt
Rate of fire
30 rounds/min
Muzzle velocity
830 m/s (2,723 ft/s) (SVD)
810 m/s (2,657.5 ft/s) (SVDS)
800 m/s (2,624.7 ft/s) (SVU)
Effective firing range
800 m (875 yd)
Feed system
10-round detachable boxmagazine[2]
Sights
PSO-1

telescopic sightand iron sights with an adjustable rear notch sight
Specification and photos are not contractual and are subject to verification upon inspection
TAKE NOTICE!
PLEASE BE ADVISED THAT INFORMATION INCLUDED IS CONFIDENTIAL IN NATURE AND IS BASED ON PRE-EXISTING BUSINESS RELATIONSHIP WITH THE LEGAL OWNER OF PROPERTY DESCRIBED HEREIN (IF APPLICABLE). AS SUCH, UPON RECEIPT OF SAID INFORMATION THE RECEIVER ACKNOWLEDGES THAT ANY UNAUTHORIZED CONTACT WITH SAID LEGAL SELLER WILL BE CHARACTERIZED AS A BREACH OF CONFIDENTIALITY AND SAID AGREEMENT MAY BE ENFORCED UNDER EXISTING LAW OR IN EQUITY.
This paper was prepared by General Equipment Inc.
The paper represents an offer of a partner of General Equipment Inc.
All rights are reserved by and for General Equipment Inc.
All content and ideas of this paper are the property of General Equipment Inc.
---
Defense items are subject to final destination approval and granting of an
export license issued by exporting country's authorities