---
M113 + VULCAN
| | |
| --- | --- |
| TYPE: | Vehicle |
| DESCRIPTION: | M113 (M163) + Vulcan AA Gun |
| PRICE: | Upon Request |
| PACKING: | Ex-Depot |
m113 (m163) vulcan aa vehicle
Subject Unsold or market withdrawal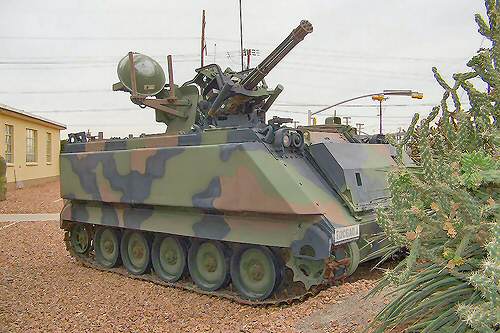 M168 General Dynamics 20 mm Vulcan gun
1,100 rounds capacity
The M163s uses a small, range-only radar, the AN/VPS-2, and an M61 optical lead-calculating sight.
The system is suitable for night operations with the use of AN/PVS series night vision sights that can be mounted above the sight reticle.
The gun fires at 3,000 rounds per minute in short bursts of 10, 30, 60, or 100 rounds, or it can fire in continuous fire mode at a rate of 1,000 rounds per minute. In the M163 a linkless feed system is used.
General

Length
191.5"
Width
105.75"
Height
86.5"
Clearance
16"
Weight, combat loaded
27,180 lb. (12,329 kg)
Maximum weight
31,000 lb. (14,061 kg)
Net weight
23,880 lb. (10,832 kg)
Air drop weight
22,128 lb. (10,037 kg)
Personnel capacity
2 + 11
Fuel tank capacity
95 gallons (360 liters)
Ground pressure
8.63 psi (0.60 kg/cm2)

Performance

Speed on land
41 mi/h (66 km/h)
Speed in water, with track
3.6 mi/h (5.8 km/h)
Cruising range
300 mi (483 km)
Turning radius
Pivot to infinite
Slope
60%
Side slope
40%
Trench crossing
66 in. (168 cm)
Vertical wall climbing
24 in. (61 cm)
Braking (20-0 mi/h)
40 ft.

Engine

Make and model
Detroit Diesel 6V53T
Displacement
318 in.3 (5.2 liter)
Fuel
Diesel (DF2)
Rated horsepower
275 hp
Gross horsepower-to-weight ratio
20.2 hp/ton

Transmission, Automatic

Make and model
Allison X200-4B
Type
Hydrokinetic
Steering
Hydrostatic
Brake type
Multiple wet plate

Running Gear

Suspension
Torsion bar
Road wheels
5 per side, 24 inch diameter (61 cm)
Track type
Steel single pin, detachable rubber pad
Number of shoes
63 left, 64 right
Track pitch
6 in. (15.2 cm)
Track width
15 in. (38 cm)
Shock absorbers
3 per side
Wheel travel
9.0 in. (22.9 cm)

Electrical System

Generator
Amperes
200, 300 optional
Volts, dc
28
Batteries
4, type 6TL, 120 amp-hr, 12-volt each

Armament

50 cal MG
2,000 ready rds.

Armor

Basic hull
5083 Aluminum
Bolt-on armor kit
Steel armor
Mine armor
Steel armor
Gun shield kit
Steel armor
Spall suppressant
Composite panel

Fire Extinguishers

Fixed
5 lb. (2.3 kg) CO2 for engine compartment
Portable
5 lb. (2.3 kg) CO2
Specification and photos are not contractual and are subject to verification upon inspection
TAKE NOTICE!
PLEASE BE ADVISED THAT INFORMATION INCLUDED IS CONFIDENTIAL IN NATURE AND IS BASED ON PRE-EXISTING BUSINESS RELATIONSHIP WITH THE LEGAL OWNER OF PROPERTY DESCRIBED HEREIN (IF APPLICABLE). AS SUCH, UPON RECEIPT OF SAID INFORMATION THE RECEIVER ACKNOWLEDGES THAT ANY UNAUTHORIZED CONTACT WITH SAID LEGAL SELLER WILL BE CHARACTERIZED AS A BREACH OF CONFIDENTIALITY AND SAID AGREEMENT MAY BE ENFORCED UNDER EXISTING LAW OR IN EQUITY.
This paper was prepared by General Equipment Inc.
The paper represents an offer of a partner of General Equipment Inc.
All rights are reserved by and for General Equipment Inc.
All content and ideas of this paper are the property of General Equipment Inc.
---
Defense items are subject to final destination approval and granting of an
export license issued by exporting country's authorities