---
LSTNS723
| | |
| --- | --- |
| TYPE: | Landing Ship |
| DESCRIPTION: | Landing Ship Tank NS-723 |
| PRICE: | Upon Request |
| PACKING: | Ex-Shipyard |

landing ship tank ns-723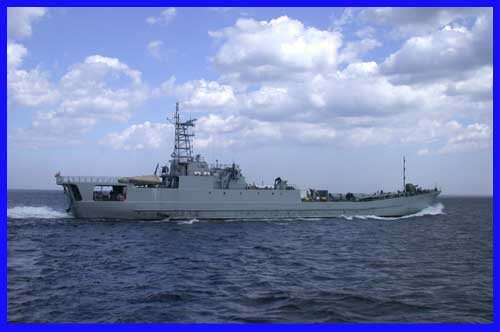 SHIP CLASS
Landing Ship Tank (Medium) - LST(M).

SHIP TYPE
Twin screw single deck ship with covered Main Battle Tank space, bow doors, ramp for handling combat vehicles, equipped with stern ground tackle for pulling her off the beach and the arrangements for combat equipment handling and transporting/stowing, securing, loading and unloading
Helicopter landing platform is conveniently located aft of the superstructure to secure the operation and service of medium size helicopter

SHIP ROLE
Amphibious operations at sea
To support build-up of men and material after main landing
Cadet/midshipman training and disaster relief
SHIP FUNCTION
To beach/transport combat equipment and personnel to the amphibious area
To neutralise enemy forces on the beach head prior to the assault
To effect self defence against attacking aircraft and missiles as a part of composite force
To provide protection to the personnel against chemical attacks
To enable expeditious launch of the assault
To enable aerial evacuation of the casualties with the help of a medium size helicopter

MAIN CHARACTERISTICS
| | |
| --- | --- |
| Length o.a: | 88.70m |
| Length b.p: | 79.00 m |
| Moulded breadth: | 10.00 m |
| Moulded depth: | 5.35m |
| Draught ( at full load ): | 2.40 m |
| Displacement, full load: | abt. 1410 T |
| Maximum speed: | 17.0 knots |
| Cruising speed: | 12.0 knots |
| Propulsion: | 2x 2100 kW |
| Diesel alternators: | 4x 270 kW |
| Range at cruising speed: | abt. 4000 Nm |
| Crew: | 49 men |
| Endurance: | up to 30 days |

MILITARY LIFT
The ship is designed for transport in the covered tank space of various kinds of combat equipment such as: Main Battle Tanks (MBT), Amphibious Tanks, Armoured Personnel Carriers (APC), Armoured Landing Vehicles (AVL), self-propelled guns, guns and howitzers with tractors and trucks
For periods of 30 days the ship can carry 111 troops
The maximum lifting capacity is five MBT

ARMAMENT
The following armament is fitted as required by the ship mission
Active armament:
Two 2-barrelled 23mm automatic gun mountings installed on the forward superstructure deck
Two 20- barrelled 122 mm rocket launchers WM-122/20 type
Two 12.7 mm machine guns with protective shields will be mounted at the aft part of the superstructure
Fire control equipment:
sight control.
HELICOPTER
One medium size 4
.5 tons helicopter may operate from the helo platform aft
Specification and photos are not contractual and are subject to verification upon inspection
TAKE NOTICE!
PLEASE BE ADVISED THAT INFORMATION INCLUDED IS CONFIDENTIAL IN NATURE AND IS BASED ON PRE-EXISTING BUSINESS RELATIONSHIP WITH THE LEGAL OWNER OF PROPERTY DESCRIBED HEREIN (IF APPLICABLE). AS SUCH, UPON RECEIPT OF SAID INFORMATION THE RECEIVER ACKNOWLEDGES THAT ANY UNAUTHORIZED CONTACT WITH SAID LEGAL SELLER WILL BE CHARACTERIZED AS A BREACH OF CONFIDENTIALITY AND SAID AGREEMENT MAY BE ENFORCED UNDER EXISTING LAW OR IN EQUITY.
This paper was prepared by General Equipment Corp.
The paper represents an offer of a partner of General Equipment Corp.
All rights are reserved by and for General Equipment Corp..
All content and ideas of this paper are the property of General Equipment Corp.
---
Defense items are subject to final destination approval and granting of an
export license issued by exporting country's authorities