LM6000PA Dual Fuel Simple Cycle Turbine Generator
Maker: S&S (GE)
Only 3200 Hrs from overhaul and dual fuel conversion.
11,000V 3 Ph 50HZ Continuous air cooled Brush generator.
Date of operation: end of 1995
Fuel: #2 diesel before conversion to dual fuel
And since overhaul in 2004-Dual Fuel – Liquid and Nat Gas
Rate power: 42MW
Generator maker: Brush
Total starts…..1940
Total operating hours from new….11,000
Total operating hours on Diesel…..7,800
Natural gas operation hour:………..3,200 (since conversion to dual fuel)
Turbine overhaul in 2004;
The unit was shipped to the USA and was changed to dual fuel, combustion chambers, new HPT, LPT and latest GE updates were completed. 3200 total hours since conversion and all 3200 hours has been on natural gas.
After unit returned from Major in the USA, the Inlet cooling system ( to increase output) and boiler heater were introduced with a total operation hours to date of: 2800. These parts received a scheduled inspection in May 2008.
Natural gas compressor/booster was introduced after the Major, to raise the previous values from 0.85MPA to 4.6Mpa, with a flow rate of:12,000 cbm/hr, total running hours: 3200 hour.

LM6000PA Simple Cycle Gas Turbine Unit
LM6000PA Simple Cycle Gas Turbine using dual fuel, gas and or Diesel Oil with rated generating power of 42MW.
The unit is a LM6000PA air-derivative manufactured by GE and the generator is manufactured by Brush Company. The set is manufactured by the original S&S Company; unit purchased by GE and was put into operation in December 1995
The gas conversion project was completed by the end of 2004. The total generating hours are 11,000 hours, of those hours, 3200 hours were operated by gas. The number starts are 1940
The unit was sent back to GE in Houston for maintenance at the end of 2004, upgraded with a new combustor which can use gas and diesel oil, new HPT and new LPT were applied. All of the service and product bulletins were implemented by GE by the end of 2004; the equipment is in good condition.
The cornpany has made strict daily and periodical maintenance of the unit, In- line with the criteria of GE.
The unit is equipped with Air Inlet chilling/heating system which adjusts the temperature of the gas to the standard criteria during summer and is heated up by a boiler in winter to avoid ice. The operation hour is 2800. The unit is comprehensively maintained once a year and the last time was in May of 2008.
The gas system is equipped by a set of fuel gas boosting compressor unit, which mainly uses to boost from 0.85MPA to about 4.6MPA with a rated flux of 12,000 standard squares per hour. The operation hours are 3200, the unit is meticulously maintained every year and the unit performs well and is in good condition.
MAJOR COMPONENTS
1. Outdoor weatherproof enclosed skid mounted LM6000 GT package with a 55MVA Generator
2. Duel fuel (Diesel and Natural Gas) Duplex Fuel Centrifuge (100% standby) Module for diesel treatment.
3. Duplex liquid fuel filter skid complete with fuel pre-heating capability, air Inlet chilling/heating system include: A) chillier/heating coils for GT air inlet module; B) Qty. 2- 1000 ton centrifugal chillier compressors- 380V; C) Air management skid to include pumps, controls and heat exchanger for heating boiler.
4. Gear Box 3600 rpm to 3000 rpm
5. Sirnple cycle exhaust system includes: A) Diverter Box (excluding Blade and Actuator). B) Transition duct and expansion joints; C) Silencer; D) Support structure; E).24 Meter exhaust stack.
6. Auxiliary facilities skid
7. Lube oil reservoir heater for GT and Gearbox/Generator
8. Duplex liquid fuel boost pump skid
9. MH62 fuel gas boosting compressor unit
10. Duplex Fuel Centrifugal (100% standby) Module
11. CO2 Fire fighting skid
12. Air compressor skid
13. Air in-take cooling and anti-frozen device
14. Modular control room outdoor weatherproof enclosed to include; A) Basic house; B) Turbine controls; C) 15KV switchgear; D) Relay panel; E) 400V MCC etc.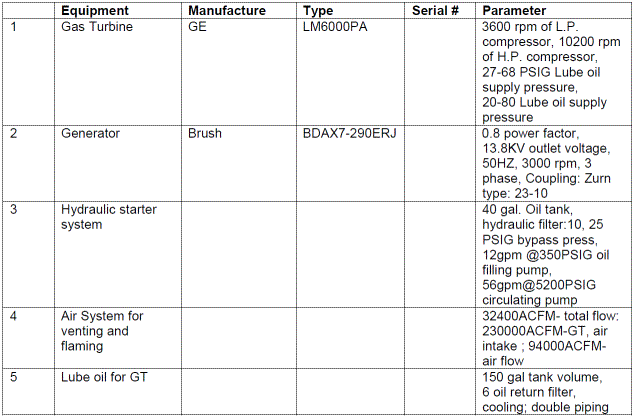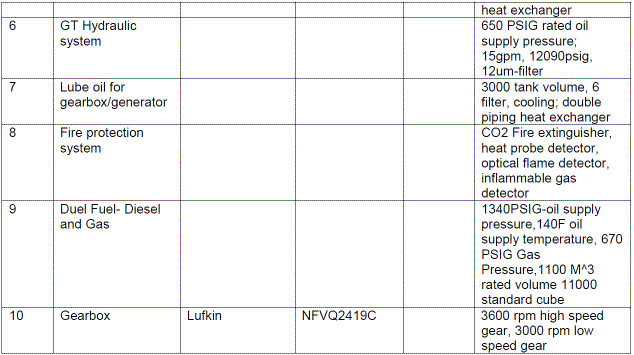 GT START & STOP