---
LANDING CRAFT UTILITY
| | |
| --- | --- |
| TYPE: | Landing Craft |
| DESCRIPTION: | Landing Craft Utility NS-717 |
| PRICE: | Upon Request |
| PACKING: | Ex-Shipyard |

landing craft utility ns-717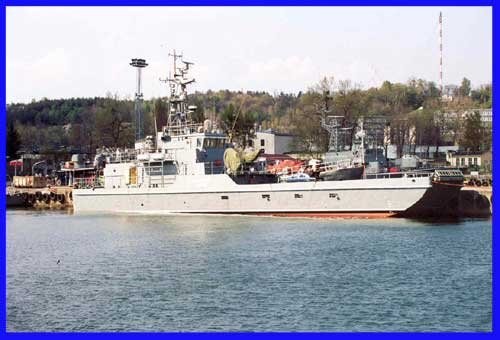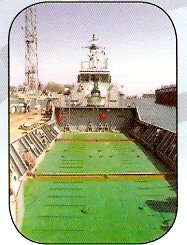 SHIP CLASS
Landing Craft Utility - LCU

SHIP TYPE
Twin screw, with two storey superstructure, gun forward, deck lowered in the bow part to accommodate combat vehicles loaded and unloaded onboard through the lowered ramp

SHIP ROLE
Amphibious operations at sea
To support build-up of men and material after main landing
Disaster relief in peace conditions.

SHIP FUNCTION


To beach/transport combat equipment and personnel to the amphibious area
To enable expeditious launch of the assault
Evacuation of personnel from combat area
Transport and supply missions
MAIN CHARACTERISTICS
| | |
| --- | --- |
| Length o.a.: | 40.10m |
| Length b.p.: | 37.00m |
| Moulded breadth: | 6.60 m |
| Moulded depth: | 3.80 m |
| Draught (at full load ): | 1.68m |
| Displacement, full load: | abt. 238 T |
| Maximum speed: | 16.0 knots |
| Cruising speed: | 15.0 knots |
| Propulsion: | 2x 820 kW |
| Diesel alternators: | 4 x 106 kVA |
| Range at cruising speed (one ME): | abt. 1200 Nm |
| Crew: | 10 men |
| Endurance: | up to 6 days |
MILITARY LIFT
The ship is designed for transport in the open hold forward of various kinds of combat equipment such as:
Main Battle Tank (MBT), Armoured Personnel Carriers (APC), Armoured Reconnaissance (AVR), Armoured Cars or other combinations of vehicles.

ARMAMENT
The following armament is fitted as required by the ship mission:

One 2-barrelled 23mm automatic gun mounting installed on the raised deck forward of the superstructure
Two 12.7 mm machine guns aft on the navigation deck.
Specification and photos are not contractual and are subject to verification upon inspection
TAKE NOTICE!
PLEASE BE ADVISED THAT INFORMATION INCLUDED IS CONFIDENTIAL IN NATURE AND IS BASED ON PRE-EXISTING BUSINESS RELATIONSHIP WITH THE LEGAL OWNER OF PROPERTY DESCRIBED HEREIN (IF APPLICABLE). AS SUCH, UPON RECEIPT OF SAID INFORMATION THE RECEIVER ACKNOWLEDGES THAT ANY UNAUTHORIZED CONTACT WITH SAID LEGAL SELLER WILL BE CHARACTERIZED AS A BREACH OF CONFIDENTIALITY AND SAID AGREEMENT MAY BE ENFORCED UNDER EXISTING LAW OR IN EQUITY.
This paper was prepared by General Equipment Corp.
The paper represents an offer of a partner of General Equipment Corp.
All rights are reserved by and for General Equipment Corp..
All content and ideas of this paper are the property of General Equipment Corp.
---
Defense items are subject to final destination approval and granting of an
export license issued by exporting country's authorities