---
IVECO 4x4
| | |
| --- | --- |
| TYPE: | Truck |
| DESCRIPTION: | Iveco Eurocargo 4x4 ML140E24W |
| PRICE: | Upon Request |
| PACKING: | Ex-Depot |
iveco eurocargo 4x4 ml140e24w
From new manufacture
Iveco ML140E24W eurocargo 4x4
chassis cabin - NEW
Axles:4x4
Emission:Euro 3
Cabin:day cabin
HP/KW:240 HP / 179 Kw
Gearbox:Manual gearbox
Wheelbase:3915 mm
Suspension:parabolic steel spring
Weight variant:5.5/9.5
IVECO ML140E24W eurocargo 4x4 truck chassis - NEW

Iveco tector F4AEO681B*C engine

Tyres: 11 R 22.5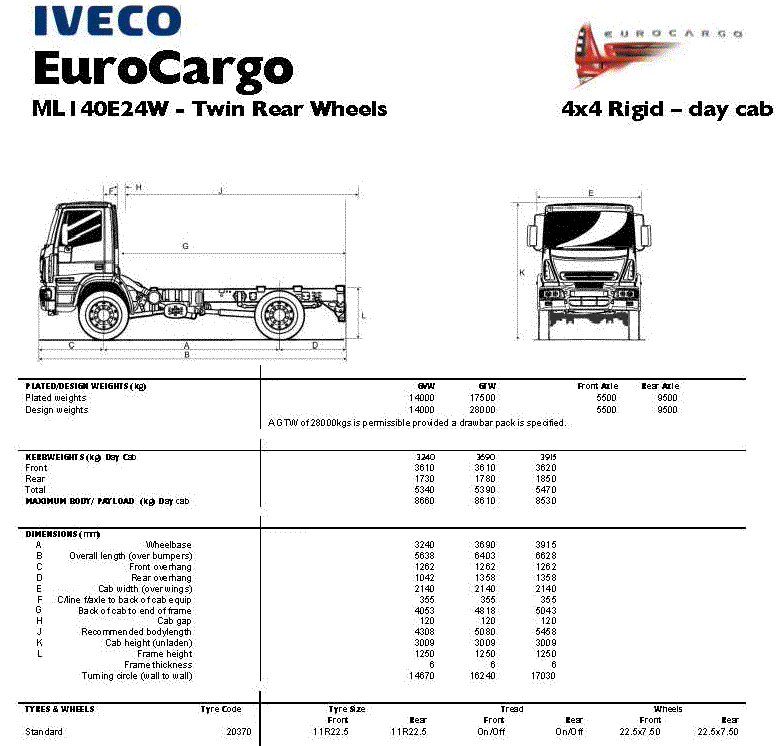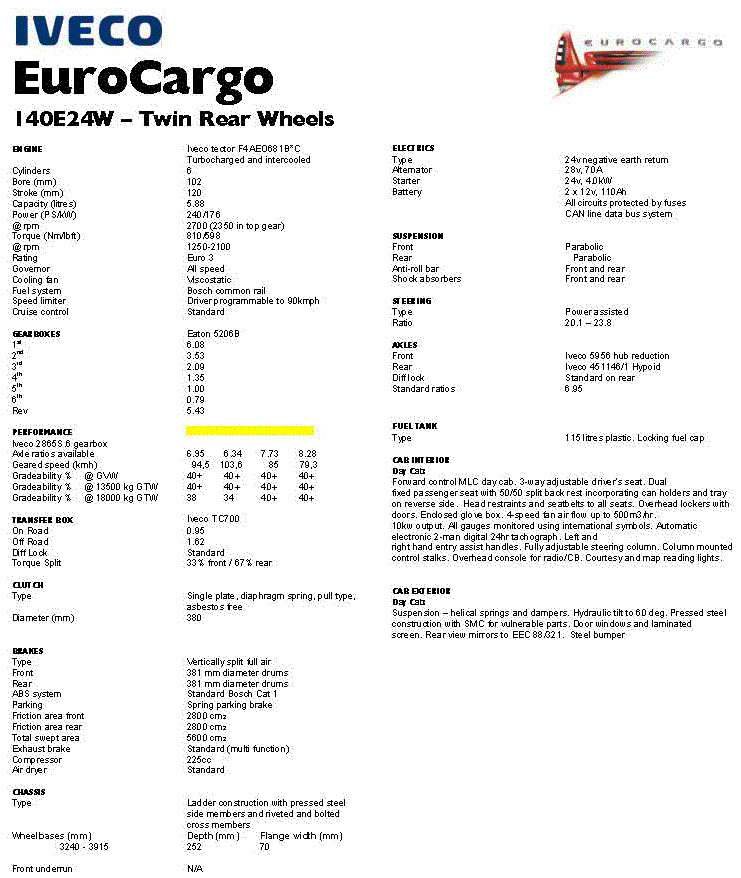 ---
6 units Iveco EUROCARGO ML150E24W 4x4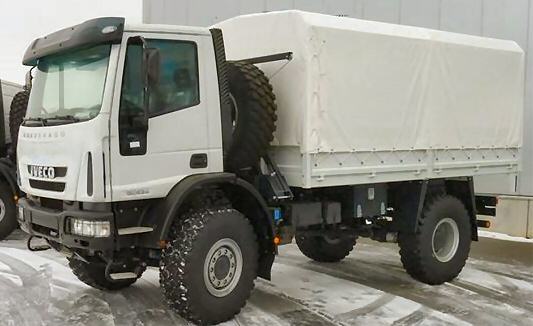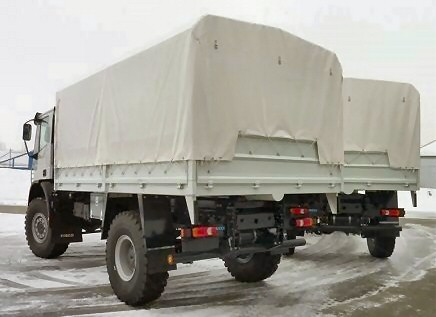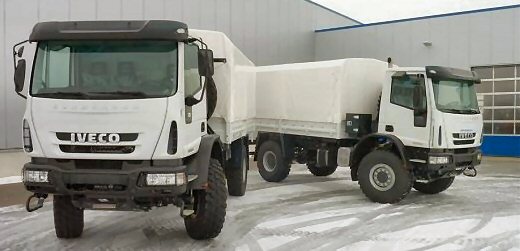 Personnel carrier - NEW
Axles:4x4
Emission:Euro 3
Cabin:day cabin with 3 seats
HP/KW:240 HP / 179 Kw
Gearbox:Manual gearbox
Suspension:steel spring
IVECO EUROCARGO ML150E24W 4x4 equipped with 16 seats personnel carrier - flat-bed - NEW
Iveco Tector engine turbocharged and intercooled

A.B.S. + E.B.L.

Day cabin with three seats

Air conditioning
Sun visor

Power windows

Tires: 14.00 R 20
Personnel carrier with 16 seats

Tarpaulin body disassemble
Dimensions:
Width: 250 cm
---
Iveco Eurocargo ML150E24WS 4x4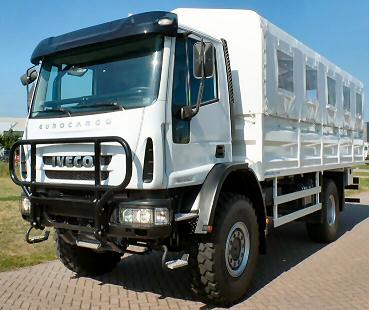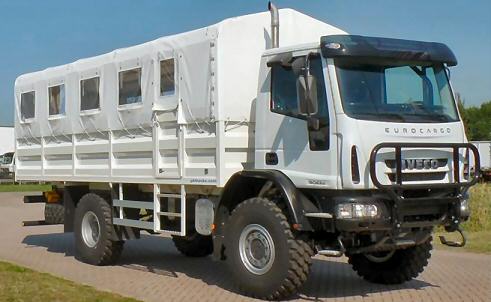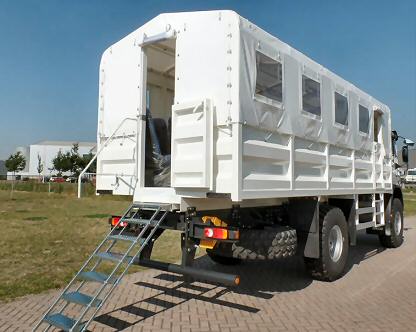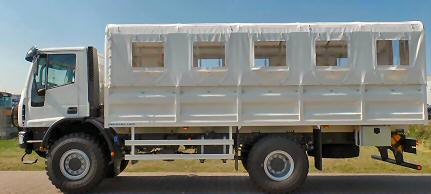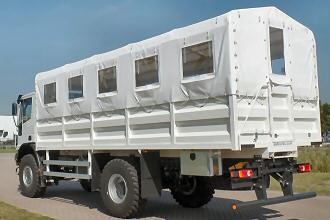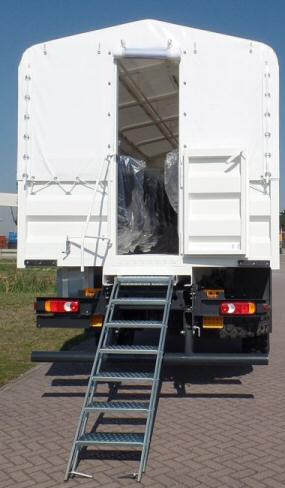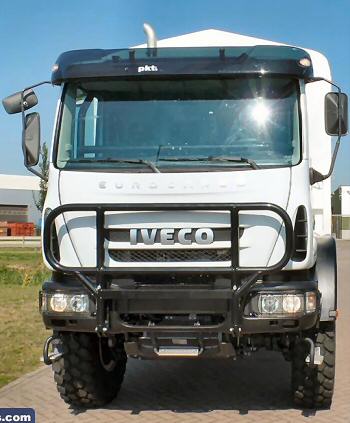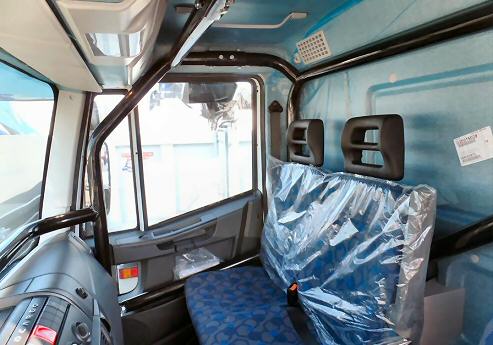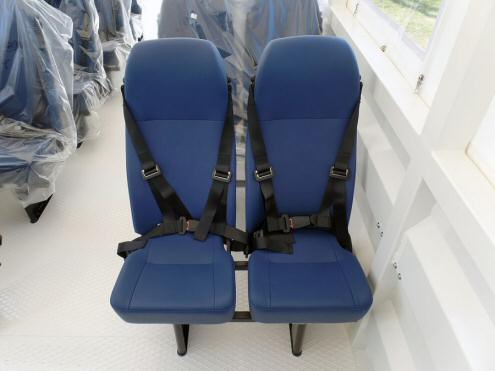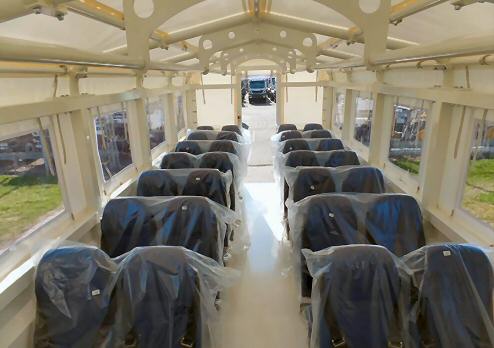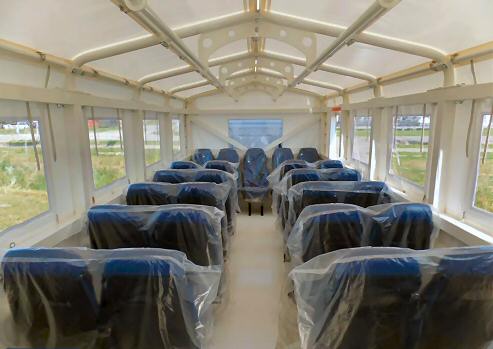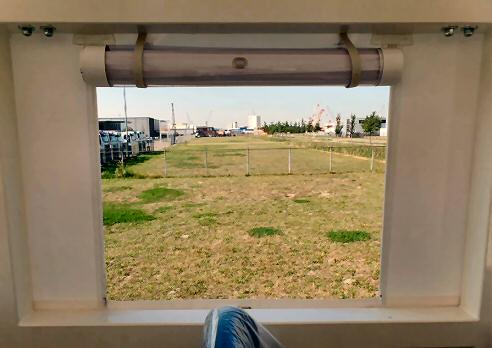 Iveco Eurocargo ML150E24WS 4x4
personnel carrier - NEW
Axles:4x4
Emission: Euro 3
Cabin: day cabin with 3 seats
HP/kW: 240 HP / 179 kW
Gearbox: Manual gearbox
Wheelbase: 4150 mm
Suspension: steel spring
Iveco Eurocargo ML150E24WS 4x4 personnel carrier with 33 seats - NEW

Iveco Tector engine, turbocharged and intercooled

Sun visor

Air conditioning
Power windows

ROPS (roll over protection system) in cabin and body

Bullbar

33 plus 3 seats with seat belts

Tarpaulin equipped with roll-up windows

Buzzer and LED light switch in the personnel carrier

Stainless steel drinking water tank

Under ride protection

Tires: Michelin, 14.00 R 20

Dimensions:
Length: 877 cm
Width: 250 cm
Height: 370 cm
Specification and photos are not contractual and are subject to verification upon inspection
TAKE NOTICE!
PLEASE BE ADVISED THAT INFORMATION INCLUDED IS CONFIDENTIAL IN NATURE AND IS BASED ON PRE-EXISTING BUSINESS RELATIONSHIP WITH THE LEGAL OWNER OF PROPERTY DESCRIBED HEREIN (IF APPLICABLE). AS SUCH, UPON RECEIPT OF SAID INFORMATION THE RECEIVER ACKNOWLEDGES THAT ANY UNAUTHORIZED CONTACT WITH SAID LEGAL SELLER WILL BE CHARACTERIZED AS A BREACH OF CONFIDENTIALITY AND SAID AGREEMENT MAY BE ENFORCED UNDER EXISTING LAW OR IN EQUITY.
This paper was prepared by General Equipment Inc.
The paper represents an offer of a partner of General Equipment Inc.
All rights are reserved by and for General Equipment Inc.
All content and ideas of this paper are the property of General Equipment Inc.