---
ITABODYARMOR
| | |
| --- | --- |
| TYPE: | Body Armor |
| DESCRIPTION: | Ballistic Armor Vest Range |
| PRICE: | Upon Request |
| PACKING: | Upon Request |

BALLISTIC ARMOR VEST RANGE
NIJ Ballistic Standards
General Purpose Vest at NIJ 3A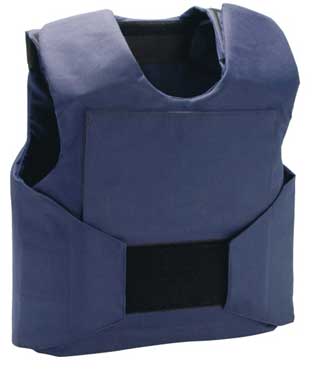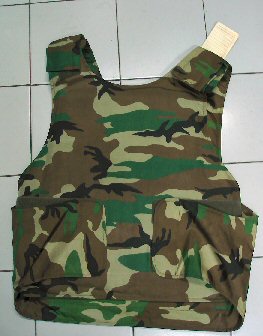 General Purpose Vest Specifications

•The General Purpose Vest is designed as a basic armour vest for the Police and private security companies. It provides front, back and side ballistic protection.

•Adjustable side closure design
•Area of ballistic coverage: 0.35m2
•Front to back wrap around ballistic protection
•Front and back plate pockets
•Widened adjustable shoulder pads
•4 size adjustment straps
•Removable ballistic panels in a water proof sealed PVC bag
•We offer 3 different ballistic series, which make use of different ballistic fabric and configurations to meet different price and weight targets.
Series A is the most competitively priced ballistic series and Series C the most expensive.
•Series A: Standard weight
•Level III/IV armour plates
•Removable groin protector
•Removable ballistic collar
•Removable helmet-friendly ballistic collar
•Removable ballistic throat protector
Olive Drab – Desert Tan – Black – Navy Blue – White and UN Blue
| | |
| --- | --- |
| Desert Camouflage | Jungle Camouflage |
SIZES
| | |
| --- | --- |
| | Chest or Waist in Centimetres |
| Small | 85 – 95cms |
| Medium | 96 –105cms |
| Large | 106 – 115cms |
| X Large | 116 – 125cms |
| XX Large | 126 – 135cms |
Maximum 6 to 8 vests depending on sizes and if Ceramic NIJ4 Plates are
Included to a maximum weight of 30kgs . Export Cartons 600x450x300mm



Police

Commander

Vest at NIJ3A


Police

Assault

Vest at NIJ3A



Military

Assault

Vest at NIJ3A

Military

Vest at NIJ3A

Concealable Covert at NIJ3A

Tactical

Concealable at NIJ3A
Armour

Accessories
COLLAR PROTECTION

NECK PROTECTION

VEST CARRIER AND STORAGE BAGS

VEST

TRAUMA

PACKS

Ceramic Plate Inserts at NIJ Level 4

SPECIFICATIONS Ceramic Plate Inserts at NIJ Level 4
•Alumina Ceramics monolithic tile backed with high density fibre glass reinforced polymer encapsulated in a pigmented fibre glass matrix.
•250 x 300 x 15mm with 25 x 25mm corner chamfers.
In the case of the multi-curve plates, the top corner chamfers are 40 x 70mm.
•Single curve (Radius 450mm) or Multi-curve. The multi-curve shape is such that the same shape can be used in the front and the back.
•Grey pigmented fibre glass reinforced resin. As an optional extra the plates can be covered with black "Cordura" material.
•• Level IV according to NIJ 0101.04 when used in conjunction with (ICW) NIJ
• Level IIIA soft armour.
• Provides multi shot protection against:
• 7.62 x 63mm AP (30.06)*
• 7.62 x 51mm Ball (NATO)
• 7.62 x 39mm API (AK-47)
• 7.62 x 39mm Ball (AK-47)
• 5.56 x 45mm Ball (SS-109, M-193)
• *Single shot
Specification and photos are not contractual and are subject to verification upon inspection
TAKE NOTICE!
PLEASE BE ADVISED THAT INFORMATION INCLUDED IS CONFIDENTIAL IN NATURE AND IS BASED ON PREXISTING BUSINESS RELATIONSHIP WITH THE LEGAL OWNER OF PROPERTY DESCRIBED HEREIN (IF APPLICABLE). AS SUCH, UPON RECEIPT OF SAID INFORMATION THE RECEIVER AKNOWLEDGES THAT ANY UNAUTHORIZED CONTACT WITH SAID LEGAL SELLER WILL BE CHARACTERIZED AS A BREACH OF CONFIDENTIALITY AND SAID AGREEMENT MAY BE ENFORCED UNDER EXISTING LAW OR IN EQUITY.
This paper was prepared by General Equipment Corp.
The paper represents an offer of a partner of General Equipment Corp.
All rights are reserved by and for General Equipment Corp..
All content and ideas of this paper are the property of General Equipment Corp.
---
Defense items are subject to final destination approval and granting of an
export license issued by exporting country's authorities