We offer the UH-19XRW Hoverwing™ ground-effect vehicle for industrial, commercial and military sales. It is available to our customers on a ready to run turnkey basis. The Hoverwing™, designed as a high performance hovercraft, is unique because of the ability to add wings for flight in ground-effect.
Flying in ground-effect enables you to clear obstacles and fly over rough water at speeds in excess of 75 mph. Cruise altitude is 2 to 6 feet and the craft can jump up to 20 feet to clear large obstacles. Operating in ground-effect does not require a pilot's license, and the craft is registered as a boat which brings a wide range of new opportunities to the commercial and tourism industry.
Removing the wings from the Hoverwing™ takes just 10 minutes. With the wings removed the Hoverwing™ converts into Sport mode, a sleek high performance hovercraft, able to carry 4 to 6 passengers into areas that can't be reached with any other vehicle. The Hoverwing™ can be configured in many different ways to accommodate your passengers or equipment needs.

Notice: the 19XRW Hoverwing™ is not yet available for recreational use. Commercial, industrial, rescue, and military inquires only.
Wing In Ground-effect Hovercraft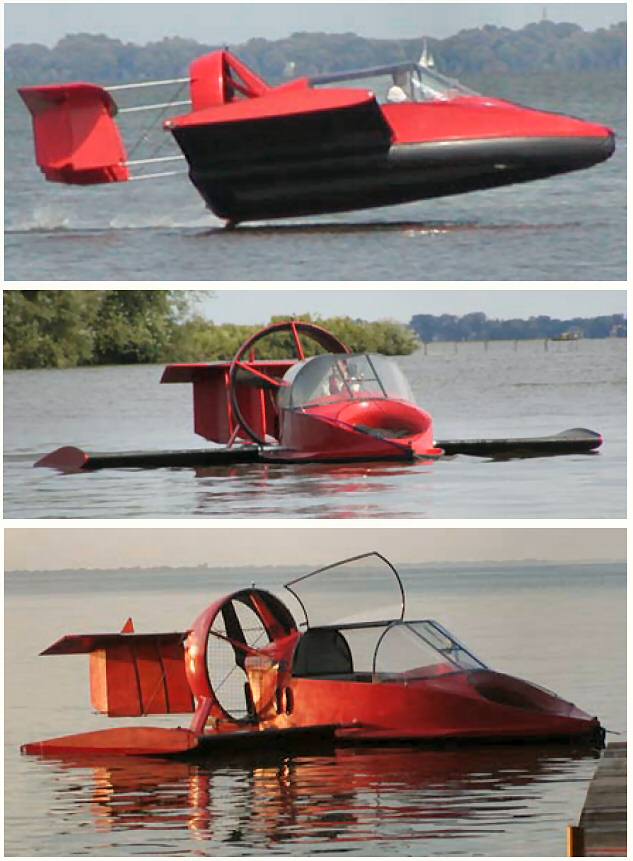 Performance
Slope Gradient
The slope of a surface expressed as a percentage of change in elevation per unit of distance traveled. Example: 30% grade = 30 feet of increased elevation over a 100 foot distance. The 19XR can traverse 30% to 40% grade depending on the configuration of the craft.
Surface capability
Useful for transportation over nearly any surface including; salt or fresh water of any depth, sand, mud, mangrove, rapids, floods, grass, swamp, desert, sand bank, ice, and snow. Also used for tour operations, passenger services and search and rescue missions. Hoverwing™ mode allows an additional capability of flying over the terrain.
Potential applications include flying over corn fields, bean fields, saw grass, muskegs, reeds, ditches, hills, small trees and logs.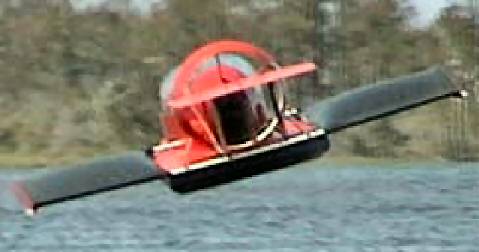 Sea state
Hovercraft mode: 25-30 mph winds. 1-2 foot chop. 3 – 6 foot waves. The 19XR's length, low center of gravity and AcuPlow™ hull make it the most stable hovercraft available today.
Hoverwing mode: 15-25 mph winds. 1-2 foot chop. 3 – 6 foot waves. Experienced operators will be capable of operating in rougher conditions.
Temperature
Safe operating temperatures vary depending on the application and payload. Typical safe operating temperature ranges from -30° F to +130° F
Systems
Control
A joystick controls three vertical rudders, one horizontal elevator and the twist throttle. Throttle has a friction lock setup that acts as a cruise control for long cruises. Lift fan rpm is controlled through our variable drive system that is electrically controlled from the joystick.
Flotation
The 19XR is built from a composite blend of urethane foam and fiberglass rendering the craft unsinkable. Foam fills every available cavity in the hull providing more than 3,300 lbs of positive flotation.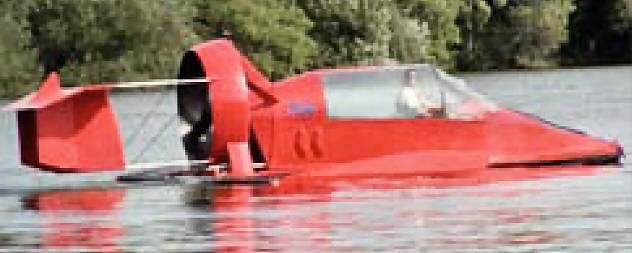 Power
80 amp engine driven alternator. One 12V gel cell battery powers all onboard systems. Four 12V power outlets are available for additional equipment. All electrical components are powered through a water tight fuse panel.
Instrumentation
Tachometer, Air Speed Indicator, Water Temp, Oil Pressure, Fuel level, Voltage, Hour Meter, level gauge and 6 inch Compass.
Fuel
Dual 9 gallon USCG approved aluminum fuel tanks supply the engine with 87-91 octane fuel. Each tank has its own fuel gauge and fill tube.
Engine
4-stroke, 130 hp engine is twin cylinder, liquid cooled, turbocharged and fuel injected.
Thrust propeller
2-blade low noise propeller. A composite wood-carbon structure gives the propeller long life, resistance to wear and the ability to ingest rocks, ice and other debris without seriously damaging the blades.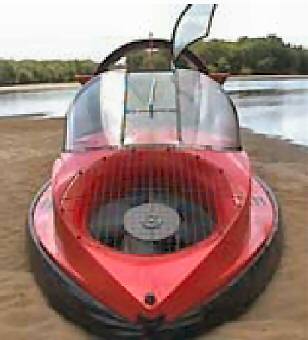 Lift fan
4-blade, 34 inch, low noise lift fan with spinner. Good airflow and slow turning, precision shaped blades give this fan the ability to perform in the toughest environments.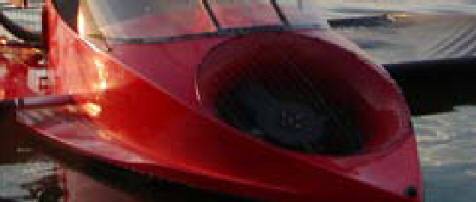 Skirt system
Bag type skirt. Made from vinyl coated nylon. Bag skirts are more stable, agile and easier to repair than their segmented skirt counterpart. Bag skirts also increase rough water capability.
Landing skids
When the 19XR is at rest or stopping, landing skids will contact the surface. These skids are made from a composite blend of Kevlar and PVC foam. This blend is resistant to wear and can be replaced as necessary.
Brakes
Emergency stopping can be achieved two ways. Reducing lift engine rpm will increase the drag resulting in an effective brake. Dumping the lift fan (dropping throttle from "cruise" to "off ") will cause a rapid deceleration over most surfaces. Our AcuPlow™ hull allows the pilot to accurately control braking over water.
AcuPlow™ system
Highly effective hull shape. Our hydro-dynamically shaped hull aerates and detaches water as it passes under the craft. This hull shape offers features including braking, high speed stopping, emergency braking and plowing.
Construction
Composite fiberglass / PVC foam make a heavy duty sandwich structure exceeding strength requirements for hovercraft of this size. This combination makes the 19XR unsinkable due to the solid foam hull.
Accommodations
The fully enclosed 19XR has seating for 4-5 passengers. Two rows of adjustable side by side seating. Interior is fully customizable and can be upholstered in a variety of colors and textures.
Safety Equipment
Halogen lights
Two forward facing halogen lights (12,000 candle power).
Navigation lights
Red green light on the bow, 360 degree white light at the stern. Lights are on two separate switches so each can be run independently. USCG approved.
Horn
Compact electric horn. Rated at 106 db.
Fire Extinguisher
Two included. The rechargeable Mariner 340 works for all types of fires and is easy to use— just pull the pin, aim and squeeze the trigger. It includes an integral gauge that indicates if the extinguisher is ready for use, a tri-class dry chemical agent and a metal, USCG-approved bracket. Good for A,B,C fir types.

Options
Spot light 400,000 candle watt hand held search light. Intense, fog-penetrating beam with minimal back splatter. Includes a deck-mounted socket for hands-free use or pick it up for hand-held operation.

VHF Radio
Many radio options are available. All options include VHF radio and 48 inch tower mounted antenna.
Commercial life vest
Search and Rescue (SAR) vest with a soft, lightweight mesh designed for comfort and ventilation.
Soft Aquafoam™ combined with durable Crosstech® foam adds extra comfort

Two 1 1/2" encircling belts, adjustable chest strap and zipper front for optimal fit and security

Two pockets with hook and loop closure

Rolled, stand-up collar

62 sq. in. (400 sq. cm.) SOLAS-grade reflective tape

USCG approved Type III
Throw rope
Throw lines provide an accurate way to deliver a line to a person in the water or to pass a messenger line to another boat. The 70' Throw Rope is safety yellow with foam inserts inside the bag for added buoyancy and SOLAS reflective tape which makes it easy to see.
Anchor
Folding grapnel anchor stores under the pilot seat. This lightweight system includes 50' of nylon rope and a vinyl storage bag.
Miscellaneous
Storage
Two locking cupboards are located port and starboard. Inside dimensions are 14" x 9" x 9". Under seat storage for pilot and passengers.
Mooring
One bow tow eye, two mid-ship cleats, two stern cleats and four lifting eyes.