---
GIV89
| | |
| --- | --- |
| TYPE: | Aircraft |
| DESCRIPTION: | Gulfstream GIV - 1989 |
| PRICE: | Upon Request |
| PACKING: | As is, Where is |
gulfstream giv - 1989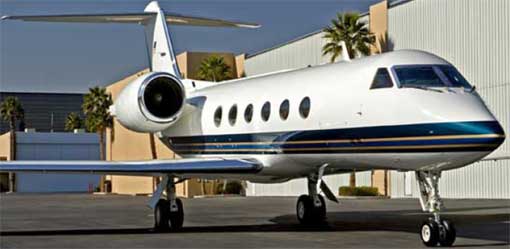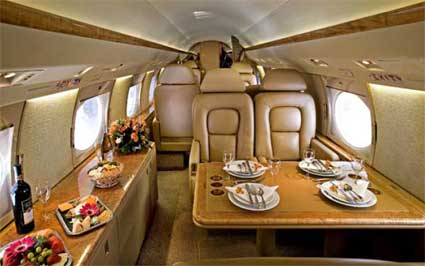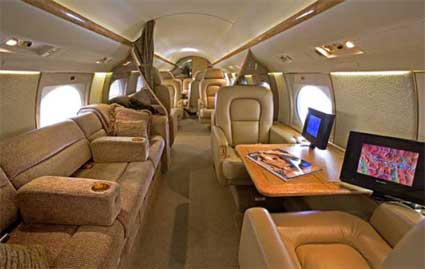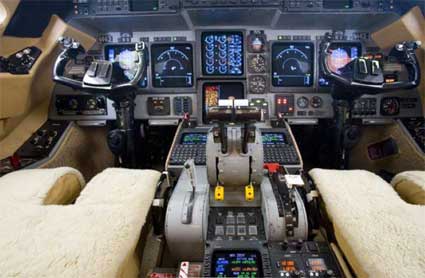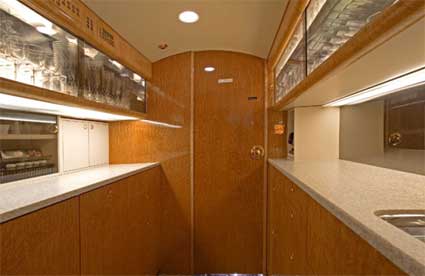 1989 Gulfstream IV

EXTERIOR: (Last Painted by Gulfstream Dallas 08/09/04)

• Overall Chevron White with Dark Blue Metallic, Navy Blue Metallic, Las Vegas Gold stripes

INTERIOR: (Refurbished by Gulfstream Dallas 08/09/04)

12 Passenger seats in three separate seating areas
Forward cabin with two club chairs opposite a three-place berthable divan
Mid cabin with single left side forward facing club chair opposite two club chairs and pop-up 14'' Flat screen Rosen Monitor
Aft cabin with right side four-place conference group (convertible to full-size bed) opposite Credenza w/pop-up 14" Flat Screen Rosen Monitor
Stowable Jumpseat certified for takeoff / landing
All seats finished in Dark Tan Leather
Woodwork is hi-gloss Bird's Eye Maple
All metal trim Gold plated
Headliner and Upper Sidewalls in Beige Leather, Brown Berber Carpet w/Gold Highlights
Forward Crew Lav and Crew Refreshment Center
Main Aft Galley equipped with Hi-Temp Convection Oven, Microwave Oven
Aft Lav (non-belted) w/external service
Eight 110 V/60 Hz electrical outlets in cabin
Sony Graphic Equalizer
Sirius DVD/CD Player
Sony CD Player
Airshow 400 Genesys Network
Two 5.6" Rosen LCD seat monitors
Magnastar C2000 Digital Flight Phone w/5 Handsets
Collins SAT-906 Satcom

ENGINES: Rolls-Royce TAY 611-8

Left Right

• Serial Number 16352 16353
• Time Since New 5,107 5,069
• Time to Overhaul 1,092 1,189
• Ten-Year Calendar Due 11/09 11/09

APU: Allied Signal GTCP36-100G (s/n P-511)

• 4,149 Hours Since New
• 705 Hours Since Hot Section Inspection (HSI Due at 5694 Hours)

AVIONICS:

• EFIS Honeywell SPZ-8000 6-Tube EFIS display
• FGC Dual Honeywell FZ-820 Flight Guidance Computers
• ADC Dual Honeywell AZ-810 Air Data Computers
• FMS Triple Honeywell NZ-2000 Flight Management Systems (5.2)
• GPS Dual Honeywell HG-2021 GPS
• IRS Triple Honeywell Laseref II LIRS
• TCAS Honeywell TCAS 2000 w/Change 7 software
• GPWS Honeywell Mk V Enhanced GPWS w/Windshear Detection and RAAS
•

VHF Comm Triple Collins VHF-422D VHF radios w/8.33 kHz frequency spacing
• VHF Nav Dual Collins VIR-432 VHF Nav radios w/FM Immunity
• HF Comm Dual Collins 728U-2 HF Comm radios w/Motorola NA138-714B Selcal
• ADF Dual Collins ADF-462 Automatic Direction Finders
• DME Dual Collins DME-442 Distance Measuring Equipment
• TDR Dual Collins TDR-94D Transponders w/Elementary Surveillance ID
• ALT Dual Honeywell RT-300 Radio Altimeters
• Radar Honeywell Primus 880 Color Weather Radar w/LSZ-850 Lightning Sensor
• ELT Artex 406 Triple Frequency ELT w/Nav Interface
• AFIS Honeywell AFIS w/VHF and Satcom Links
• CVR Fairchild A100A Cockpit Voice Recorder
• Honeywell PZ-800 Performance/Auto Throttle Computer

ADDITIONAL FEATURES:

•

RVSM; P-RNAV;RNP-5; RNP-10; MNPS; Part 91 MEL (each w/separate FAA LOA)
• Goodyear Wheels and Brakes
• Gulfstream CMP
• DeVore Tail Logo Lights
• Precision Aircraft Pulse Lights
• Rosemount Ice Detection System
• Extended Range Passenger Oxygen System
• Wired for Telex Airman ANR 500 Headsets powered by aircraft electrical syst
• Wired for Electronic Flight Bags

WEIGHTS:

• Max Ramp 73,600
• Empty 42,236
• BOW 43,427

Specification and photos are not contractual and are subject to verification upon inspection

NB: Aircraft offered for sale subject to contract, prior sale, withdrawal from the market and information regarding any aircraft or helicopter and provided verbally or in written documentation and/or contained within this e.mail or associated paper-work should be taken as a guide only in determining the suitability, including that aircraft or helicopters specification and/or performance. We highly recommend that any buyer or lessee perform their own inspections and due diligence to verify any and all technical, performance and specification information contained therein including OEM claims.

PLEASE NOTE: AIRCRAFT SPECIFICATIONS SUBJECT TO VERIFICATION UPON INSPECTION. WE DO NOT ACCEPT ANY LIABILITY FOR AIRCRAFT DEFECTS, HISTORY OR TECHNICAL RECORD ERRORS. IT IS THE BUYERS RESPONSIBILITY TO INDEPENDENTLY VERIFY THE AIRCRAFT AND COMPONENT HISTORY.

TAKE NOTICE!

PLEASE BE ADVISED THAT INFORMATION INCLUDED IS CONFIDENTIAL IN NATURE AND IS BASED ON PREEXISTING BUSINESS RELATIONSHIP WITH THE LEGAL OWNER OF PROPERTY DESCRIBED HEREIN (IF APPLICABLE). AS SUCH, UPON RECEIPT OF SAID INFORMATION THE RECEIVER ACKNOWLEDGES THAT ANY UNAUTHORIZED CONTACT WITH SAID LEGAL OWNER WILL BE CHARACTERIZED AS A BREACH OF CONFIDENTIALITY AND SAID AGREEMENT MAY BE ENFORCED UNDER EXISTING LAW OR IN EQUITY.

This paper was prepared by General Equipment Corp.
The paper represents an offer of a partner of General Equipment Corp.
All rights are reserved by and for General Equipment Corp..
All content and ideas of this paper are the property of General Equipment Corp.