---
FUZE UTIU M02P1
| | |
| --- | --- |
| TYPE: | Fuze |
| DESCRIPTION: | Fuze UTIU M02P1 |
| PRICE: | Upon Request |
| PACKING: | Upon Request |
fuze utiu m02p1
From New Manufacture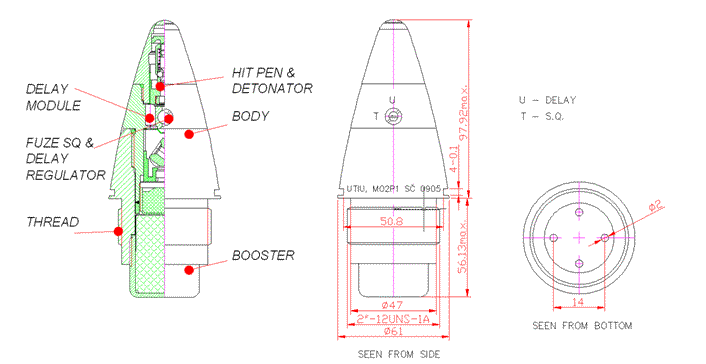 FUZE UTIU, M02P1 CHARACTERISTICS
1

Short description

UTIU, M02P1 is point detonating, mechanical fuze, superquick and delay action.


2

Purpose

Intended for assembling of artillery HE projectile with an opening for (with an adapter)100mm, 105mm and 155mm, and with the thread change for 122mm, 130mm and 155mm

3

Safety

As per MIL - STD - 1316B.

4

Action type

Superquick;

Delay.

5

Minimum arming conditions

Acceleration 24000 m/s².

Rotation 3000 min<![if !vml]><![endif]>.

6

Safety after drop test

3 m.

7

Muzzle safety

Min 10 m. depending on the ammunition charge

8

Temperature range of usage

-40° C to + 50° C.

9

Airtightness

It's Airtight.

10

Weight

~950 g.

11

Transportation safety

Safe at all types of transportation.

12

Shelf life

15 years min.
Specification and photos are not contractual and are subject to verification upon inspection
TAKE NOTICE!
PLEASE BE ADVISED THAT INFORMATION INCLUDED IS CONFIDENTIAL IN NATURE AND IS BASED ON PRE-EXISTING BUSINESS RELATIONSHIP WITH THE LEGAL OWNER OF PROPERTY DESCRIBED HEREIN (IF APPLICABLE). AS SUCH, UPON RECEIPT OF SAID INFORMATION THE RECEIVER ACKNOWLEDGES THAT ANY UNAUTHORIZED CONTACT WITH SAID LEGAL SELLER WILL BE CHARACTERIZED AS A BREACH OF CONFIDENTIALITY AND SAID AGREEMENT MAY BE ENFORCED UNDER EXISTING LAW OR IN EQUITY.
This paper was prepared by General Equipment Inc.
The paper represents an offer of a partner of General Equipment Inc.
All rights are reserved by and for General Equipment Inc.
All content and ideas of this paper are the property of General Equipment Inc.
---
Defense items are subject to final destination approval and granting of an
export license issued by exporting country's authorities