---
FORD550CIT
| | |
| --- | --- |
| TYPE: | Cash In Transit |
| DESCRIPTION: | Ford F-550 Cash in Transit Vehicle & MPV |
| PRICE: | Upon Request |
| PACKING: | Ex-Works |
ford f-550 CASH IN TRANSIT VEHICLE and mpv
Model I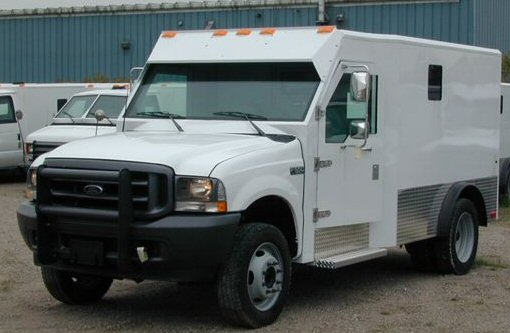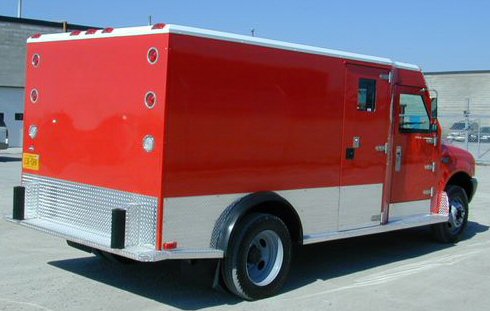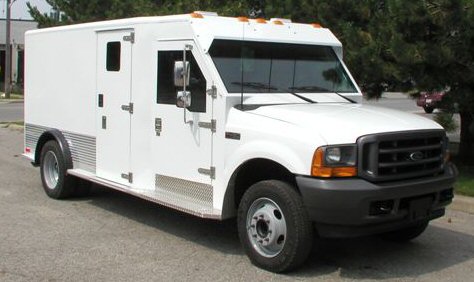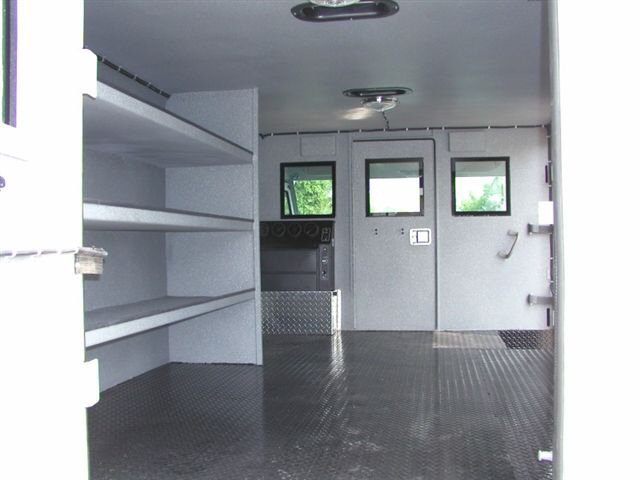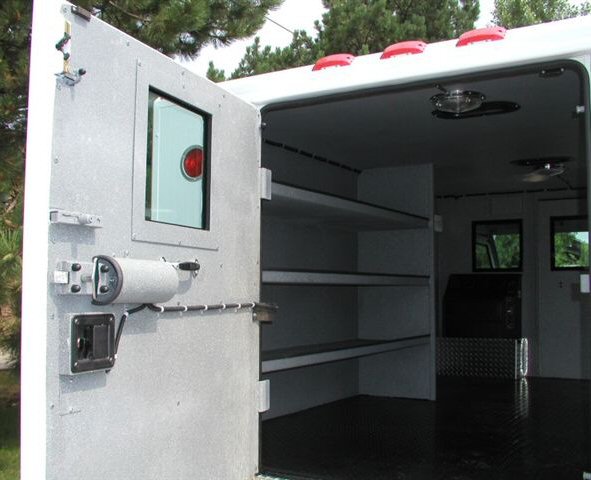 ---
Model II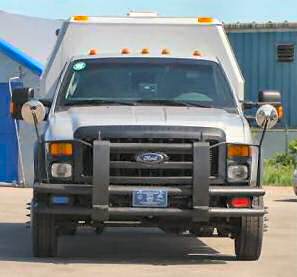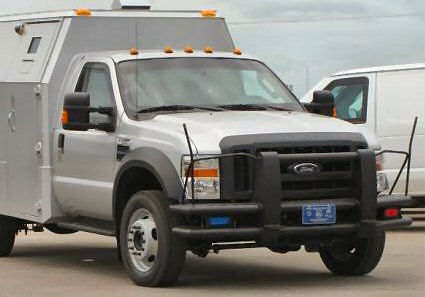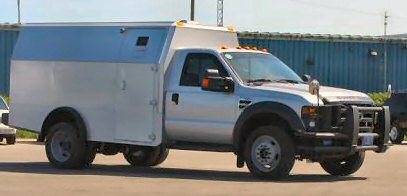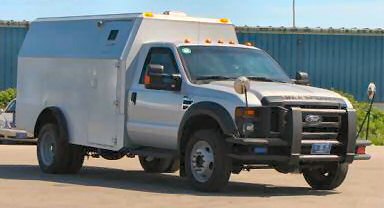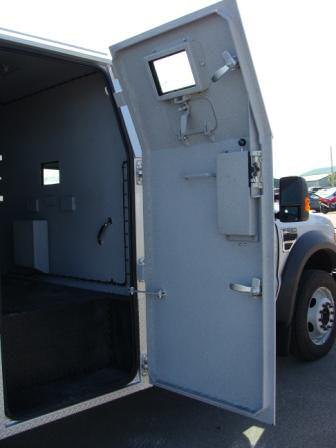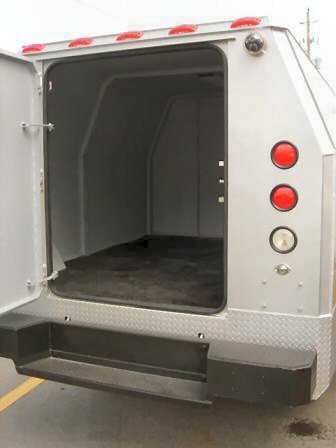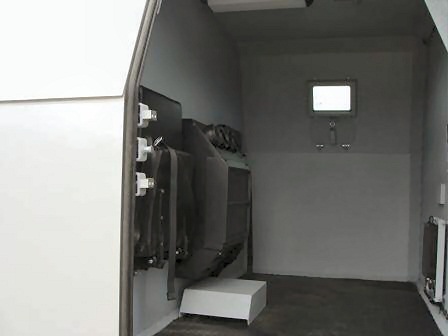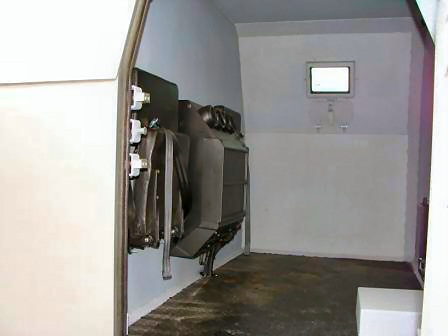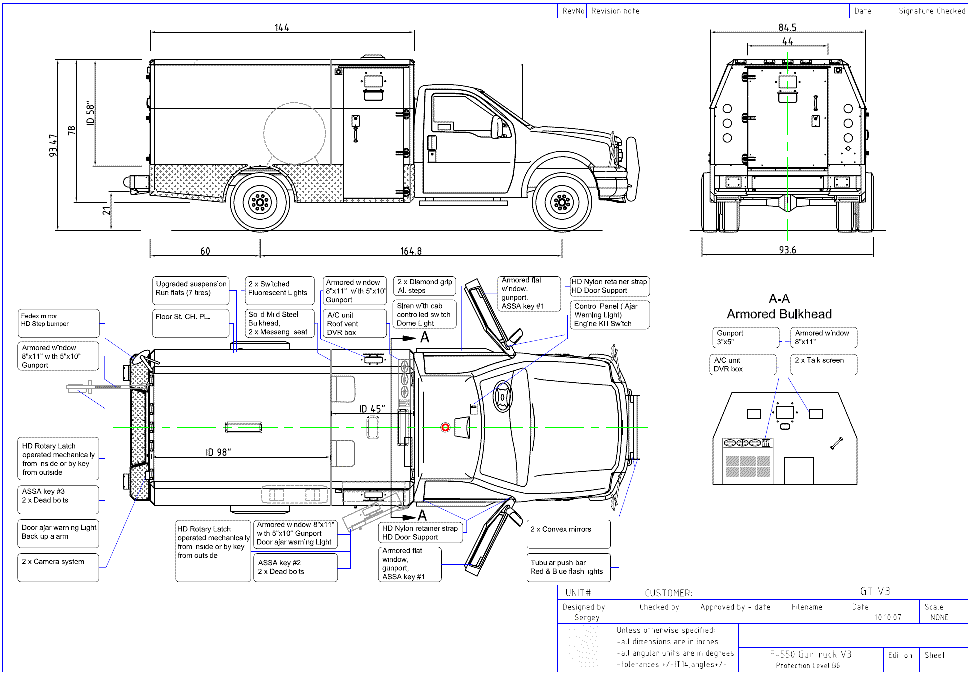 Ford F-550 – 2WD
BASE VEHICLE SPECIFICATIONS
| | |
| --- | --- |
| Type: | Commercial cutaway |
| Engine: | 6.8L V10 gasoline OR 6.0L turbo-diesel |
| Transmission: | 5-speed TorqShift automatic OR 6-speed manual |
| Brakes: | 4-wheel disc w/ABS |
| Steering: | Power variable |
| Capabilities: | GVWR - 17,500lbs |
| Dimensions: | Wheelbase – 165" |
| Additional: | 140-amp alternator, AC |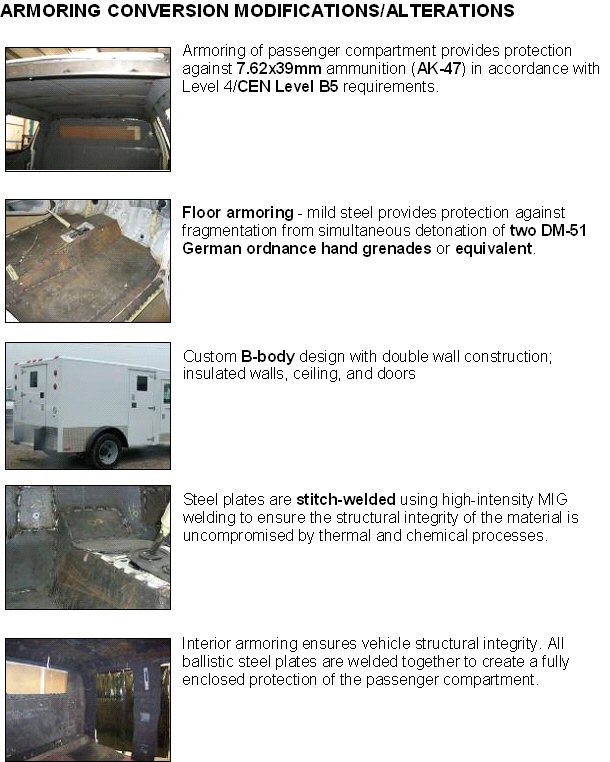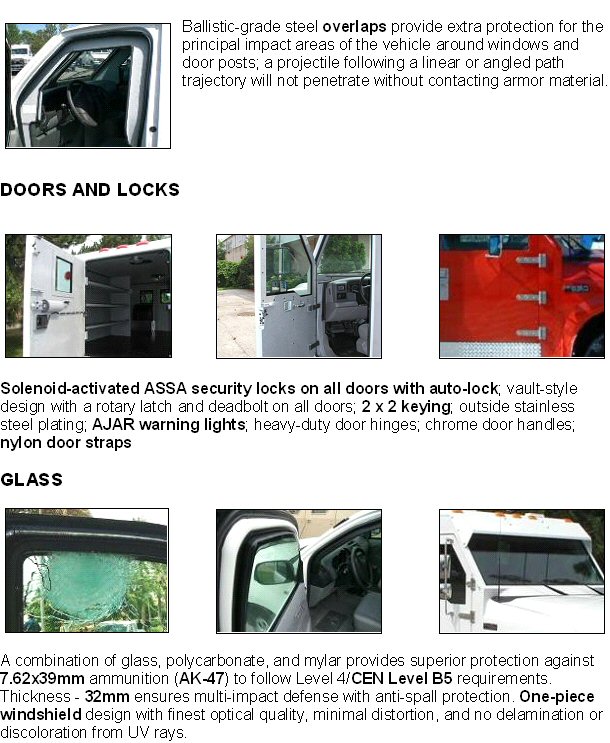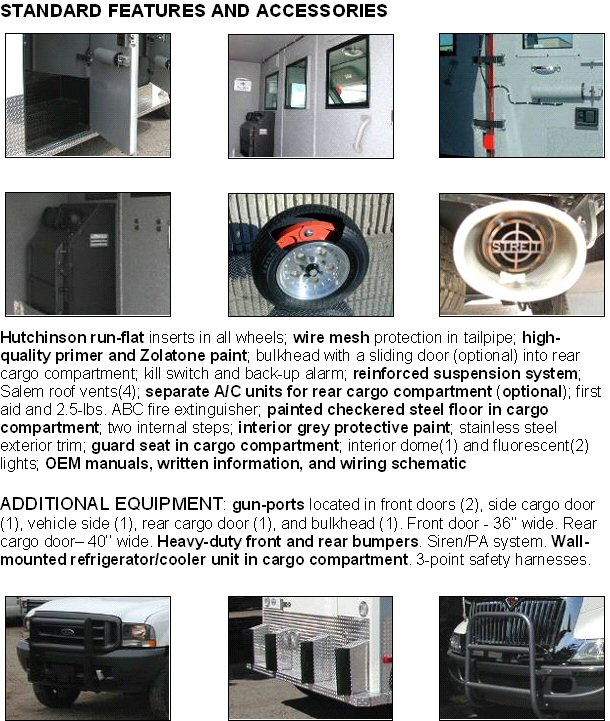 WARRANTY
Warranty any armor related items installed and conversion-related custom workmanship for three years or 60,000 km (36,000 miles) whichever comes first.

BALLISTIC PROTECTION LEVEL DETAILS
The following charts represent the ballistic protection of the vehicle's passenger compartment (opaque armor) - NIJ-STD-0108.01 Level III:
Weapon Caliber Ammunition Velocity
AK-47 7.62 x 39mm M-1943 2,400 ft/s
Sub-machinegun 9 x 19mm LCJJ 1,400 ft/s
Tokorev 7.62 x 25mm LCSJ 1,600 ft/s
Hand Gun 44 Magnum LWC 1,443 ft/s
Transparent armor - NIJ-STD-0108.01 Level III:
Weapon Caliber Ammunition Velocity
AK-47 7.62 x 39mm M-1943 2,400 ft/s
Sub-machinegun 9 x 19mm LCJJ 1,400 ft/s
Tokorev 7.62 x 25mm LCSJ 1,600 ft/s
Hand Gun 44 Magnum LWC 1,443 ft/s
Floor of passenger compartment is protected to shield against fragmentation from two DM-51 German ordnance hand grenades or equivalent.
---
F-550 MULTI PURPOSE VEHICLE
TROJAN © MPV (Multi-Purpose Vehicle) based on Ford F-550
armoured in accordance with VR6 / B6 CEN pr EN 1063 / EN 1522 / 1523 BRV – 1999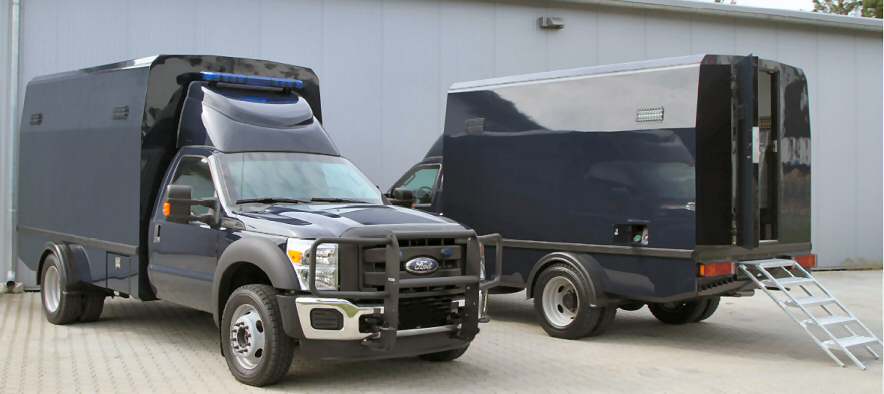 Vehicle shown in the pictures may vary from the one in the offer in details, subject to change without notice
Armor specifications / Standards
The armouring process has been integrated after the base vehicle production without changing the exterior appearance. The safety cell is engineered in such a way that all gaps between the main body of the vehicle and the doors are overlapped and fitted with spall-returns to prevent foreign projectiles or splinters from entering the passenger compartment. Materials All armoring materials utilized such as steel, aramid and fiberglass have been ballistic ally tested by independent German authorities (Beschussamt). Test reports can be presented upon request during a factory visit or with prior notice. However complete ballistic protection is not possible for reasons of design and modern weapon technology. Opaque areas When armoring as per protection level B6, all opaque areas are protected against projectiles fired with the following calibers and all lesser weapons at 90° (roof 45°)
impact angle in accordance and above the requirements of the EEC / CEN classification.
• Caliber 7.62 x 39 mm, FJ/PB/SC, AK 47, (Kalashnikov) OBR-43 PS
• Caliber 5.45 x 39.5 mm AP, FJ/PB/SCP, AKS 74, (Kalashnikov) OBR-74
• Caliber 5.56 x 45 mm, FJ/PB/SCP, US rifle M16 A2, SS-109 /M-855
• Caliber 7.62 x 51 mm, FJ/PB/SC, "FAL" / "LAR" NATO rifle Transparent areas When armouring as per protection level B6, all transparent areas are protected against projectiles fired with the following calibres and all lesser weapons at 90° impact angle in accordance and above the requirements of the EEC / CEN classification.
• Caliber 7.62 x 39 mm, FJ/PB/SC, AK 47, (Kalashnikov) OBR-43 PS • Calibre 5.45 x 39,5 mm AP, FJ/PB/SCP, AKS 74, (Kalashnikov) OBR-74
• Caliber 5.56 x 45 mm, FJ/PB/SCP, US rifle M16 A2, SS-109 /M-855 • Calibre 7.62 x 51 mm, FJ/PB/SC, (FN) FAL / "LAR" NATO rifle Floor protection The floor of the vehicle is designed in such a way that it will defeat the following hand
grenades and all lesser explosives.
• 2x DM51 (German ordnance hand grenade) per sqm detonated simultaneously
Suspension and braking system Where needed, the entire suspension system has been changed to engineered-to-purpose components to ensure reliability and road safety in order to carry additional weight loads on a long term basis. Parts are re-engineered by dedicated our engineers. The vehicles braking system has been partially re-engineered to adhere additional weight constraints that have been applied to the vehicles main body components. Parts of the original base unit have been exchanged to special engineered-to-purpose parts.
Wheels / Tyres / Rims
We are working together with the leading tire manufactures. Rims and tire combinations are tested by independent German authorities to ensure the highest possible safety on a long term basis. On the armored version special upgraded rims are mounted to carry the additional payload. Tires and rims have been approved for the higher weight ratio according to TÜV (MOT) type recommendations and legal requirements. Modifications are carried out in such a way that they pass German type approval. All wheels supplied with the vehicle including associated spare wheels are fitted with proper run-flat tire inserts.

BASE VEHICLE SPECIFICATIONS
Base vehicle: Ford F-550 4x4
Doors: LHD, 3 doors
Engine Model: 6.7L Power Stroke V8 Turbo Diesel (300HP)
Transmission: 6-speed automatic transmission

Dimensions & Weights
Length: 7.210 mm
Height: 3.000 mm
Width: 2.450 mm
Included security equipment
• Battery additional support (Back up) An additional support battery is installed in the event of the main vehicle battery not operating on full load; or when auxiliary electrical equipment is being used, such as communications. The battery is charged by a diode system and its capacity is constantly controlled. If the main battery is flat, or develops a defect, the second battery will take over this function.
• Battery amour protection x2 Both vehicle batteries, main and support, are protected with armored steel boxes, providing ballistic protection against projectiles and splinters. Both armored boxes can easily be removed for routine battery maintenance.
• Crew Area configuration The OEM glasses of the crew area (left and right) will remain to retain the outer appearance as original as possible. On the inside certified ballistic steel will be mounted.
• Hinges reinforced / engineered-to-purpose All original OEM door hinges have been replaced with specially designed reinforced strengthened heavy-duty door hinges. These hinges will hold the additional opaque and transparent amour features that are incorporated into the vehicle's doors. The engineered-to-purpose door hinges are directly connected (bolted and/or welded) to the ballistic steel making it impossible for the doors to sag.
• Protected vehicle management system (Black box) As an added precaution, the vehicle management system black box is also protected with armored steel plating, protecting it against splinter and projectiles. Many important vehicle functions are electrically controlled by this piece of equipment.
• Quality automotive parts only The TROJAN® is built with quality brand names parts only! e.g. shock absorbers from Bilstein, Hensch, Bosch electrics etc. Quality keeps the vehicles in service longer and does not burden the limited logistical and maintenance supply teams.
• Run-Flat tire system x7 (including 1x full size spare tire) In the event of a vehicle receiving a puncture, blow-out or having deflated tires, the run-flat system will allow the vehicle to be driven under controlled conditions for 30km @ 50km/h. A run-flat system is a very important security measure. Keeping the vehicle mobile is absolutely essential in preventing would be attackers with hand held weapons from obtaining an accurate ballistic grouping on the vehicles armor areas. Keeping the vehicle mobile is absolutely essential, particularly in dangerous situations and remote regions.
• Side wing full length engine compartment armor Full wing length armored steel is mounted behind both forward wings, providing additional protection for the engine compartment. This is in addition to the safe-cage-/security-cell-concept already implemented in the bulkhead of the vehicle.
• Tail lights and "Kill switch" As a security precaution aid, an additional interactive "Kill switch" will enable the vehicle driver to kill all the vehicles lights in one easy action. This function enables the vehicle passengers to exit and enter the vehicle without interior / exterior lights from going on, thus drawing unwanted attention at night time. When the kill switch is activated, a glowing pin green light on the control switch is all that can be seen.

Interior Features / Additional security equipment (included):
• Vehicle interior Designed in such a way that it uses weight-efficient materials while providing comfort and aesthetic value taken minimisation of maintenance costs into consideration.
• Insulation The space between armour and outer shell of the vehicle incorporates a feasible (high) level of thermal insulation.
• Individual reading lights Individual reading lights for the passenger compartment are installed.
• Armored Escape Hatch The roof of the vehicle is equipped with an emergency roof escape hatch large enough to allow for the pass through of personnel wearing full body armour and helmet, plus associated equipment.
• Seating Installed OEM seats are comfortable, yet hardwearing. The seats are fitted with three point European standard seatbelts.
• Fire extinguishers (2kg) Two (2) 2kg fire extinguishers are fitted to the inside of the vehicle, one in the front compartment and one in the passenger compartment, allowing easy access.
• Air condition Driver's cabin The vehicle is equipped with a suitable air condition system to allow vehicle operations also under harsh climate conditions.
• Air condition messenger/crew cabin The messenger/crew compartment is equipped with an additional air condition to allow proper vehicle operations even under harsh climate conditions.
• Spare parts package (recommended 2 year package) The vehicle comes with a two-year spare parts package including the fast using parts for this period. Amongst the spare parts are e.g. spare bulbs, air & oil & fuel filters, fuses, brake pads, brake discs, shock absorbers (front & rear), stabilizer bearings.
Further equipment (included)
• 4 wheel drive. YES
• Front stabilizer bar & heavy duty front/rear shock absorbers. YES
• Headlamps – dual sealed beam. YES
• Mirrors -Telescopic Trailer Tow. YES
• Transmission Oil Cooler. YES • Engine Block Heater. YES
• Power door lock with Centre locking. YES • Power- windows/Side Mirrors & One-touch down driver window. YES
• Remote keyless entry with panic alarm. YES
• Rear Cargo Door with Glass. YES
• Sliding side cargo door with glass. YES
• Wheels – 16" as a minimum with steel rims. YES
• Brakes – 4-Wheel disc Anti-lock Braking System (ABS). YES
• Air bag – driver & front passenger (second generation). YES
• Safety belts – colour keyed with height adjustable. YES
• Tire Pressure Monitoring System (TPMS). YES
• Climate Control for both compartments. YES
• A CCTV System including DVR, 7" LCD Monitor, Infrared Night Vision YES Exterior Security Cameras & Interior Security Cameras, with 360 coverage.
• Roof escape hatch in guard compartment for emergency escape. YES
• A partition between crew compartment and driver compartment: Solid bulkhead YES Partition without door with view glass
• A partition between crew compartment and vault: Sliding door with view glass. YES
• Quick defrosting/defogging in cold or damp weather conditions. YES
• HD Nylon retainer straps at all doors to reduce hinge wear. YES
• Dual rear swing out cargo doors. YES
• Driver Door: Dead bolt, High Security Key, Operated by handle from YES inside or High Security key from outside.
• Co-Driver Door: Dead bolt, High Security Key, OEM Rotary Latch with solenoid operated by driver push button or handle inside or high security key from outside.YES
• Switched dome light in front cab area. Single switched dome lights in rear cargo area. All exposed wiring should be covered. . YES
• Manufacturer, wherever possible, to obtain as close to an original look as possible. YES
• Additional seating for two occupants with seat belts in messenger compartment. YES
• 12volt battery charger socket in the crew compartment. YES • Side step on entry positions for ease of access in and out of vehicle. YES
• In vault steel railings on floor will be installed along with hooks on walls and floor heights for ease in dragging pallets and tie up. YES
Optional security equipment (at additional cost)
• Rapid Mantling System In case of threatening/dangerous scenarios it is very important to get the vehicle out of the perpetrator's line of sight. Our unique Rapid Mantling System is designed to release various types of non-lethal effect grenades (i.e. fog, tear-gas, flash bang) to effectively mantle the line of sight against attackers and provide passive/semi-active protection.
• Key features
- Smoke protection in line of sight (independent of terrain)
- Anti Riot Capabilities (non-lethal)
- Improved Safety
• Non-lethal payloads
- Multi Spectral Smoke (Red Phosphorus)
- CN/CS (Tear Gas)
- Flash Bang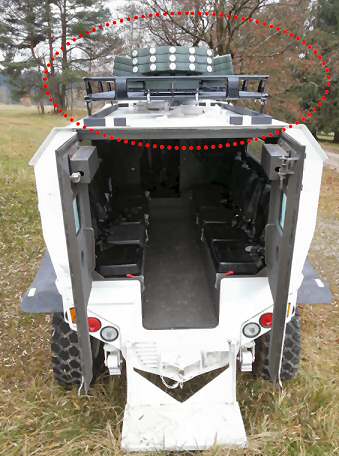 Sample picture only
As described above
- Armored in accordance with international protection level test guideline VR6 / B6 CEN pr EN 1063 / EN 1522 / 1523 BRV – 1999
- Including the base vehicle (as described above)
- 2-year warranty
o We warrant for parts and materials used in modification and manufacturing of the armoring for a period of 24 months from the date of delivery or 30.000 kilometers whatever comes first.
o Warranty does not include any wear and tear parts. The warranty neither includes damages or malfunctions caused by improper handling of the product or by the fact the service and maintenance intervals as stipulated in the supplementary user/maintenance manual as well as the OEM owner's and warranty manual are not adhered to
Including the security and armoring options (as described above and listed as included)
*All vehicles are subject to requirements of the German Federal Office of Economics and Export Control. (Bundesamt für Wirtschaft und Ausfuhrkontrolle) (BAFA) www.bafa.de


Annex I: Ballistics Overview as per VPAM APR 2006 (which is part of the VPAM BRV 2009 and BRV 1999 test guidelines)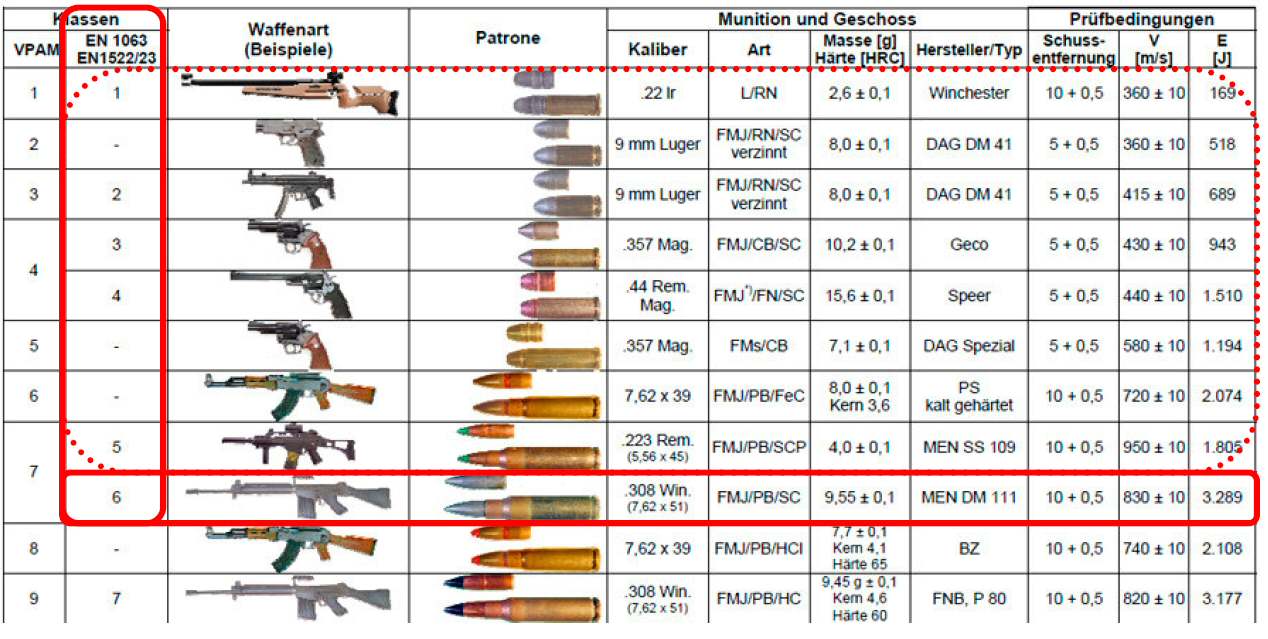 Annex III: References Excerpt (regarding special protection vehicles)
EUROPEAN UNION
United Nations Secretary General
Middle East Royal Highnesses
More than 21 governments' world-wide
Several EU- and other nationality's Embassy's in Iraq
Head of Global Procurement Foreign & Commonwealth Office United Kingdom
Facilities Group UK
The British Council London
UNICEF Supply Division Denmark
IOM International Organization for Migration Iraq Office
World Health Organization – WHO Iraq
Mohamed Naser Al-Sayer & Sons Est. Co. W.L.L. Kuwait
Conflict and Humanitarian Affairs Department (CHAD) DFID
HM Customs and Excise UK – World-wide
Scandinavian Relief Services Ltd. Denmark
The Crown Agents for Overseas Governments and Administrations Ltd.
Parsons Iraq Joint Venture RIO North Project
Specification and photos are not contractual and are subject to verification upon inspection
TAKE NOTICE!
PLEASE BE ADVISED THAT INFORMATION INCLUDED IS CONFIDENTIAL IN NATURE AND IS BASED ON PRE-EXISTING BUSINESS RELATIONSHIP WITH THE LEGAL OWNER OF PROPERTY DESCRIBED HEREIN (IF APPLICABLE). AS SUCH, UPON RECEIPT OF SAID INFORMATION THE RECEIVER ACKNOWLEDGES THAT ANY UNAUTHORIZED CONTACT WITH SAID LEGAL SELLER WILL BE CHARACTERIZED AS A BREACH OF CONFIDENTIALITY AND SAID AGREEMENT MAY BE ENFORCED UNDER EXISTING LAW OR IN EQUITY.
This paper was prepared by General Equipment Corp.
The paper represents an offer of a partner of General Equipment Corp.
All rights are reserved by and for General Equipment Corp..
All content and ideas of this paper are the property of General Equipment Corp.