---
FIELDKITCHEN3
| | |
| --- | --- |
| TYPE: | Field kitchen |
| DESCRIPTION: | Field kitchen for 250 Meals and/or 400 Emergency Meals |
| PRICE: | Upon Request |
| PACKING: | Upon Request |
fieldkitchen FOR 250 MEALS and/or emergency meals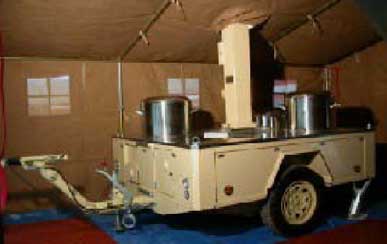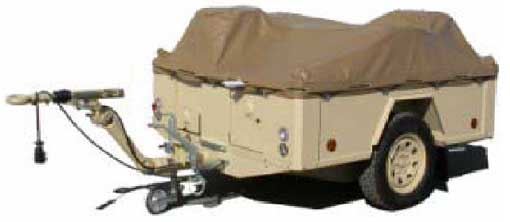 DESCRIPTION
Kitchen on trailer provided with all the items necessary to elaborate and distribute food up to 250 meals. Placed on a 1 axle 4x4 trailer and towed by any military vehicle
Capacity up to 250 spaces for whole menus and 400 spaces for emergency meals
GENERAL CHARACTERISTICS
Measures in transport (with hitching bar): 3,960 x 1,910 x 1,400 mm
Measures in action (covered by tent): 5,570 x 4,762 x 2,800 mm
The underframe set is independent from the coachwork.
It includes articulated and controllable towed jet pipe of double rosette, provided with:
- Mooring ring-belt type OTAN
- Inertia and stationery brakes
- Brake action haulage from bank for emergency unhitching
- 3rd supporting wheel with contact surface. Controllable High and position
- Security chains with rapid couple
It also includes a twice zinc coated support to hold the third jet pipe wheel during the levelled use of the kitchen
The coachwork has a rectangular prism size and is made of the riveted junction of different sheets of 2 & 3 mm thickness and of structural reinforcements of omega shape folded sheet
It counts with an access door that leads to the fuel deposit and three hinged falling doors destined to protect the burners controls
The upper surface is a hotplate made of 8 stainless steel AISI 304 pieces of 2 mm thickness, properly accorded to the kitchen household goods dimensions
It poses 3 thermal coats, 2 placed at the back and 1 at the front
Each one is made by two concentric cylinders, the surface made of steel sheet and the inside made of refractory steel, both separated by insulator material
The kitchen includes a smoke distributor composed by a set of galvanized steel cylinder tubes and covered by insulator material that leads the combustion smoke towards the double room falling chimney
This chimney is finished by a gutter cowl and both for functioning and for transport it has a fixing system through stainless steel regulating fasteners
Specification and photos are not contractual and are subject to verification upon inspection
TAKE NOTICE!
PLEASE BE ADVISED THAT INFORMATION INCLUDED IS CONFIDENTIAL IN NATURE AND IS BASED ON PRE-EXISTING BUSINESS RELATIONSHIP WITH THE LEGAL OWNER OF PROPERTY DESCRIBED HEREIN (IF APPLICABLE). AS SUCH, UPON RECEIPT OF SAID INFORMATION THE RECEIVER AKNOWLEDGES THAT ANY UNAUTHORIZED CONTACT WITH SAID LEGAL SELLER WILL BE CHARACTERIZED AS A BREACH OF CONFIDENTIALITY AND SAID AGREEMENT MAY BE ENFORCED UNDER EXISTING LAW OR IN EQUITY.
This paper was prepared by General Equipment Corp.
The paper represents an offer of a partner of General Equipment Corp.
All rights are reserved by and for General Equipment Corp..
All content and ideas of this paper are the property of General Equipment Corp.