---
F406 COMMUTER
| | |
| --- | --- |
| TYPE: | Aircraft |
| DESCRIPTION: | F406 Twin Turbo Prop Commuter |
| PRICE: | Upon Request |
| PACKING: | Ex-Works |

F406 TWIN TURBO PROP COMMUTER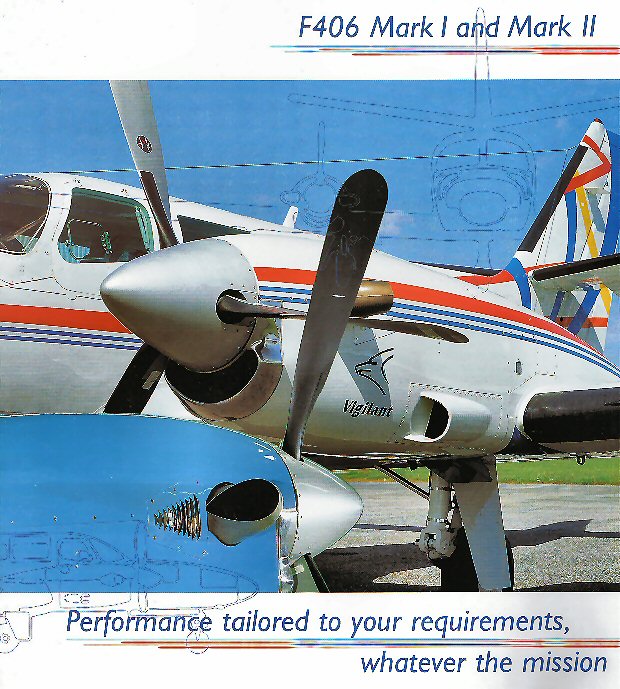 More Flexibility for more versatility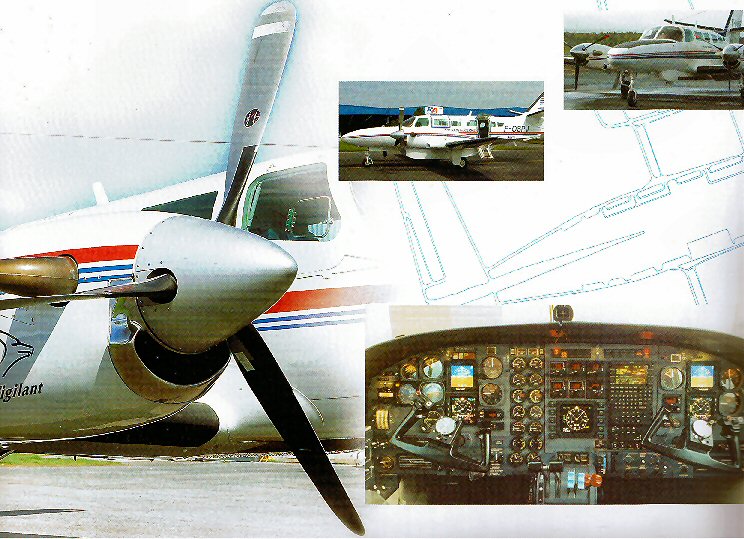 Based on the Cessna 400 series, the twin turbo-prop F406 Mark I and Mark II are entirely manufactured and assembled in France
The F406 is quickly operational, powerful, flexible and at ease in all situations
It excels under the most difficult operating conditions, is able to land in complete safety on temporary hard or semi-prepared runways and requires very short distances for take-off
Its level of technical and economic performances combined with an adaptability tailored to each customer's exact requirements, makes the F406 a totally versatile plane with the lowest operating cost in its category
Built on a modular platform with proven robustness, the F406 Mark I and Mark II share the following technical characteristics:

Spacious non-pressurized cabin,

Large Cargo door,

Huge glazed surfaces for outstanding visibility,

A single flat floor covering the entire length of the cabin,

Retractable undercarriage with trailing link main landing gear

For passenger and operator comfort, as well as to provide easy maintenance and servicing; the cabin is lined with easy-to-dismantle composite panels which can be covered, on customer's demand with alcantara or ultra leather finishing.

High capacity air conditioning ensures a pleasant flight even under the hottest conditions.

Many options are available for public passenger transport.

A sophisticated full de-icing system enables the aircraft to fly safely under known icing conditions.

The F406 Mark I and Mark II differ in terms of their power unit and the maximum take-off weight:

F406 Mark I

two Pratt & Whitney 500 SHP PT6A-112 turbines,

Two three-bladed propellers

MTOW 4468 kgs

F406 Mark II

two Pratt & Whitney 635 SHP PT6A-135 turbines,

two three-bladed propellers,

MTOW 4700 kgs (230 kg more payload)

In its new Mark II version, the F406 offers even more scope in terms of power, range, autonomy, take-off weight and climb performance in hot weather.

The F406 Mark I and Mark II are perfectly suited for:

Based on a common platform, the F406 Mark I and Mark II configuration flexibility enables extreme customization, making the aircraft available for all "turnkey" missions.

Transport missions

Its performance level and reliability, low fuel consumption and a simplified maintenance mode make the F406 and ideal aircraft to achieve low operating cost and rapid return on investment.
Its flexibility and adaptability allow for instance ad hoc passenger transportation by day and freight by night, with the necessary configuration change being entirely completed in less than an hour.

Commuter
For the transport of 9 to 12 passengers under optimum conditions of comfort and safety
Executive
For the transport of 6 to 8 passengers in a VIP environment
Cargo and Combi
For the transport of freight or mixed freight/passenger transportation
Medevac
For sanitary and medical missions, stretcher and life support modules
Parachuting
For free fall or static line dropping of parachutists in either automatic or controlled mode
Training
For pilot and systems operator training
MORE AVAILABILITY THROUGHOUT THE WORLD
From training to fleet management, we cover all F406 users' operational requirements via a complete service to flawless "turnkey" missions
TRAINING ..... TRTO
Pilots, mechanics and operators are trained ina TRTO approved department by highly qualified instructors, taking into account the trainees initial level of expertise and the specific features of each mission
MAINTENANCE .... PART 145, FAA
We guarantee maximum availability 24 hours a day, 7 days a week, for all F406's in service, throughout the world via:
A world wide network of approved service points,

Pratt & Whitney service centers

Teams on call for all five continents, to provide on-site technical assistance
REMOTE TECHNICAL SUPPORT
Via a direct contact point with the engineering office, production and certificate authorities, the customer support service is capable of responding in very short terms to all F406 operators queries
SPARE PARTS
All spare parts for the F406, whether for the aircraft structure, the equipment or the avionics, are available directly
WARRANTY
The F406 Mark I and Mark II are covered by international warranties:
Airframe: 1 year

Engines: 1000 hours

Propellers: 3 years

Avionics: 2 years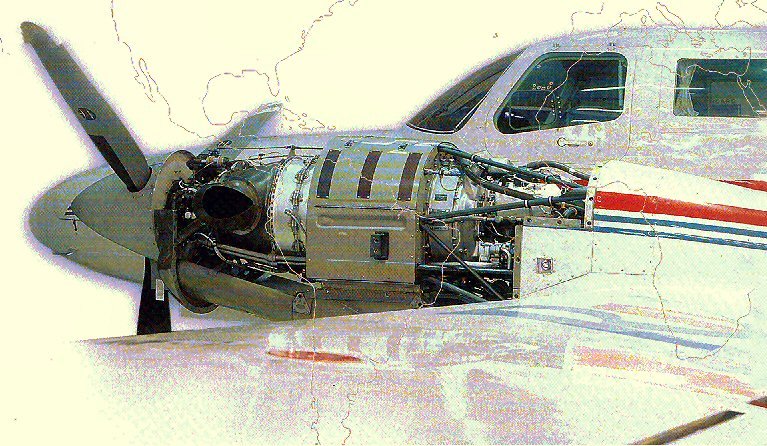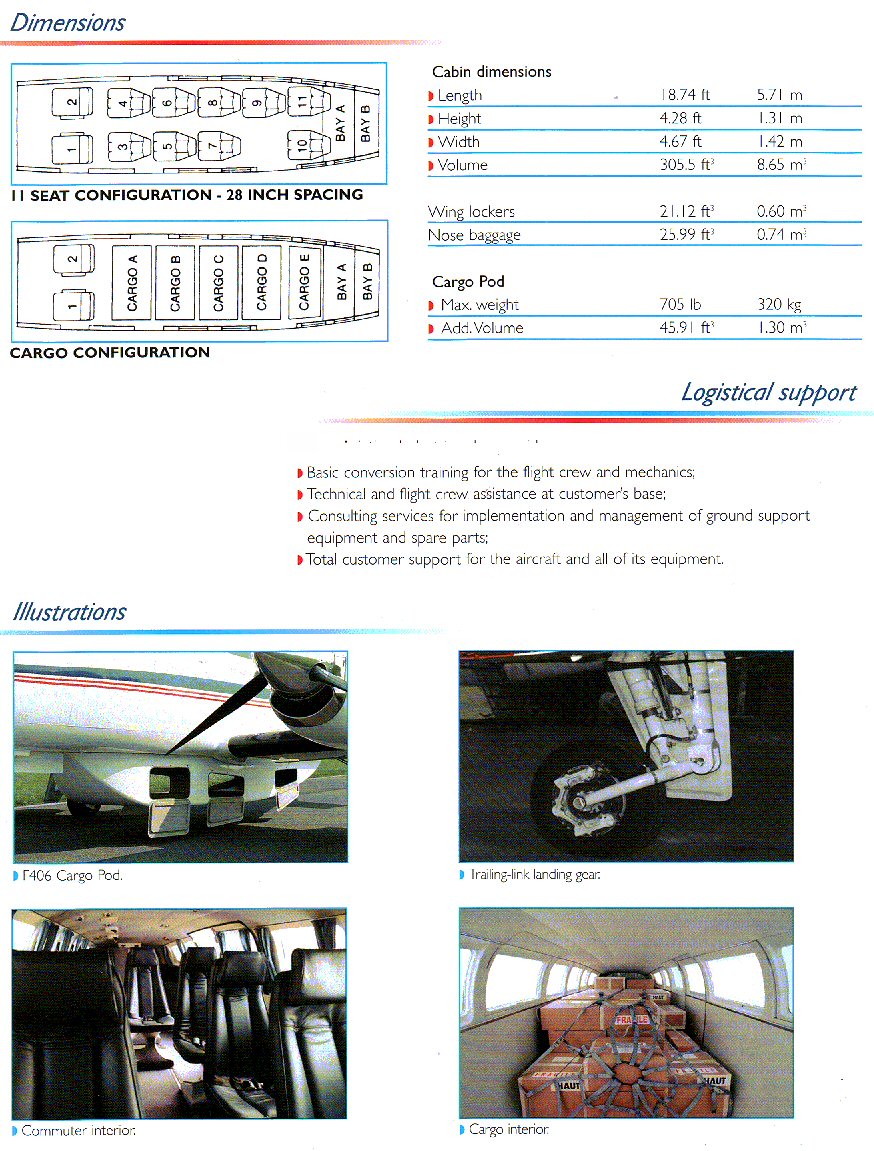 Specification and photos are not contractual and are subject to verification upon inspection
NB: Aircraft offered for sale subject to contract, prior sale, withdrawal from the market and information regarding any aircraft or helicopter and provided verbally or in written documentation and/or contained within this e.mail or associated paper-work should be taken as a guide only in determining the suitability, including that aircraft or helicopters specification and/or performance. We highly recommend that any buyer or lessee perform their own inspections and due diligence to verify any and all technical, performance and specification information contained therein including OEM claims.
PLEASE NOTE: AIRCRAFT SPECIFICATIONS SUBJECT TO VERIFICATION UPON INSPECTION. WE DO NOT ACCEPT ANY LIABILITY FOR AIRCRAFT DEFECTS, HISTORY OR TECHNICAL RECORD ERRORS. IT IS THE BUYERS RESPONSIBILITY TO INDEPENDENTLY VERIFY THE AIRCRAFT AND COMPONENT HISTORY.
TAKE NOTICE!
PLEASE BE ADVISED THAT INFORMATION INCLUDED IS CONFIDENTIAL IN NATURE AND IS BASED ON PRE-EXISTING BUSINESS RELATIONSHIP WITH THE LEGAL OWNER OF PROPERTY DESCRIBED HEREIN (IF APPLICABLE). AS SUCH, UPON RECEIPT OF SAID INFORMATION THE RECEIVER ACKNOWLEDGES THAT ANY UNAUTHORIZED CONTACT WITH SAID LEGAL SELLER WILL BE CHARACTERIZED AS A BREACH OF CONFIDENTIALITY AND SAID AGREEMENT MAY BE ENFORCED UNDER EXISTING LAW OR IN EQUITY.
This paper was prepared by General Equipment Corp.
The paper represents an offer of a partner of General Equipment Corp.
All rights are reserved by and for General Equipment Corp..
All content and ideas of this paper are the property of General Equipment Corp.