From New Manufacure



Explosion Protecting System The leading technology

Agenda
ExploZero – overview of the technology

ExploZero - scenarios of usage

Collateralization of petrol stations
Further civil scenarios of usage
Military scenarios of usage

ExploZero is the most advanced explosion supression system for protecting liquid and gaseous media. ExploZero combines maximum saftey with easiest handling.

The system of ExploZero consits of nonflammable synthetic fibres, which were drilled into cylindrical brush elements.

The single brushes were fixed together into system packs which do not even afterglow.

The system packs guarantee most effective and rapid filling of large-volume spaces. According to the geometry of the exposed spaces, the system packs can be produced in various sizes.

Besides synthetic fibres also high-temperature materials can be used if needed.

Through the flexibility of each brush element, the system packs fit in every imaginable environment. Individual elements reliably secure the tightest corners and sensitive fittings without additional packaging cost.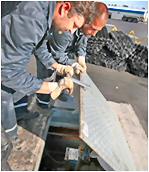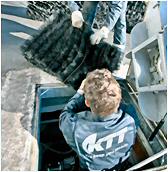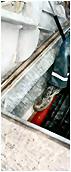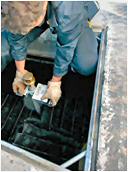 ExploZero doesn`t look like very impressive. But what`s behind the black brushes ist pure high-tech.

The system is built up by thousands of superfine intertwining plastic threads of the single brush elements and spilts the space which is to be protected into millions of single cells.

Therefore a complete filling of the endangered space prohibits the unlimited diffusion of the explosion to unleash its devasting effect.
Ø The ExploZero system stops explosion flashovers!
Ø Explosions cannot unfold their devasting effects!

ExploZero® is used in system packs and is the further development of the international well known TSE® Tank-Saftey-Element system.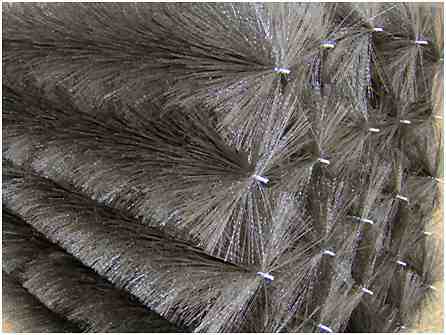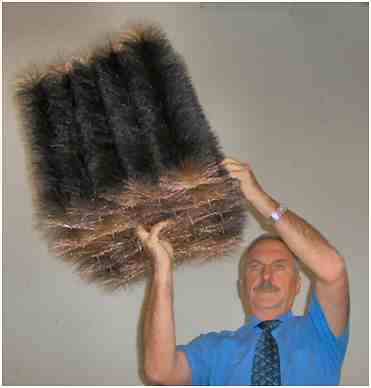 Collateralization of petrol stations

Tank Collateralization within the Chemical Industry
Collateralization of barrels
Tank Collateralization of civil crafts
Tank Collateralization of tank trucks
Collateralization of fuel tanks and all kinds of shafts
Tank Collateralization of aircrafts and helicopters
Collateralization of tank storages
Tank Collateralization of military crafts
Tank Collateralization Navy
Collateralization of containers and tank wagons
-------------------------------------------------

DOME) SHAFT and TANK-SPECIALISTS
Scenario of usage:
petrol stations Hazard potential dome

Dome shafts are under earth manholes at petrol stations, where fitting and dipping equipments and all relevant controls and instruments are located which are obligatory for the storage of fuels. Especially the controls for finding the correct amount of fuel hold high hazard potential.
Especially at gas stations with Superethanol E 85, maximum safety installations are required. Because of inappropriate dipping or leaky connectors petrol fumes or fuels can escape within the dome shaft. Petrol fumes that are heavier than air collect at the bottom of those manholes. At presence of an ignition source those petrol fumes will cause a devasting explosion.
Especially hazardous are fuels consisting of ethanol because of the high explosion readyness of 3,4 Vol% - 15 Vol% and non-conducting plastic pipes. Depending on the rate of flow, those pipes get charged with up to 90.000 volts and can cause explosions.
Because of the average size of a dome shaft (app. 1,5m³) explosions with extreme pressures and devasting effects take place. Dome shaft lids with an own weigth of more than 120kg were catapulted dozens of meters through the air. The consequences of such "missiles" lead to dramatic accidents again and again.

Using ExploZero such accidents are past. With only a few hand grips shafts are secured – for lifetime!
Collateralization of dome shafts in detail
Pic # 1

Pic. 1, Schematic illustration of a petrol station. A tank car provides the fuel for the via the dome shaft to the under earth tank storage.

Pic # 2

Pic. 2, Schematic illustration of a fuel storage with the dome shaft mounted. Within the dome shaft you can see diverse controls and instruments especially for dipping and fitting.

Pic # 3

Pic. 3, Top-view of an open dome shaft. Dome shaft collar with dipstick vent and diverse controls and instruments.

Dimensions app. 1m x 1m x 1,5m

Pic # 4

Pic. 4, Gas station with drivable dome shaft lids. An average petrol station owns 5 dome shafts with a cubature of app. 1,5m³ per dome shaft.

ExploZero used in a dome shaft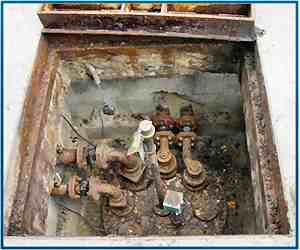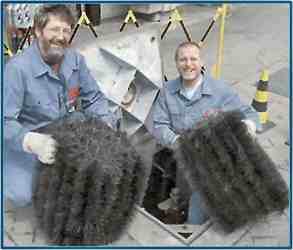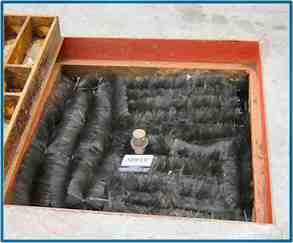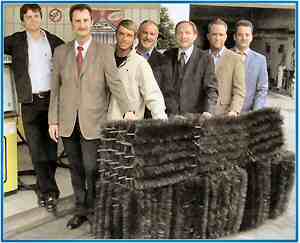 Legal situation industrial safety
Since 2006 there is a powerful obligation in matters of safety. The ATEX95-EU-directive regulates actions at workplaces with explosion hazard.

This EU-directive is valid for all European countries and is already harmonized and thus operative in most of the member countries.
Employers are committed to evaluate their working places regarding explosion hazard and to create documents for their employees how they are protected against explosions .
A non compliant implementation of the EU-directive can result in the closure of the complete facility!
Ordinance on flammable liquids National Rights in Austria
The ordinance on flammable liquids (German: "Verordnung über brennbare Flüssigkeiten – VbF" (BGBl 1991/240)) parallel to the ordinance on explosive atmospheres (German: "Verordnung über explosionsfähige Atmosphären - VEXAT" (BGBl. II Nr. 309/2004)) is especially focused on danger potentials of dome shafts. Find here the highlights of §51 VbF:
•
The dome shaft has to be accessible in an unrestricted way so that service, maintenance and all affordable operations can be executed without unacceptable restraints

•
No strains may be passed on to the storage container from the dome shaft

•
Explosion protection has to be ensured by means of non flammable filling materials which can be easily removed

•
The dome shaft notch has to be capable of bearing the expected (traffic) weights, may not be disarranged and has to be secured against unauthorized opening

•
The materials used must not burn or afterglow

•
No materials must be used that absob gases

•
Materials used must not degenerate, degrade and must be chemically stable against all different kinds of fuels and ethanol
ExploZero - The explosion protection revolution
ExploZero was designed to fullfill the requirements at petrol stations, dome shafts, filling pump shafts, cabel channels and tanks for liquid and gaseous explosive media. Current laws aswell as economic aspects were carefullly implemented within the technical realization.
By using ExploZero the risk of explosions is minimized with regards to explosion expansion and increase of pressure.


ExploZero protects life!
Compared to the conventional shaft collateralizations with gravel fillings ExploZero offers a multitude of advantages:

A complete shaft can be completely collateralized with only a few handgrips.

The superlight packs can be installed in the shaft up to 4 times faster and can be removed for service or control access no less than 50 times faster. Especially at low temperatures ExploZero brakes all rekords. Even in Winter it cannot freeze! In some countries water can be a massive problem in the dome shaft. Without removing ExploZero from the dome shaft the water can be pumped out and the material takes no damage – it is completely wear and corrosion proof! And finally even cleaning is easy: simply use a steam jet and it is as good as new.
VbF conform explosion protection
Fast and easy insertion and removal of the superligth Packages. (Maintenance costs are reduced to a minimum!!!)
Inspections, repairs and maintenance can be executed within shortest time. (This brings you a crucial time advantage in case of emergency!!!)
No risk of damage of fittingss, measuring instruments or cables. Fits all kind of shapes
ExploZero is resistent to chemicals and humidity
No corrosion caused through bounded humidity
Compatible for liquid and gaseous media
100% abrasion proof
No disposal costs if fuel leaks out (Gravel)
Calculable amortization through longllife guarantee – stays in form, no decomposing, corrosion or degeneration
Environmentally friendly– cleaning can be done with a normal steam jet
Thousands of petrol stations will be newly built or modernized in Europe in the next future.
THE MODERN, PROFITABLE INVESTMENT

The protection for petrol stations!

84.000 petrol stations in EU – Europe sum up to a theoretical need of app. 700.000 m³ ExploZero
Market entry through exclusive distribution especially for contractors!
References
Since the official release in the summer of the year 2009, a lot of petrol stations in Europe use ExploZero as their explosion protection system. Among the customers you can find all global players within the petroleum industry.


ExploZero – overview of the technology
ExploZero - scenarios of usage
collateralization of petrol stations
further civil scenarios of usage
military scenarios of usage
contact information
MULTIFUNCTIONAL EXPLOSION PROTECTION. SAVES GOODS AND LIVES.
Collateration of all sorts of fuels
The little loss of volume and the little weight of ExploZero make diverse scenarios of usage in INDUSTRIAL, CIVIL AND MILITARY sectors possible!

Security for vehicles and aircrafts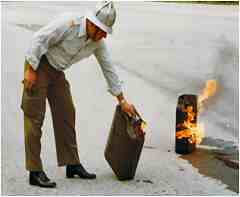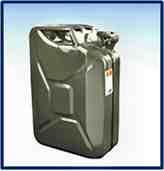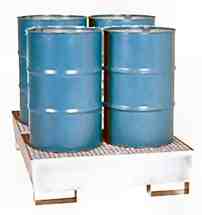 Storage of fuels and chemicals

Aircraft Collateralization
Collateralization against tank explosions

Reduction of the mass inertia brings stabilization advantages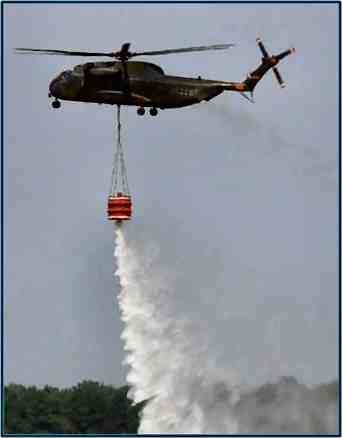 Industrial usage
Protection projects for (dome) shafts and tanks for liquids and gaseous media in the petrol and chemical industry.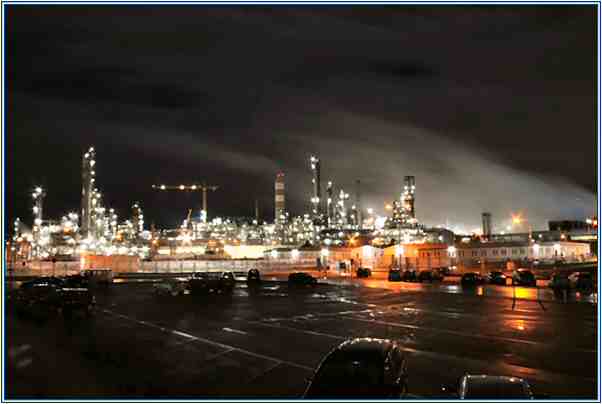 military scenarios of usage
Primary tests with the Austrian and Swiss military departement, the Italian Marine and NATO (tested in England) proof the efficiency of ExploZero.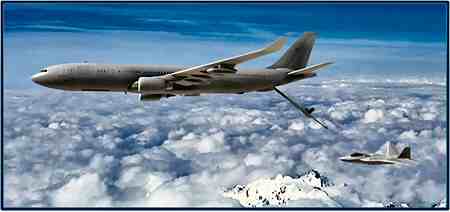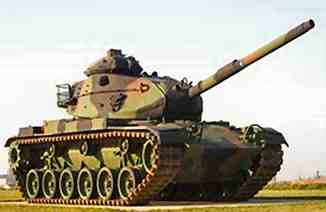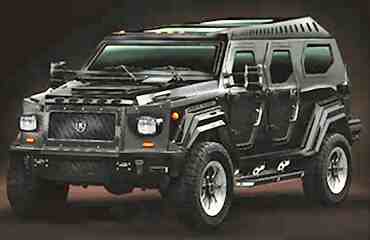 ULTIMATE EXPLOSION PROTECTING SYSTEM
TECHNOLOGY&PRICE-UNBEATABLE!
DOESN`T BURN-no inflammable, no afterglow-
Specification and photos are not contractual and are subject to verification upon inspection