---
DIESELTANKERSTA27
| | |
| --- | --- |
| TYPE: | Tanker |
| DESCRIPTION: | 10.000 US Gallon Schmitz Semi-Trailer Tanker |
| PRICE: | Upon Request |
| PACKING: | Upon Request |

10.000 us gallon schmitz semi-trailer tanker
SCHMITZ DIESEL Tank Semi-Trailer 10'000 US gallon, Type STA 27/L 10000-SK-D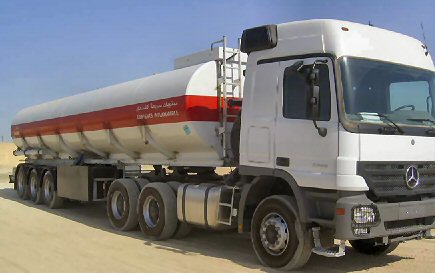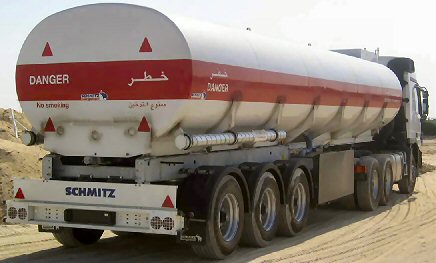 Diesel Tank Semi-Trailer 10'000 US gallon, Type STA 27/L 10000-SK-D

===================================================================

T E C H N I C A L S P E C I F I C A T I O N

===================================================================

HEAVY DUTY 3-AXLE DIESEL TANK SEMI-TRAILER

TYPE: STA 27/L 10000-SK-D

Volume: approx. 10'000 US gal

suitable for: 3-axle MERCEDES BENZ truck tractor, type: ACTROS 3348 S 33 / 3848 S 33 or similar


WEIGHTS

fifth wheel load approx. 20'000 kg (44,100 lb)

axle load approx. 27'000 kg (59,500 lb)

total gross weight approx. 47'000 kg (103,600 lb)

dead weight approx. 9'000 kg (19,800 lb)


DIMENSIONS

total length approx. 11'700 mm (38'4 ½")

total width approx. 2'550 mm (8'4 ½")

total hight approx. 3'650 mm (12')

5th wheel height* approx. 1'360 – 1'480 mm (4'5 ½" – 4'10 Ό")

* unloaded matching to 6x4 (twin steers)


CHASSIS

Heavy duty reinforced STA 27/L chassis with reinforced air suspension with SAF / BPW axles

Welded frame construction, consisting of I-beams and sectional cross members with heavy duty underrun guard


RUNNING GEAR AND AXLES

Pneumatic aggregate in rigid and reinforced construction

Axles equipped with closed S-cam brakes, 420 x 180 mm (16 ½"x7"), asbestos free

1st axle in autodrop lifting axle version.

Axles : 3 x 9'000 kg (19,800 lb) = 27'000 kg (59,500 lb)

Wheel base : 2 x 1'310 mm (4'3 ½")

spring centre : 1'300 mm (4'3 Ό")


WHEELS AND TYRES

units : 8 - 2 complete spare wheels included

wheel type : disc-wheel

dimension : 11.75 x 22.5

tyres : 385/65 R 22.5

brand : First class European brand


KING PIN

3 ½" SAE-king pin with one king pin position


MUDGUARDS

Heavy duty mudguards made of PVC with rubber mud-flaps.


LANDING GEARS

Mechanical operation with extra large universal base plates, special wide sand plates, total capacity 25 tons (55,100.00 lb)

Operation from one side for uncoupling of the loaded semi-trailer

Handle can be locked during transport


BRAKES

Load controlled two-line air brake system according to EC-norm RR EC 71/320, with automatic load sensing valve and hand brake acting on two axles, incl. ABS, type: 2S/2M

ABS standard connection, ISO 7638


ELECTRICAL OUTFIT

system voltage : 24 Volt, acc. to RL 76/756/EWG

coupling : 7 poles, incl. 1 parking position for 2nd cable

rear light system : 2 pairs of 3 chamber lights for 24 Volt

tracking lights : 2, mounted on the rear bumper plate, 24 Volt

position lights : 2 at the front, 24 Volt

reflectors : 2 triangle at rear


TANK

Tank shape: elliptical

Manufactured of thick high-grade steel –S235JRG2-, electrically welded throughout with accurately finished welding seams

Dished bulkheads on both sides and appropriate nos. of splash walls

The splash walls are mounted not less than 900 mm (2'11 ½")and not more than 1750 mm (5'8 3/4") between each other according to ADR.

- Tank compartments: 1 (one)


INNERLINING

Special epoxy innerlining for the transport of all standard fuel to include JP-8


DOME PAN

Overflow protection welded to the tank with drain pipe and shutoff cock

The dome pan is designed as an overall protection in order to protect the dome armatures


WALKWAY

Open mesh walkway on the right-hand side of the manhole cover, with access ladder


TOP FITTINGS

One 500 mm (19 Ύ") dia. manhole cover with 250 mm (9 Ύ") dia. hinged lid, complete with One dippstick, increments; 250 litre.(66 gal)

Flame proofed safety vent valve and pneumatic operated tipping valve DN 65

One pneumatic / electronic operated level sensor for closing the bottom valve and shut off the external pump, acc. to VOC-regulation


VAPOR RECOVERY

Vapor recovery steel pipe DN 100 through the tank to right hand side of vehicle, located in armature box with 4" male camlock coupling


DISCHARGE FITTINGS

At the lowest point of the tank one pneumatic bottom valve with filling / discharge pipe, DN 100 leading into armature box on right hand side of the vehicle with 4" dry coupling according to API RP 1004, with sight glass and mechanical dry coupler

From the pressure side of the pump, one pipe leads to the left, one leads to the right and one pipe to the rear side of the vehicle. All ending with 2 ½ " male camlock coupling with blind cap


BOTTOM LOADING SYSTEM

Complete bottom loading system with scully-system on the right hand side of vehicle, acc. to VOC-regulation according to API RP 1004.


CONTROLL UNIT

Four (3) emergency shut off switch are mounted as follows:

1 in each armature box

1 at left side of vehicle

1 at rear of vehicle


ARMATURE BOX

One on right hand side mounted, with discharge outlets. It is equipped with vapour recovery couplings, bottom loading connections, discharge pipes from pump side and operating unit / air serving units and air control systems

The box is additionally equipped with flow measuring device counting by litres


PUMP

One self-sucking pump, for tank contents mounted to the chassis

Suction and delivery connections are provided with hose coupling and cap

Propulsion of the pump through autonomous diesel engine

The suction pipe is equipped with a suction filter

Pump capacity: approx. 800 ltr./min (210 gallons /min)


HOSE REEL

Spring loaded hose reel, connected to the pressure side of the pump / metering system

It is equipped with a 12 m. (39'4 ½") discharge hose 1" and discharge nozzle, installed in a armature box


DELIVERY OPTIONS

- By gravity, unmeasured, via 4" dry coupling

- with pump, unmeasured, via 2 ½ " coupling to the left, right and rear side

- with pump, measured, via 2 ½" dry coupling to right hand side.

- with pump and hose reel, measured


HOSE CARRIERS / HOSES

One hose tube on the left and right side, approx. 3 m.(9'10 Ό") long

- 2 x 2 ½ "-suction and pressure hose, approx. 3 m. (9'10 Ό") long, fully connected, complete with camlock coupling


ELECTRIC SYSTEM

Armature box is equipped with ex lightening, which is switched on / off when the doors will be opened / closed


ADAPTORS

- 1 x 2 ½" female to 4"male

- 1 x 2 ½" and 4" adapter for filling


GROUNDING REEL

Grounding reel with 17 m. (55'9 Ό")of wire and grounding clip


STANDARD ACCESSORIES

- 2 chock blocks with holder

- 2 heavy duty rubber rear buffer on underrun guard

-

3 units heavy duty spare wheel carriers, 2 x for semi trailer & 1 x for truck tractor with tyres size: 315/80 R 22.5 or alternative 12.00 R 24

- 2 fire extinguisher, 6kg (13 lb) each

- 1 lockable toolbox

- Operating manual


ACCEPTANCE TEST

- leakage testing of tank 0.25 bar (3.6 PSI)

- functional test


PAINTWORK AND FINISH

- wheels in silver

- hubs KTL coated (jet black)

- landing gear: jet black

- chassis galvanized

- tank body in same colour as driver cab

- Signs on tanker: (flammable, Danger, No-smoking) in Arabic and English


DOCUMENTATION

All instructions plates and signs in English.

Specification and photos are not contractual and are subject to verification upon inspection






TAKE NOTICE!

PLEASE BE ADVISED THAT INFORMATION INCLUDED IS CONFIDENTIAL IN NATURE AND IS BASED ON PRE-EXISTING BUSINESS RELATIONSHIP WITH THE LEGAL OWNER OF PROPERTY DESCRIBED HEREIN (IF APPLICABLE). AS SUCH, UPON RECEIPT OF SAID INFORMATION THE RECEIVER ACKNOWLEDGES THAT ANY UNAUTHORIZED CONTACT WITH SAID LEGAL SELLER WILL BE CHARACTERIZED AS A BREACH OF CONFIDENTIALITY AND SAID AGREEMENT MAY BE ENFORCED UNDER EXISTING LAW OR IN EQUITY.

This paper was prepared by General Equipment Corp.
The paper represents an offer of a partner of General Equipment Corp.
All rights are reserved by and for General Equipment Corp..
All content and ideas of this paper are the property of General Equipment Corp.