---
CURTAINTRAILSCS27
| | |
| --- | --- |
| TYPE: | Trailer |
| DESCRIPTION: | Curtain Side Semi-Trailer |
| PRICE: | Upon Request |
| PACKING: | Ex-Works |

heavy duty 3 axles curtainside semi-trailer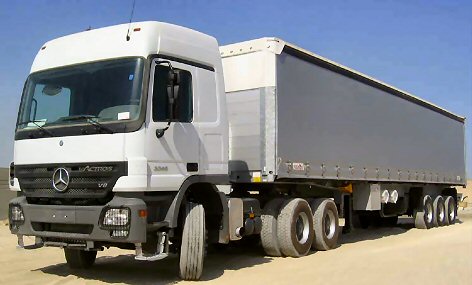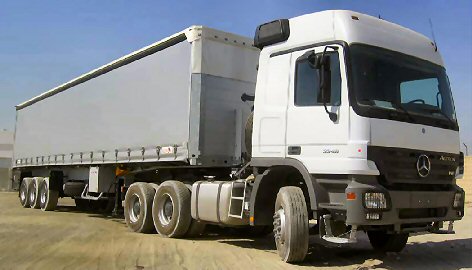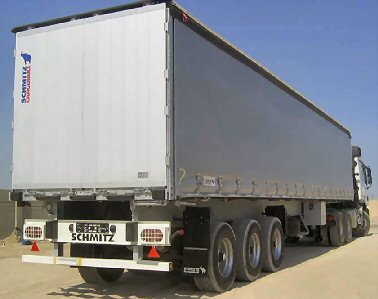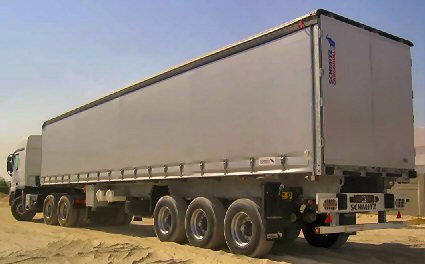 Schmitz Heavy Duty 3-Axle Curtainsider Semi Trailer Type SCS 27/L 13.62 HD

Technical Specifications – Heavy Duty 3 – Axle Curtainsider Semitrailer

HEAVY DUTY 3-AXLE CURTAINSIDER SEMI-TRAILER

TYPE: SCS 27/L 13.62 HD

Payload: approx. 35'000 kg (77,160 lb)

suitable for: 3-axle MERCEDES BENZ truck tractor, type: ACTROS 3348 S 33 / 3848 S 33 or similar


WEIGHTS

fifth wheel load approx. 16'000 kg (35,270 lb)

axle load approx. 27'000 kg (59,500 lb)

total gross weight approx. 43'000 kg (94,800 lb)

dead weight approx. 8'000 kg (17,630 lb)

payload approx. 35'000 kg (77,160 lb)


DIMENSIONS

internal length approx. 13'620 mm (44'8 ¼")

internal width approx. 2'480 mm (8'1 ½'')

side aperture height approx. 2'200 mm (7'2 ½")

outside width approx. 2'550 mm (8'4 ½")

5th wheel height* approx. 1'360 – 1'480 mm (4'5 ½"- 4'10 ¼") – * unloaded matching to 6x4 (twin steers)


CHASSIS

Heavy duty reinforced SPL 27/L chassis with reinforced air suspension with SAF / BPW axles

Welded / bolted frame construction, consisting of I-beams and sectional cross members with heavy duty underrun guard


TOWING / LIFTING EYES

1 pair of towing eyes is mounted at rear of semi-trailer, and an additional pair at the front part

These 4 units lifting eyes can be used, in order to lift up the empty semi-trailer.


RUNNING GEAR AND AXLES

Pneumatic aggregate in rigid and reinforced construction, lifting and lowering device for ramp levelling. (Variable height valve)

Axles equipped with closed S-cam brakes, 420 x 180 mm (16 ½"x7"), asbestos free

Axles : 3 x 9'000 kg (19,800 lb) = 27'000 kg (59,500 lb)

Wheel base : 2 x 1'310 mm (4'3 ½")

spring centre : 1'300 mm (4'3 ¼")


WHEELS AND TYRES

units : 8 - 2 complete spare wheels included

wheel type : disc-wheel

dimension : 11.75 x 22.5

tyres : 385/65 R 22.5

Brand : First class European brand


KING PIN

3 ½" SAE-king pin with one king pin position


MUDGUARDS

Heavy duty mudguards made of PVC with rubber mud-flaps


LANDING GEARS

Mechanical operation with extra large universal base plates, special wide sand plates, total capacity 25 tons (55,100 lb)

Operation from one side for uncoupling of the loaded semi-trailer

Handle can be locked during transport


BRAKES

Load controlled two-line air brake system according to EC-norm RR EC 71/320, with automatic load sensing valve and hand brake acting on two axles, incl. ABS, type: 2S/2M

ABS standard connection, ISO 7638


ELECTRICAL OUTFIT

System voltage : 24 Volt, acc. to RL 76/756/EWG

Coupling : 7 poles, incl. 1 parking position for 2nd cable

Rear light system : 2 pairs of 3 chamber lights for 24 Volt

Tracking lights : 2, mounted on the rear bumper plate, 24 Volt

Position lights : 2 at the front, 24 Volt

Side marker lights : 4 units yellow LED-lights

Reflectors : 2 triangle at rear


FLOOR

Heavy duty floor, made of min. 28 mm (1") thick phenolic coated plywood, supported by steel profiles

7'100 kg (15'650 lbs) forklift axle load, tested acc. to EN 283


LASHING RINGS

13 pairs of lashing rings in outer frame, approx. 4250 lbs tracing force of each, acc. to DIN 75410


FRONT BULKHEAD

ALU front bulkhead, height: approx. 2'000 mm (6'6 ¾"), kick strip inside 750 mm (2'5 ½") height, curtain top closure

No obstructions behind the headboard. Heavy duty corner posts, made of galvanized steel


ROOF SUPPORT

Sliding post, 3 units on each side, for 4 pockets for rigging boards


ROOF / SUPERSTRUCTURE

Sliding roof, covered with white tarpaulin, 110 mm (4 ¼") depth, one piece ALU cant rails


REAR CLOSURE

2 galvanized steel corner posts for sliding roof, integrated rear tensioning device

Full height ALU planked rear doors, FLUSH-type, double integral lock-rods


RIGGING BOARDS

4 rows of 120 mm (4 ¾") wooden rigging boards at the sides


CURTAINS

Heavy duty PVC side curtain, 880 g/m2 (2.88 oz/ft2), colour silver-grey, ALU curtain poles front and rear, with approx. 19 units stainless steel over centre buckles each side

Sliding roof curtain, colour white, to be opened from the back, with roof bow reinforcement

Front bulkhead curtain, colour: white


STANDARD ACCESSORIES

- 2 chock blocks with holder

- Two drinking water tank, with tap, capacity: 30 litre ea. (8 gal.), total app. 60 litre (16 US GAL)

- 2 tool boxes, made of steel plates for equipment storage, lockable

- 2 heavy duty rubber rear buffer on underrun guard

-

3 units heavy duty spare wheel carriers, 2 x for semi trailer & 1 x for truck tractor with tyres size: 315/80 R 22.5 or alternative 12.00 R 24


PAINTWORK AND FINISH

- Wheels in silver

- Hubs KTL coated (jet black)

- Chassis totally galvanized

- Heavy duty rear underrun guard in white

- Landing gear: jet black

- Front bulkhead: ALU anodised

- Rear doors: ALU anodised


DOCUMENTATION

All instruction plaques and signs in English.

Specification and photos are not contractual and are subject to verification upon inspection




TAKE NOTICE!

PLEASE BE ADVISED THAT INFORMATION INCLUDED IS CONFIDENTIAL IN NATURE AND IS BASED ON PRE-EXISTING BUSINESS RELATIONSHIP WITH THE LEGAL OWNER OF PROPERTY DESCRIBED HEREIN (IF APPLICABLE). AS SUCH, UPON RECEIPT OF SAID INFORMATION THE RECEIVER ACKNOWLEDGES THAT ANY UNAUTHORIZED CONTACT WITH SAID LEGAL SELLER WILL BE CHARACTERIZED AS A BREACH OF CONFIDENTIALITY AND SAID AGREEMENT MAY BE ENFORCED UNDER EXISTING LAW OR IN EQUITY.

This paper was prepared by General Equipment Corp.
The paper represents an offer of a partner of General Equipment Corp.
All rights are reserved by and for General Equipment Corp..
All content and ideas of this paper are the property of General Equipment Corp.