---
COSSACK APC
| | |
| --- | --- |
| TYPE: | APC |
| DESCRIPTION: | Cossack Series APC |
| PRICE: | Upon Request |
| PACKING: | Ex Works |
cossack series apc
From New Manufacture



WHEELED MULTI-ROLE ARMORED VEHICLES COSSACK


On base tank T-54, T-55, Type 59, Type 69, Type 79
On base armored vehicles BTS-2, BTS-4, BREM-3, MTU, MTU-20, MTU-55, T-54T, IMR-1, VIU-55, IWT, VT-55A, T-55BZ, Type 652, Type 84, Type 64, Type 653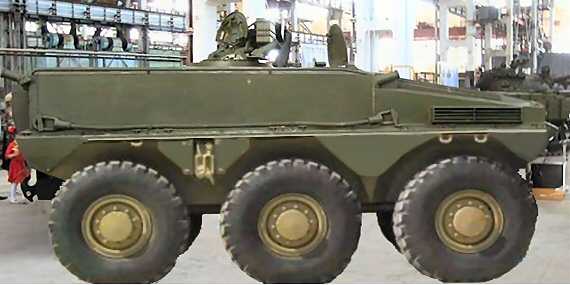 MRAV Cossack on base T-55
| | |
| --- | --- |
| Specifications | |
| Weight | 17.7 tons |
| Crew | 3 (8) |
| Length of Body – Gun Fwd | 6m |
| Width | 3.27m |
| Height | 2m |
| height the fighting compartment | 1.35m |
| Base | 3.84m |
| Wheel Base | 1.6m / 1.6m |
| Rut | 2.64m |
| Clearance | 0.45m |
| Maximum Speed | 105km/h |
| Fuel Capacity | 680 litre |
| Operational Range | 1000km |
| Obstacle | |
| Ascent | 31⁰ |
| Wall | 0.8m |
| Trench | 1.5m |
| Ford | 1.6m |
| Engine | Model Yamz-65010 or Yamz536-1 |
| Cylinders | L6 |
| Fuel | Diesel |
| Horsepower | 412hp (303kW) |
| Suspension | Torsion Bar |
| Wheels | 6x6 |
| Tyres | 16,00-20 or 1300×530-533 |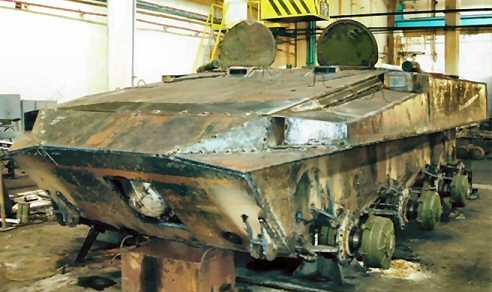 Drive travell about

Concept on base armored vehicles Rooikat was turned into a conventional vehicle electric drive technology demonstrator (CVED) and displayed at AAD2006 in Cape Town in September of that year. vehicle was fitted with a power supply control system feeding eight wheel-hub mounted M67/0 electric units and a two-phase pneumatic gearbox.

Drive line

Electrical

Alternator (power)

388kW

Wheel drive units (power)

100kW

Max toque

21,000Nm

Special features

Internal / External power supply

220V AC 50Hz / 380V AC 50Hz

Skid steer Function

Pivot neutral steer function
Why in wheel? Because an electric motor that has to provide enough torque to drive a vehicle without gears has a large diameter. Building it inside the vehicle will take allot of space and is negative for your building flexibility.
Shocks en water ingress? We are already driving for 10 years with our truck, bus, military vehicles with the electronics fitted inside of the wheel. Shocks and water have till thus far never been a problem.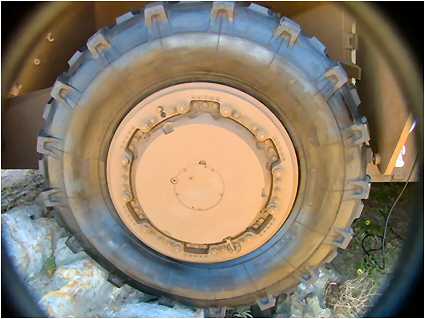 Armouring

Front top

100+80+40+30mm

Hull top

80mm

Rear Hull Middle

40mm

Bottom Hull

20mm

Roof Hull

30mm

Armaments

Main Gun

30x210B Zastava M89 430 projectiles

or

30x155mm NR-30 430 projectilies

or

23x152mm 2A14 or 2A4 500 projectilies

or

23x115mm HR-23/GSh-23 500 projectiles

or

20x110mm Zastava M55 500 projectiles

or

12.7x108mm DshKM/NSVT/M87 600 rds

or

14.5x114mm KPVT 500 rds

Coaxial MG

7,62x54R SGMT / PKT / M86 3500rds

Fire control system

DNNS

Stabilisation system

Fire extinguishing system
Specification and photos are not contractual and are subject to verification upon inspection
TAKE NOTICE!
PLEASE BE ADVISED THAT INFORMATION INCLUDED IS CONFIDENTIAL IN NATURE AND IS BASED ON PRE-EXISTING BUSINESS RELATIONSHIP WITH THE LEGAL OWNER OF PROPERTY DESCRIBED HEREIN (IF APPLICABLE). AS SUCH, UPON RECEIPT OF SAID INFORMATION THE RECEIVER ACKNOWLEDGES THAT ANY UNAUTHORIZED CONTACT WITH SAID LEGAL SELLER WILL BE CHARACTERIZED AS A BREACH OF CONFIDENTIALITY AND SAID AGREEMENT MAY BE ENFORCED UNDER EXISTING LAW OR IN EQUITY.
This paper was prepared by General Equipment Inc.
The paper represents an offer of a partner of General Equipment Inc.
All rights are reserved by and for General Equipment Inc.
All content and ideas of this paper are the property of General Equipment Inc.
---
This transmission may include information on International Traffic in Arms Regulation (ITAR) (22 CFR-120-130) controlled items. These controlled items may not be resold, diverted, transferred or transshipped outside of the United States or to any other country without U.S. State Department approval.


Defense items are subject to final destination approval and granting of an
export license issued by exporting country's authorities