---
CORNERSHOT
| | |
| --- | --- |
| TYPE: | Weapon |
| DESCRIPTION: | Corner Shot APR |
| PRICE: | Upon Request |
| PACKING: | As is, where is |

CORNER SHOT APR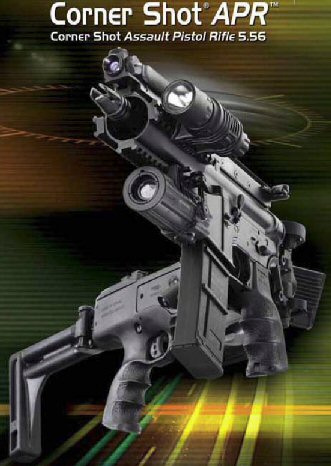 CORNER SHOT APR
All New 5.56 Corner Shot APR(TM) (Assault Pistol Rifle) for Observing and Engaging Targets from around the Corner.
Corner Shot(TM) systems for observing and engaging targets from around the corner CS-APR 5.56.
CS-APR 5.56 is a revolutionary weapon system bringing in a whole new era of precision, penetration and flexibility to the well known around the corner concept.
The system enables military and law enforcement operators to effectively observe and engage targets from around the corner/behind cover without exposing any part of the body, thus reducing the operator's vulnerability.
Based on the outstanding features and capabilities the new CS-APR 5.56 offers increased firepower, extended range and the accuracy as well as the increased penetration of the 5.56mm round. The APR(TM) 5.56 can also be removed from the Corner Shot system, then attached to its own stock and used as a standalone weapon.
The CS-APR 5.56 uses standard M-16/M-4 magazines to shoot rifle grenade ammunition, anti-tank, anti personal, door breaching and various non-lethal munitions.
The system will also available in 7.62x39 and 9mm.
Specification and photos are not contractual and are subject to verification upon inspection
TAKE NOTICE!
PLEASE BE ADVISED THAT INFORMATION INCLUDED IS CONFIDENTIAL IN NATURE AND IS BASED ON PRE-EXISTING BUSINESS RELATIONSHIP WITH THE LEGAL OWNER OF PROPERTY DESCRIBED HEREIN (IF APPLICABLE). AS SUCH, UPON RECEIPT OF SAID INFORMATION THE RECEIVER ACKNOWLEDGES THAT ANY UNAUTHORIZED CONTACT WITH SAID LEGAL SELLER WILL BE CHARACTERIZED AS A BREACH OF CONFIDENTIALITY AND SAID AGREEMENT MAY BE ENFORCED UNDER EXISTING LAW OR IN EQUITY.
This paper was prepared by General Equipment Inc.
The paper represents an offer of a partner of General Equipment Inc.
All rights are reserved by and for General Equipment Inc.
All content and ideas of this paper are the property of General Equipment Inc.
---
Defense items are subject to final destination approval and granting of an
export license issued by exporting country's authorities