Armored Ambulance

APC, wheeled, ambulance Painted Desert tan or White at client request.

Proposed vehicle: CASSPIR MK4 Armored Ambulance

4x4

All-terrain tires.
Left or Right Hand Drive.

Diesel engine with high-sulfur African "dirty-diesel" capability.

Minimum 60% gradeability.

Minimum 55 mph speed. Speed Regulated to 100KPH = 60Mph

Minimum egress points to include driver door, two rear doors, and one roof hatch.

Vehicle will be supplied with Driver door, double rear doors and one roof hatch.

Minimum blast protection: 10 kg of TNT under the wheel, 10 kg of TNT under the hull.

There are MK4 Casspirs in UN operations in ambulance configuration.

Minimum ballistic protection: B7 for entire vehicle, including all window glass and fuel tanks.

The CASSPIR MK4 will be equipped with 4 litters as per picture.
This offer meets the UN COE manual's requirements for a fully-equipped ambulance:

Doctor's bag.

Oxygen cylinders

Suction pump.

Resuscitation drugs.

Helicopter landing site marking equipment (smoke grenades, luminous sticks/sheets).

Will be supplied with day glo sheets, smoke grenades and flares.

VHF radio.

Radio to be specified on order placement, but cost accommodated in pricing for a Codan VHF or similar, vehicle mounted system

Emergency lighting provided for

Includes 2 new spare tire fitted, wheel spanner, jack (suitable for vehicle), fire extinguisher, and a three person first aid kit.

This vehicle without a roof top gun mount will load into a C130 Hercules.
Vehicle specification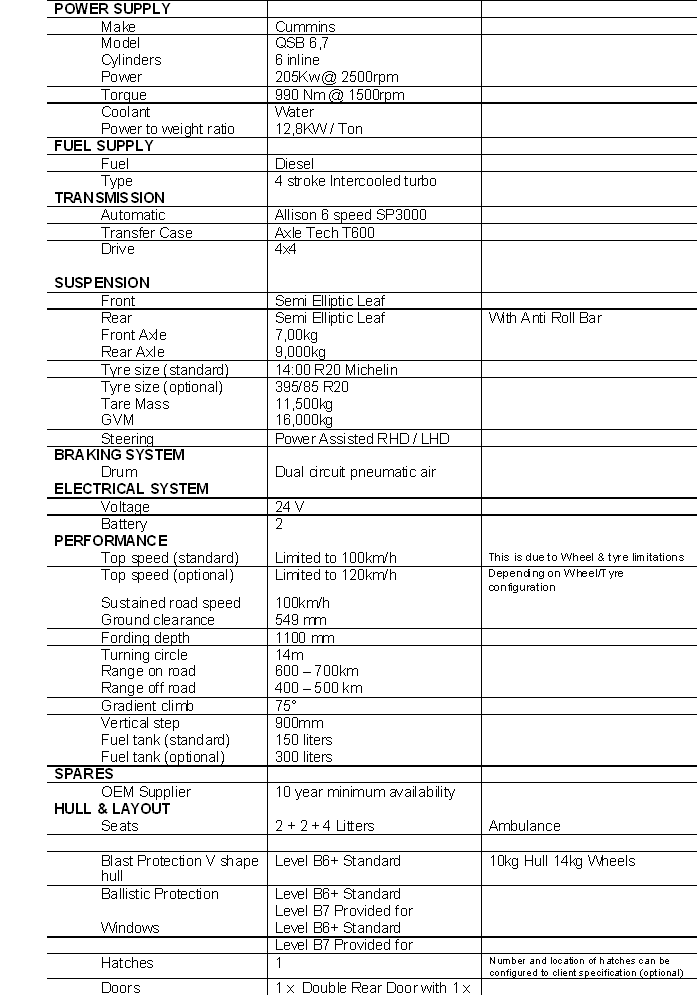 Vehicle
· The CASSPIR Mk4 Armored Personnel Carrier Evolved from the KF412, which is based on the original Casspir. The CASSPIR MK4 is designed with the traditional V hull shape but with smooth side walls allowing for ease of up-armour.
· The CASSPIR MK4 has proven to be an extremely reliable and robust vehicle in various Northern African countries.
· The CASSPIR MK4 is designed for ease of maintenance utilizing components that are easily sourced Worldwide. The CASSPIR MK4 has no electronic management systems.
· The CASSPIR MK4 is manufactured by using SSAB Armox & Weldox steel. This combination of steel has been proven to offer the best possible protection levels. The CASSPIR MK4 has been extensively tested and has passed both physical and simulated blast tests.
· The CASSPIR MK4 has been certified to 10Kg blast under the hull and 14kg blasts under any wheel.
· The fitment of armament and additional up armoring is also catered for and we work closely with all our clients to provide the best possible configuration for their needs.
Client Specification
· Our vehicles are specifically built to order. Most additional configurations not included in the standard vehicle can be catered for.
· We see our basic configuration of the KF410 as a starting point to enable each client to specify his individual needs.
· Through our in house design house we are able to modify and make design changes to our vehicles as per client specification requirements.
· Our core design philosophy is to build our vehicles to adapt to our clients requirements and not to force our clients to adapt to our designs.
Logistics
· Shipping & Freight
No shipping, duties or freight costs are included in the quoted price. Any applicable duties, shipping or freight costs will be for the clients account.
· Delivery
Final delivery is subject to production program at the time of placing the order. On confirmation of a firm order a detailed delivery schedule will be provided, based on the quantity of vehicles ordered.
Currently Production lead time is 90 days from 50% prepayment and acceptable original copy EUC for the first three units and then 5 units per week thereafter..