---
CAMOUFLAGE
| | |
| --- | --- |
| TYPE: | Genset |
| DESCRIPTION: | Camouflage Systems |
| PRICE: | Upon Request |
| PACKING: | Ex Works |

camouflage systems
From New Manufacture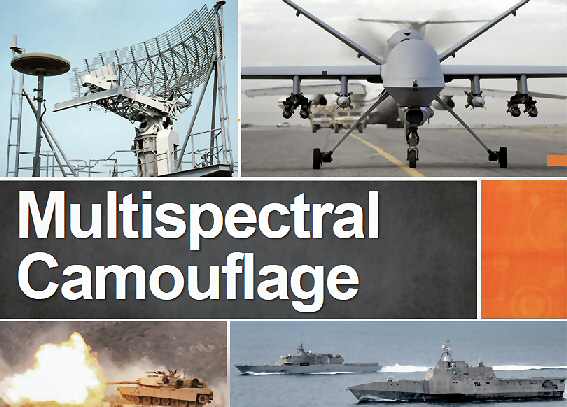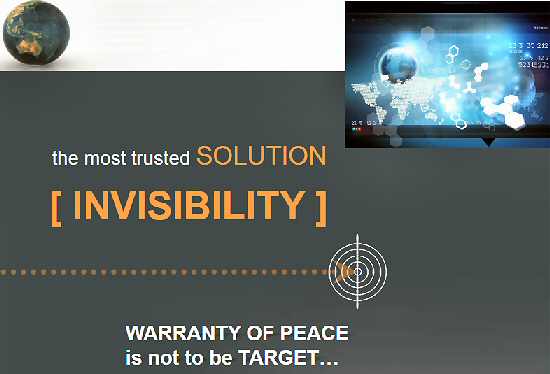 Modern combat course requires, enemy target detection, diagnosis and identification without seen by the enemy. In XXI. Century, the biggest threat to military systems and armored vehicles is electromagnetic spectrum.
This threat is called multispectral threat.

The highest priority protection solution is to use of deception techniques for personnel, war weapons, vehicles and equipment with smart camouflage systems.

In other words, SEEING without to be SEEN...
PRODUCT FEATURES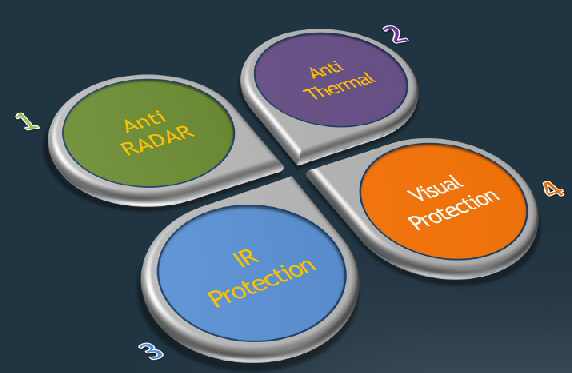 We have successfull test results (27dB Absorbtion) And also we have tested our products many times on real SEA and LAND conditions.

AVAILABLE FORMS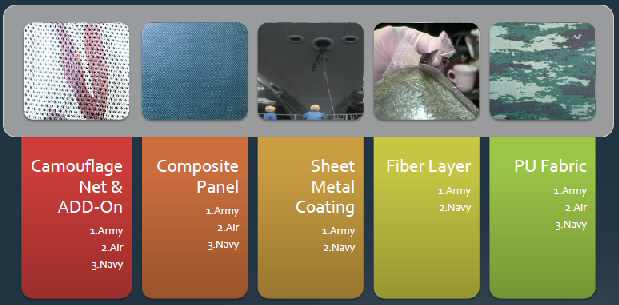 AVAILABLE SOLUTIONS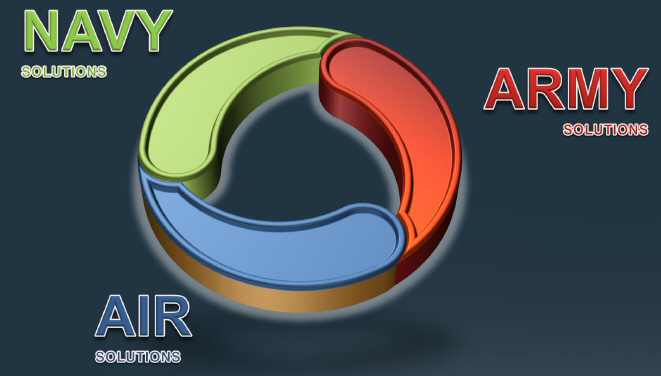 NAVY DEFENSE SOLUTIONS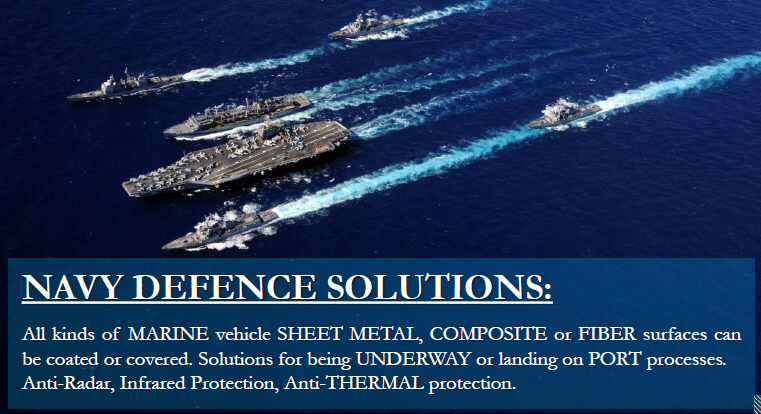 ARMY DEFENSE SOLUTIONS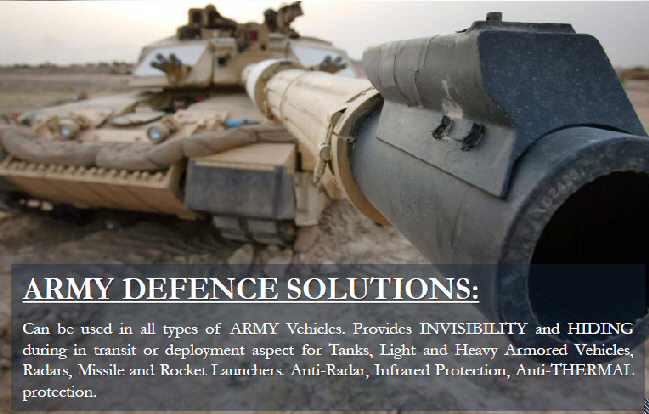 AIR DEFENSE SOLUTIONS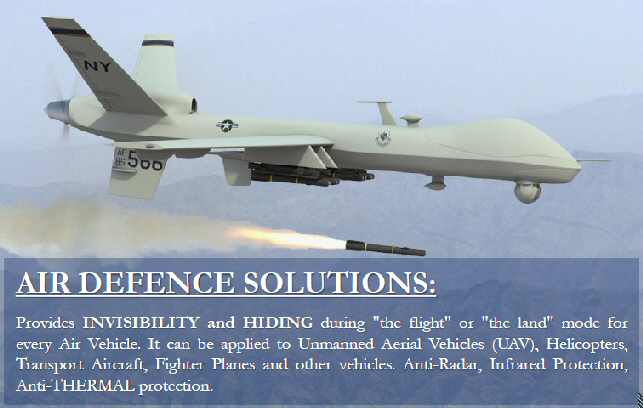 GENERAL FEATURES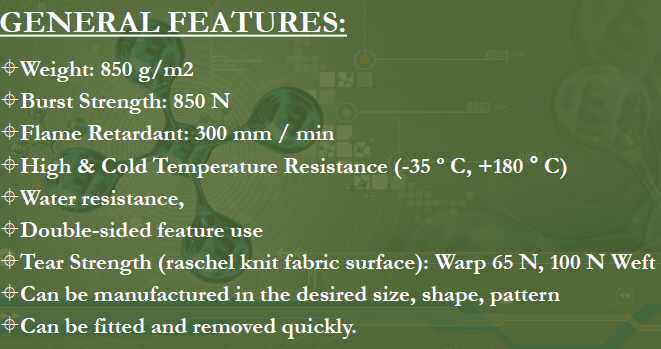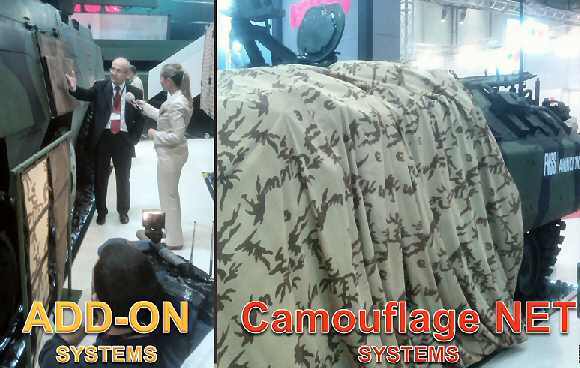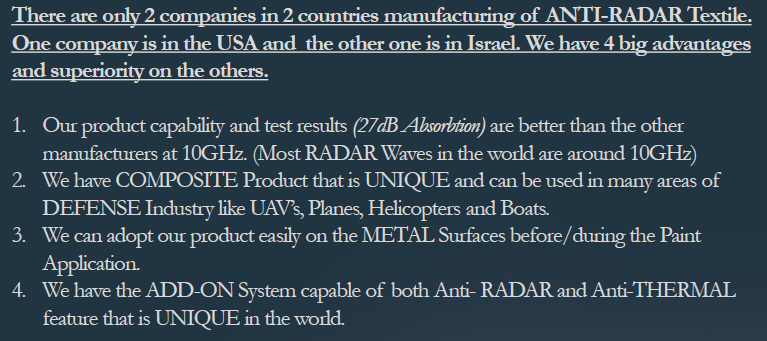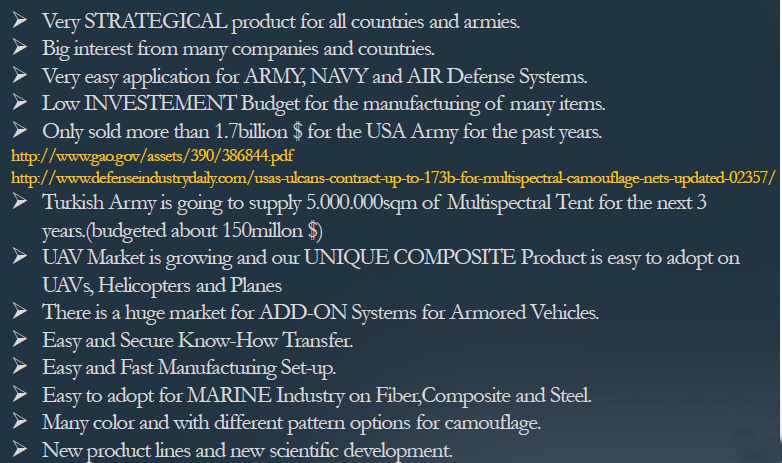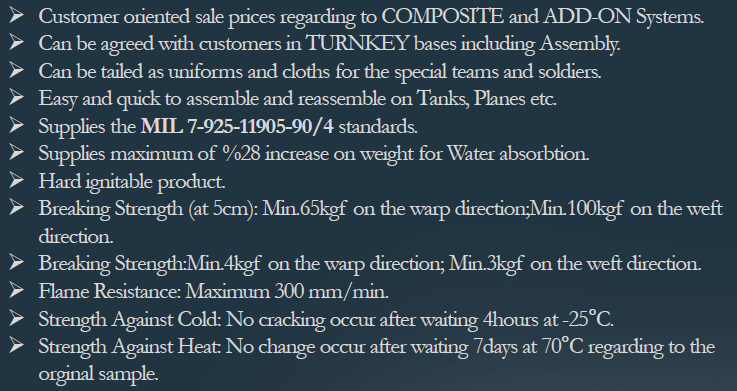 Specification and photos are not contractual and are subject to verification upon inspection
TAKE NOTICE!
PLEASE BE ADVISED THAT INFORMATION INCLUDED IS CONFIDENTIAL IN NATURE AND IS BASED ON PRE-EXISTING BUSINESS RELATIONSHIP WITH THE LEGAL OWNER OF PROPERTY DESCRIBED HEREIN (IF APPLICABLE). AS SUCH, UPON RECEIPT OF SAID INFORMATION THE RECEIVER AKNOWLEDGES THAT ANY UNAUTHORIZED CONTACT WITH SAID LEGAL SELLER WILL BE CHARACTERIZED AS A BREACH OF CONFIDENTIALITY AND SAID AGREEMENT MAY BE ENFORCED UNDER EXISTING LAW OR IN EQUITY.
This paper was prepared by General Equipment Inc.
The paper represents an offer of a partner of General Equipment Inc.
All rights are reserved by and for General Equipment Inc.
All content and ideas of this paper are the property of General Equipment Inc.
---
This transmission may include information on International Traffic in Arms Regulation (ITAR) (22 CFR-120-130) controlled items. These controlled items may not be resold, diverted, transferred or transshipped outside of the United States or to any other country without U.S. State Department approval.
US State Department Arms License: K-5943


Defense items are subject to final destination approval and granting of an
export license issued by exporting country's authorities