---
BTR60
| | |
| --- | --- |
| TYPE: | Armored Vehicle |
| DESCRIPTION: | 25 x BTR-60 Armored Personnel Carrier |
| PRICE: | Upon Request |
| PACKING: | Ex-Works |
Btr-60 armored personnel carrier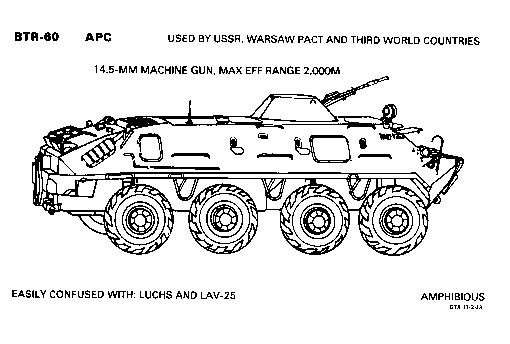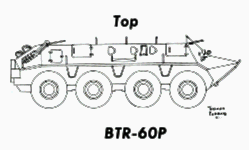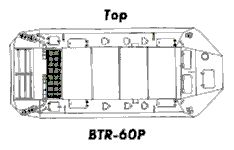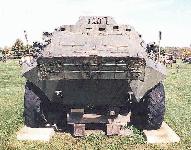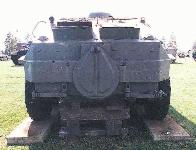 BTR-60 Armored Personnel Carrier

The BTR-60 armored personnel carrier, the first in the line of Russian 8-wheeled APC's, was developed in the late 1950s to replace the BTR-152 (6x6) APC and was first seen in public in 1961. It was continuously improved throughout the 1960s culminating in the production of the BTR-60PB. Numerically, the BTR-60 was the most important vehicle in the Soviet Army. It was issued in quantity to the East German, Bulgarian and Romanian Armies. It has also been exported to Yugoslavia. Significantly, it was the standard armored personnel carrier of the Soviet Naval Infantry [the Soviet Marine Corps].
The BTR-60PB performs well cross-country in conditions that favor wheels. On land or water, the vehicle is steered by the front two sets of wheels which also have power steering. The boat-shaped hull with sloped sides provides good swimming capability and helps deflect hostile fire. The BTR-60PB has a searchlight and IR equipment, giving it a night fighting capability.
The BTR-60PB is an eight-wheel-drive vehicle with a long, boat-like hull with well-sloped armor on the sides and overhead armor cover. The hull is of all-welded steel construction, with the driver and commander seated at the front, a personnel compartment in the mid-section, and the engine compartment at the rear of the hull. The BTR-60 has a fully enclosed troop compartment on top of which is a one-man turret. The small conical turret, placed over the second set of wheels, is identical to the one fitted on the BRDM-2. It mounts coaxial 14.5-mm KPV and 7.62-mm PKT machine guns to right, with a telescopic sight mounted coaxially on the left. The crew use two semicircular hatches forward of the turret, and a pair of rectangular hatches aft of the turret for access by up to eight passengers. Three firing ports are located on either side of the troop compartment.
This eight-wheel-drive vehicle has evenly spaced wheels, except for a slightly larger space between the second and third wheels. The tires have the centralized pressure regulation system common to Soviet wheeled APCs, and are partially filled with a foam-rubber-like substance. All eight wheels are powered, and the first four which are used for steering, are power-assisted. The rear-mounted power plant employs a pair of 6-cylinder 90-hp gasoline engines mounted at the rear of the hull. The first and third axles are powered through the transmission of the right engine and the second and fourth axles through the transmission of the left engine. The BTR-60P is fully amphibious, propelled by a single water-jet mounted at the rear of the hull.
Specifications

Alternative Designations
BTR-60-PK
Date of Introduction
1963
Proliferation
At least 30 countries (including variants)
Description
Crew
2
Troop Capacity
12
Combat Weight (mt)
10.1
Chassis Length Overall (m)
7.22
Height Overall (m)
2.06
Width Overall (m)
2.82
Ground Pressure (kg/cm 2 )
INA
Drive Formula
8 x 8
Automotive Performance
Engine Type
2 x 180-hp Gasoline
Cruising Range (km)
500
Speed (km/h)
Max Road
80
Max Off-Road
60
Average Cross-Country
INA
Max Swim
10
Fording Depths (m)
Amphibious
Radio
INA
Protection
Armor, Turret Front (mm)
7-9mm hull front (no turret)
Applique Armor (mm)
N/A
Explosive Reactive Armor (mm)
N/A
Active Protective System
N/A
Mineclearing Equipment
N/A
Self-Entrenching Blade
N/A
NBC Protection System
Collective
Smoke Equipment
N/A
ARMAMENT
Main Armament
Caliber, Type, Name
12.7-mm (12.7 x 108) heavy MG, DShK
Rate of Fire (rd/min)
80-100 (practical)
Loader Type
Belt feed
Ready/Stowed Rounds
INA
Elevation (°)
-10/+80
Fire on Move
Yes
Auxiliary Weapons
Caliber, Type, Name
2 x 7.62-mm machinegun PKT
Mount Type
Vehicle top
Maximum Aimed Range (m)
1,500
Max Effective Range (m)
Day
1,000
Night
N/A
Fire on Move
Yes
Rate of Fire (rd/min)
250 practical / 650 cyclic, in 2-10 rd bursts
ATGM Launcher
N/A
Firing Ports
3 on each side
FIRE CONTROL
FCS Name
N/A
Main Gun Stabilization
N/A
Rangefinder
N/A
Infrared Searchlight
N/A
Sights w/Magnification
Gunner
Day
K10-T
Field of View (°)
INA
Acquisition Range (m)
1,500 (est)
Night
N/A
Commander Fire Main Gun
No
Up to 25 units available, as is, where is
Modernization can be completed upon request
---
MODERNIZED BTR WITH 105MM GUN and HYBRID POWER


Specification and photos are not contractual and are subject to verification upon inspection
TAKE NOTICE!
PLEASE BE ADVISED THAT INFORMATION INCLUDED IS CONFIDENTIAL IN NATURE AND IS BASED ON PREXISTING BUSINESS RELATIONSHIP WITH THE LEGAL OWNER OF PROPERTY DESCRIBED HEREIN (IF APPLICABLE). AS SUCH, UPON RECEIPT OF SAID INFORMATION THE RECEIVER AKNOWLEDGES THAT ANY UNAUTHORIZED CONTACT WITH SAID LEGAL OWNER WILL BE CHARACTERIZED AS A BREACH OF CONFIDENTIALITY AND SAID AGREEMENT MAY BE ENFORCED UNDER EXISTING LAW OR IN EQUITY.
This paper was prepared by General Equipment Corp.
The paper represents an offer of a partner of General Equipment Corp.
All rights are reserved by and for General Equipment Corp..
All content and ideas of this paper are the property of General Equipment Corp.
---
Defense items are subject to final destination approval and granting of an
export license issued by exporting country's authorities