Subject unsold or market withdrawal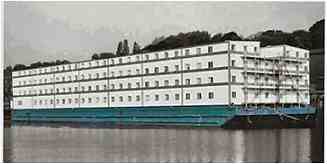 FLOATING ACCOMMODATION BARGE AVAILABLE FOR CHARTER OR SALE
THIS BARGE MUST BE DELIVERED ON A SUBMERSIBLE BARGE OR SHIP.
CURRENTLY LOCATED IN NORTHERN EUROPE, THIS 'SHORE TIED' FLOATING ACCOMMODATION VESSEL PROVIDES 280 EN SUITE BEDROOMS AND OFFERS A GREAT FACILITY FOR PROJECTS IN REMOTE LOCATIONS OR WHERE EXISTING ACCOMMODATION IS EXPENSIVE OR DIFFICULT TO FIND.
CONFIGURATION AND FACILITIES ONBOARD CAN BE TAILORED TO MEET YOUR REQUIREMENTS, AND WITH ONBOARD POWER GENERATION, SEWAGE TREATMENT AND WATER STORAGE, THE BARGE CAN BE USED ALMOST ANYWHERE IN THE WORLD.
FACILITIES:
280 EN SUITE FITTED AND FURNISHED BEDROOMS, WITH TVS (IF REQUIRED THE BARGE CAN ACCOMMODATE UP TO 650 GUESTS DEPENDING ON CONFIGURATION), LARGE KITCHEN AND RESTAURANT FOR UP TO 150 PEOPLE PER SITTING.
AIR CONDITIONED THROUGHOUT.
BAR AND LOUNGE AREA.
GYMNASIUM.
RECREATION ROOMS.
WI-FI THROUGHOUT.
TRAINED STAFF TO MAINTAIN THE UNIT AND LIVE ON BOARD IF REQUIRED
---