---
B767200ERF
| | |
| --- | --- |
| TYPE: | Aircraft |
| DESCRIPTION: | Boeing 767-200ER Special Freighter |
| PRICE: | Upon Request |
| PACKING: | Ex-Works |

boeing 767-200er special freighter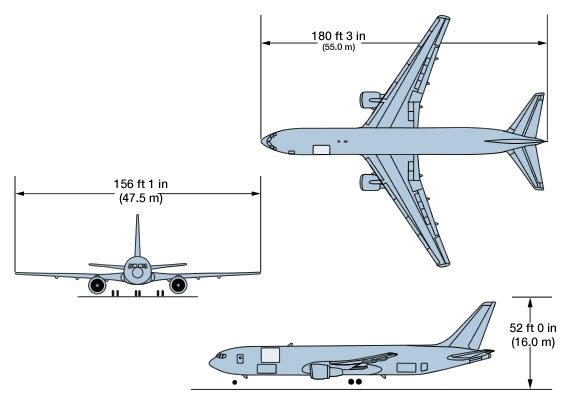 767-200 Special Freighter - Operating Characteristics
Operating Weights
Based on Boeing OEW Estimate

<![if !vml]>

<![endif]>
New Cockpit and Rigid Cargo Barrier Layout
Cockpit Layout with Seating for 4 Supernumeraries – Identical to -300F
5 Pallet Loading Configurations with Intermix Capabilities between Them
20 Pallet- Side by Side 88 x 12 Config
767SF and 747 Interline Capabilities
Longitudinal 96 x 125 Config
Transverse 96 x 125 Config
Maximum Running Load Diagram
Avionics Upgrades



RNP .15 Activated
Pegasus FMS
Dual Multi Mode Receivers and GPS antennas
IS&S Flat Panel Displays
Saves 200 lbs.
MEL Relief greater than standard Boeing Cockpit
24,000 hour MTBUR
Electronic Flight Bag Option Available
MCDUs upgraded from CDUs

Flat Panel Display Cockpit from IS&S
Technical Manuals/Pubs

· Full Integrated Suite of Manuals Provided

…Produced by Boeing

· Includes the Illustrated Parts Catalog




AIRCRAFT SPECIFICATION SHEET


Aircraft Description
| | | | |
| --- | --- | --- | --- |
| Aircraft Type & DOM | B767-223 ER, 2-15-85 | Time as Of: | March 28, 2007 |
| | | Total Hours | 67,333 |
| | | Total Cycles | 14,907 |
| | | Current Location | Venice Italy |
| Previous Country of Registration | | | |
| | | Noise Compliance | Stage III |
| Current Operator | None | ETOPS / RVSM | Yes / Yes |
| | | | |
ENGINE STATUS:
Engine Type

CF6-80A2 Stage III

Position Number

Serial Number

Total Hours

Total Cycles

AS OF DATE

TSESV

CSESV

Cycle Limiter

Cycles Remaining

1

580251

57097

12511

11-4-05

1

1

Fwd Seal Diff

2860

2

580261

57229

12562

9-6-05

0

0

2nd Stg HPT Disc

3812
APU Status:
Manufacturer Models: Air Research 331 T0300-9 Serial Number:
APU Installation Date

Total Hours

Total Cycles

TSHM

CSHM

Limiter

March 10, 2005

20,397

24,031

9,502

11,327

T1& T2

20 Cyc. Rem.
Landing Gear Status:
Position

Overhaul Intervals

TSO- CSO

Serial Number

Hours

Cycles

L/H – 5931

10 Year

18,484

3,565

R/H – 6472

10 Year

18,484

3,565

Nose – 44ES89

10 Year

18,484

3,565
Operational Weight
LBS

Maximum Taxi Weight

352,200

Maximum Gross Takeoff Weight

351,000

Maximum Landing Weight

283,000

Maximum Zero Fuel Weight

266,000

Operational Empty Weight

164,400 (Boeing estimated after freighter modification)

Fuel Capacity

16,700 US gal

Last Weight and Balance

N/A (interior now removed) Will be weighted after freighter modification
Inspection Status:

Maintenance Program
(Boeing MPD)
Specification and photos are not contractual and are subject to verification upon inspection
NB: Aircraft offered for sale subject to contract, prior sale, withdrawal from the market and information regarding any aircraft or helicopter and provided verbally or in written documentation and/or contained within this e.mail or associated paper-work should be taken as a guide only in determining the suitability, including that aircraft or helicopters specification and/or performance. We highly recommend that any buyer or lessee perform their own inspections and due diligence to verify any and all technical, performance and specification information contained therein including OEM claims.
PLEASE NOTE: AIRCRAFT SPECIFICATIONS SUBJECT TO VERIFICATION UPON INSPECTION. WE DO NOT ACCEPT ANY LIABILITY FOR AIRCRAFT DEFECTS, HISTORY OR TECHNICAL RECORD ERRORS. IT IS THE BUYERS RESPONSIBILITY TO INDEPENDENTLY VERIFY THE AIRCRAFT AND COMPONENT HISTORY.
TAKE NOTICE!
PLEASE BE ADVISED THAT INFORMATION INCLUDED IS CONFIDENTIAL IN NATURE AND IS BASED ON PRE-EXISTING BUSINESS RELATIONSHIP WITH THE LEGAL OWNER OF PROPERTY DESCRIBED HEREIN (IF APPLICABLE). AS SUCH, UPON RECEIPT OF SAID INFORMATION THE RECEIVER AKNOWLEDGES THAT ANY UNAUTHORIZED CONTACT WITH SAID LEGAL SELLER WILL BE CHARACTERIZED AS A BREACH OF CONFIDENTIALITY AND SAID AGREEMENT MAY BE ENFORCED UNDER EXISTING LAW OR IN EQUITY.
This paper was prepared by General Equipment Corp.
The paper represents an offer of a partner of General Equipment Corp.
All rights are reserved by and for General Equipment Corp..

All content and ideas of this paper are the property of General Equipment Corp.