• Five sided armoring of passenger cabin to give maximum protection against 7.62 x 51mm & 5.56 x 45mm in accordance with EN 1522 & EN 1063 European level B6 – NIJ Level III & BRV1999

• A, B, C & D pillars are protected with armor, as are front fenders, (wings) rear wheel arches & firewall. This adds structural rigidity to the overall vehicle, floor is fitted with the same steel as the sides, roof will protect against 90 degree angle shots.

• All passenger doors are fitted with overlap system and antispall guard which provides maximum strength retention to prevent penetration through door posts & pillars.

• Vehicles armor plates are stitch-welded using high-intensity MIG welders. This process ensures the structural integrity is uncompromised by thermal and chemical variations of the material.

• The glass is installed using ballistic grade steel frame for added protection which gives extra support to help prevent cracks & fractures. This also provides added protection for these potentially weak areas.

• The hinges are bolted directly onto the armor through the pillars & the doors to prevent stress on the hinges and the internal panels which otherwise will lead to cracking under the extra weight.
• Flat glass, PVB/polycarbonate laminate 6.2kgs./sq.ft(13.7lbs/sq.ft) – Thickness is 39mm (Replaces all OEM glass).

• Glass is manufactured under strictly controlled conditions, using only the highest grade materials.

• Anti-Spall shield protects against glass splinters, chemical attacks. Autoclave temperature allows the polycarbonate to lose its memory to prevent delaminating & internal stress. The glass also provides multi hit protection.

• The ballistic performance of bullet resistance glass can be diminished when the glass is exposed to high temperatures; Solar Plus ensures total ballistic resistance performance for a longer period of time.

• Glass is tested in accordance with EN 1522 & EN 1063 European Level B6 – NIJ Level III
Ballistic Protection Level Details
(Please refer to Class VR6 for this vehicle)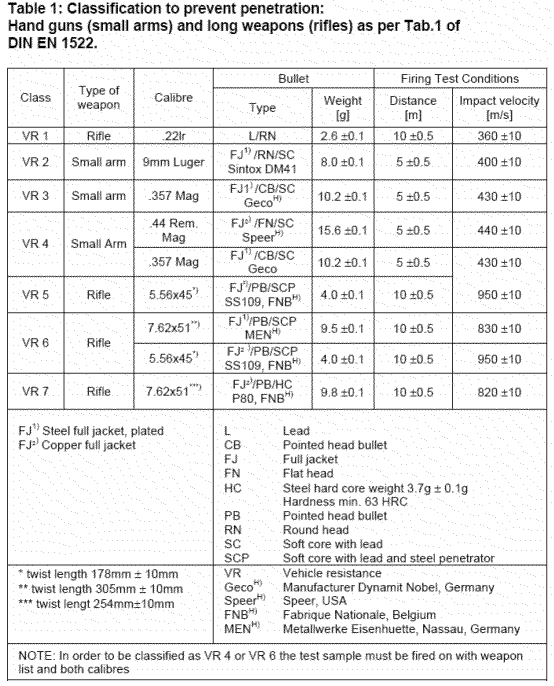 S

tandard Vehicle Features
• Seating for nine persons (including the driver)
• Runflat devices fitted in all five wheels.

• Fuel tank & water separator encased with ballistic steel to protect against explosive projectiles.

• All five passenger doors are fitted with heavy duty webbed door straps to prevent fouling.

• Battery is protected within an armored box in the engine compartment.

• Exhaust protection installed to prevent foreign objects being inserted.

• Suspension is reinforced or modified as necessary to compensate for the additional weight.

• Gun-ports are installed on both L/H & R/H quarter window & the rear barn door.

• Fire extinguisher installed inside cabin.

• V-Trac system installed as standard

.