---
AKM
| | |
| --- | --- |
| TYPE: | Rifle |
| DESCRIPTION: | AKM Kalashnikov Rifles |
| PRICE: | Upon Request |
| PACKING: | Upon Request |
Akm kalashnikov rifles

AKMS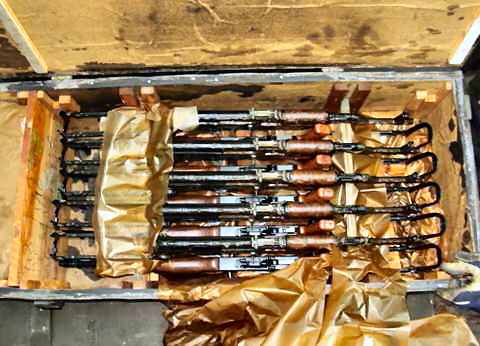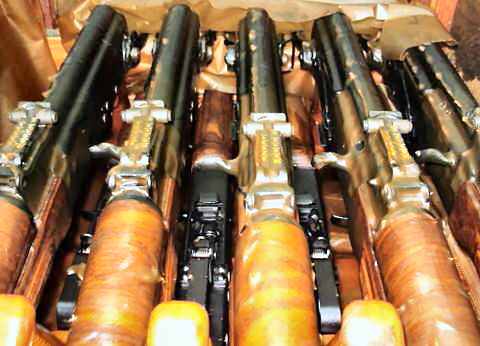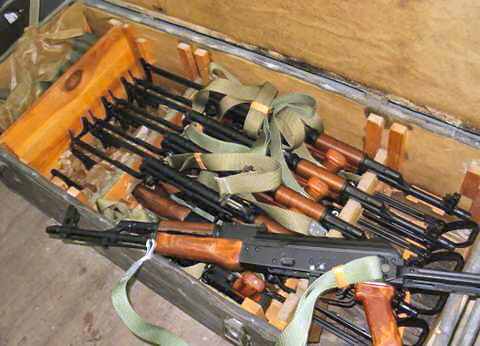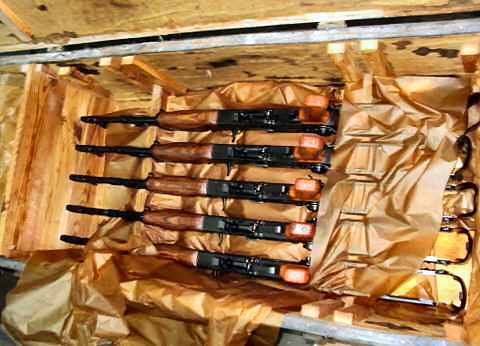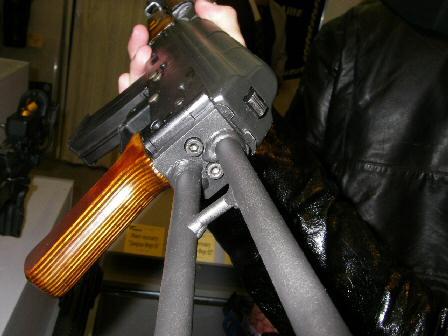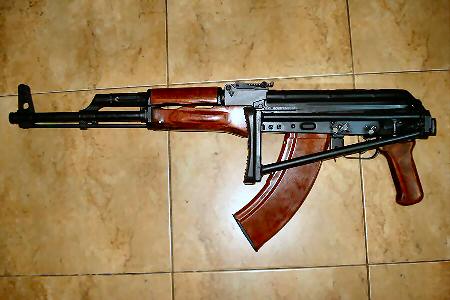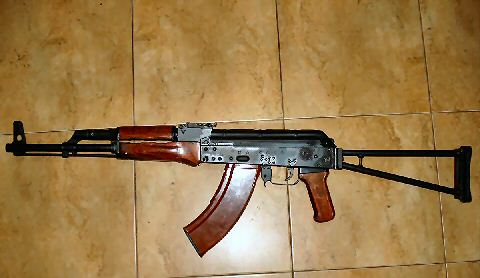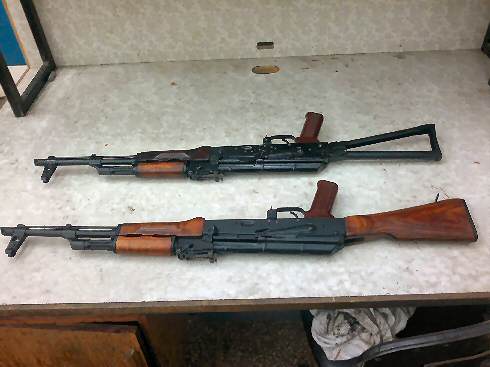 AKM(S) Kalashnikov modernized assault rifle, cal. 7.62mm is an individual weapon intended to neutralize the enemy manpower
The assault rifle is equipped with the knife-bayonet to engage the enemy manpower in hand-to-hand fighting
The assault rifle is capable of delivering both automatic and single-shot fire
Automatic fire is the main method of firing: fire may be delivered in short bursts (up to 5 shots), in long bursts (up to 10 shots), and continuously
Cartridge to be used: with steel-core bullet, with tracer bullet, with increased penetration bullet
The assault rifle features a stamped and riveted receiver, a cycle retarder increasing th e fire accuracy
SPECIFICATIONS
| | |
| --- | --- |
| Caliber, mm | 7.62 |
| Cartridge (model 1943) | 7.62x39 |
| Sighting range, m | 1,000 |
| Battle range, m | 350 |
| Muzzle velocity, m/s | 715 |
| Cyclic rate of fire, rds/min | 600 |
| Combat rate of fire, rds/min | |
| single shots | 40 |
| bursts | 100 |
| Length, mm | |
| overall w/bayonet | 1,020 |
| overall w/o bayonet | 880 |
| sight radius | 378 |
| barrel | 415 |
| rifled bore | 369 |
| Number of rifling grooves | 4 |
| Magazine capacity, rds | 30 |
| Weight w/unloaded magazine, w/o knife-bayonet kg | 3,1 |
| Weight of magazine, kg | 0,25 |
| Weight of knife-bayonet w/scabbard, kg | 0,45 |
SET OF DELIVERY, PCS:

AKM(S) Kalashnikov modernized assault rifle, cal. 7.62mm

1

Magazine

4

Knife-bayonet

1

Carrying sling

1

Oiler

1

Set of accessories

1

Pouch

1

Service manual

one set for one lot if
otherwise is not
specified in the Contract

Catalogue of parts and assembly units

Standard list of spare parts
The products are preserved and packed to prevent them from damage
Fully Refurbished AKM and AKM-S Arsenal Stock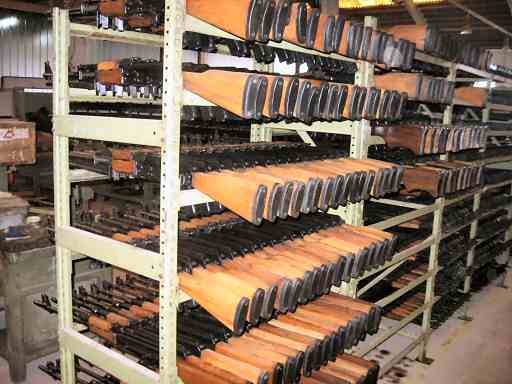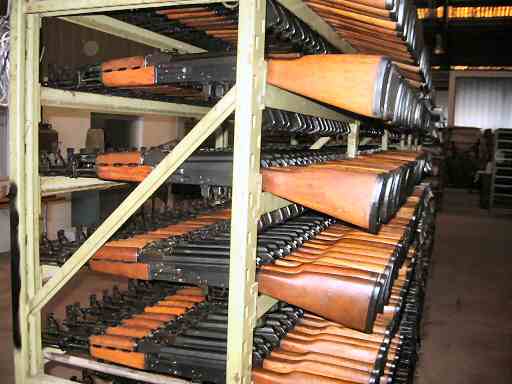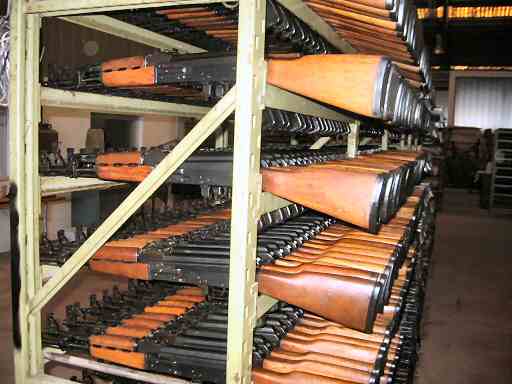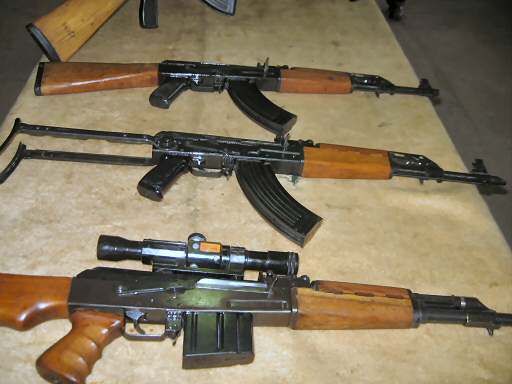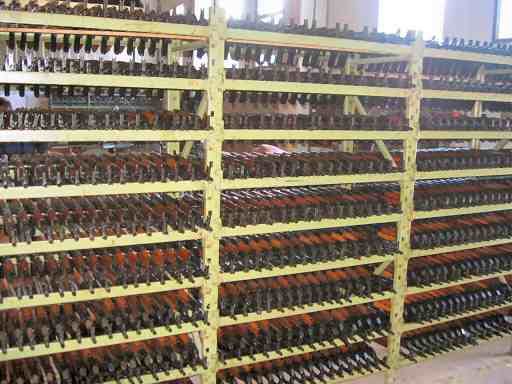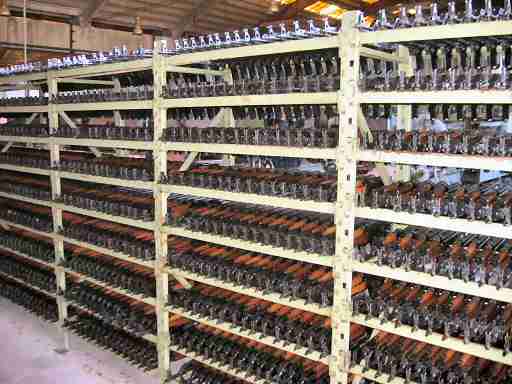 ---

Assault Rifle VZ58

Assault Rifle VZ58

Caliber: 7,62x39mm

Cadence: 800/min | 5/min

Magazine Capacity: 30 rounds

Weight: 4400g

Gunstock: Fixed/Folded

Status: Brand New From Manufacture

Availability: 20,000 units

Delivery: 2,500 units prepared and shipped per month
Packaging Options: 10 Units per Wooden Crate or 60 Units per Metal Box

Accessories Include: 4x30 rd Magazines, Cleaning Kit, Bayonet, Sling and Magazine Pouch

Location: Info provided after LOI submitted (Currently in Europe)

Documents Needed: EUC
---
AK-103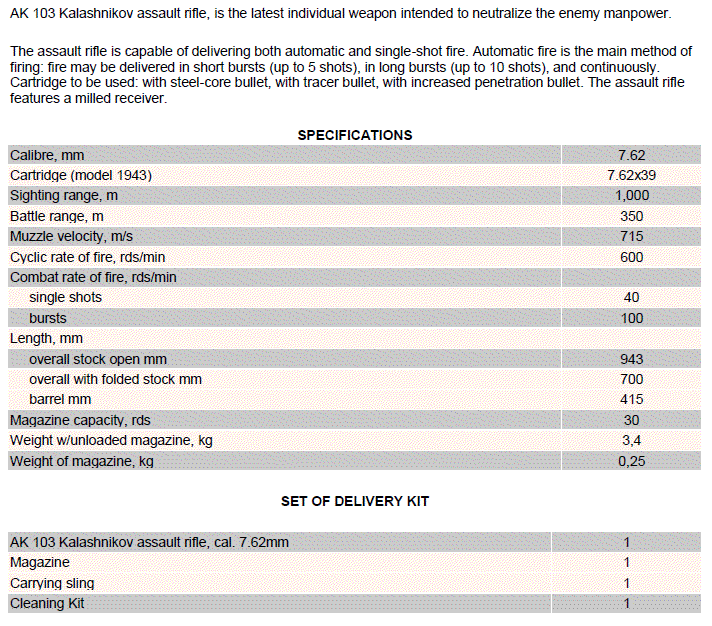 ---
AKM, modernized, with Picatinny rail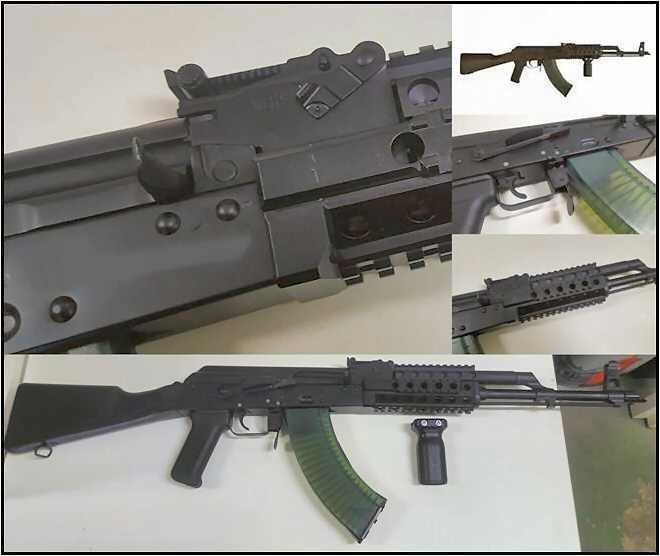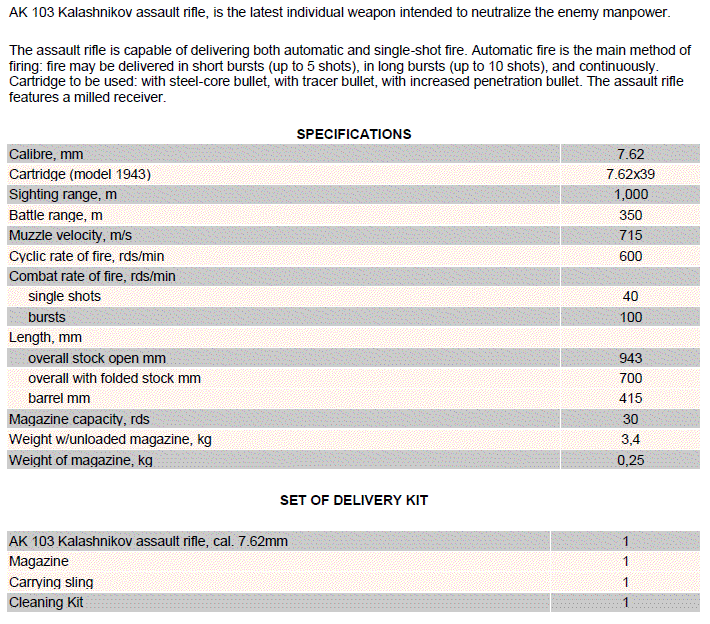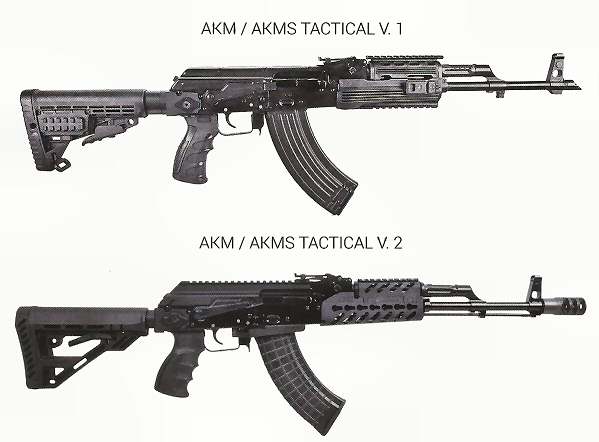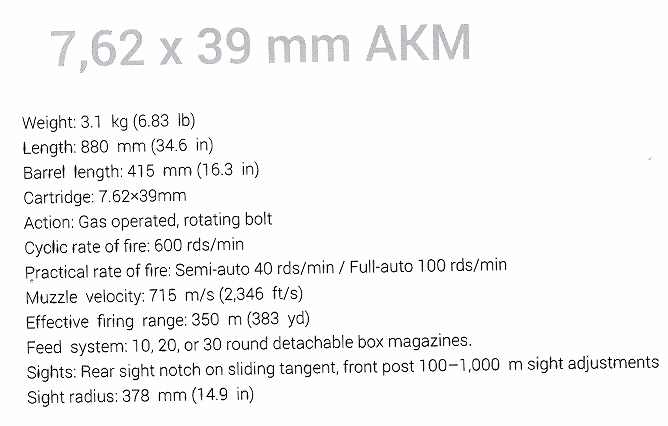 Specification and photos are not contractual and are subject to verification upon inspection
TAKE NOTICE!
PLEASE BE ADVISED THAT INFORMATION INCLUDED IS CONFIDENTIAL IN NATURE AND IS BASED ON PRE-EXISTING BUSINESS RELATIONSHIP WITH THE LEGAL OWNER OF PROPERTY DESCRIBED HEREIN (IF APPLICABLE). AS SUCH, UPON RECEIPT OF SAID INFORMATION THE RECEIVER ACKNOWLEDGES THAT ANY UNAUTHORIZED CONTACT WITH SAID LEGAL SELLER WILL BE CHARACTERIZED AS A BREACH OF CONFIDENTIALITY AND SAID AGREEMENT MAY BE ENFORCED UNDER EXISTING LAW OR IN EQUITY.
This paper was prepared by General Equipment Inc.
The paper represents an offer of a partner of General Equipment Inc.
All rights are reserved by and for General Equipment Inc.
All content and ideas of this paper are the property of General Equipment Inc.
---
Defense items are subject to final destination approval and granting of an
export license issued by exporting country's authorities