---
AGS17
| | |
| --- | --- |
| TYPE: | Launcher |
| DESCRIPTION: | 30mm AGS-17 Plamya Grenade Launcher |
| PRICE: | Upon request |
| PACKING: | Ex-Works |

30mm ags-17 plamya grenade launcher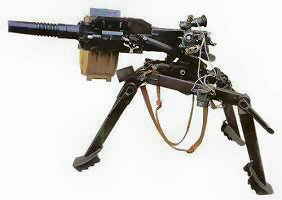 AGS-17 Plamya
Type & Operation:
Automatic Grenade Launcher (AGL), air-cooled, blowback operated firing from open bolt.

Calibre & Ammunition:
30x29B VOG-17A, VOG-17M & VOG-30 (improved) fragmentation antipersonnel grenades - lethal damage/kill zone radius of about 7-9 meters.

Capacity & Feed:
Belt feed from non-disintegrating 29 rounds steel belts in drum.

Dimensions:
840mm (O/A length)

Weights:
18kg (gun), 12kg (tripod), 14kg (linked belt drum), 0.35kg (1x round), 0.275kg (projectile)

Sights:
Standard sight is 2.7X magnification PAG-17 optical.

Rate of fire:
350-400 rounds/minute

Muzzle Velocity & Speed:
185 m/S

Range:
800m (point targets), 1700m (maximum)

Versions:
AGS-17, AG-17A (heliborne version)
Technical description:
The AGS-17 "Plamya" (eng="flame") can be carried in a special backpack which allows a complete weapon to be transported "on foot" by two men while a third carry ammunition.

History:
Inspired from US. Automatic Grenade Launchers during the Vietnam war, development of the AGS-17 (Avtomatischeskyi Granatmyot Stankovyi - Automatic Grenade launcher) begun in the USSR during in 1967 - by the OKB-16 design bureau (now known as KBP - Instrument Design Bureau located in Tula).

First prototypes of new weapon entered trials in 1969, and mass production commenced in 1971. At the same timeframe, a special heliborne version AGS-17 was developed for installation in Mi-24 "Hind" gunship helicopters.
Specification and photos are not contractual and are subject to verification upon inspection
TAKE NOTICE!
PLEASE BE ADVISED THAT INFORMATION INCLUDED IS CONFIDENTIAL IN NATURE AND IS BASED ON PREXISTING BUSINESS RELATIONSHIP WITH THE LEGAL OWNER OF PROPERTY DESCRIBED HEREIN (IF APPLICABLE). AS SUCH, UPON RECEIPT OF SAID INFORMATION THE RECEIVER AKNOWLEDGES THAT ANY UNAUTHORIZED CONTACT WITH SAID LEGAL OWNER WILL BE CHARACTERIZED AS A BREACH OF CONFIDENTIALITY AND SAID AGREEMENT MAY BE ENFORCED UNDER EXISTING LAW OR IN EQUITY.
This paper was prepared by General Equipment Corp.
The paper represents an offer of a partner of General Equipment Corp.
All rights are reserved by and for General Equipment Corp..
All content and ideas of this paper are the property of General Equipment Corp.
---
Defense items are subject to final destination approval and granting of an
export license issued by exporting country's authorities